Jamaica Just My Style Fashion Show
June 28, 2016 / Jamaica Neighborhood / Queens Fashion / Queens Buzz. The following is a video shot at the Jamaica Just My Style Fashion Show on June 18th. We'll have the full story later this week.
---
Queens Things To Do
Astoria Park Carnival, Fiesta de las Flores Parade & Festival, Kyaking, Plaza Stroll Launch Party, Holding Space, Summer Festival & Groovin' in the Park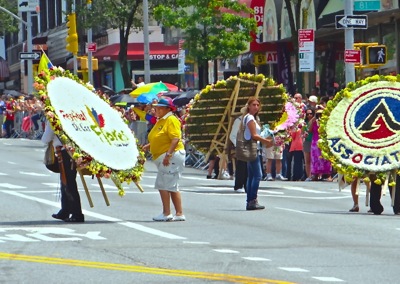 June 25, 2016 / Things To Do Queens / Queens Neighborhoods / Queens Buzz.
Weekend Weather - 6/24 - 6/26/16
The temperature highs will be in the mid 80's and lows in the low 60's throughout the weekend with no rain. There will be 10 - 15 mph winds and the humidity will be below 50%.
*Queens Subways. The 7, N, E, F, and G trains look to be operating normally, with some local stop issues where you have to backtrack, and the Q doesn't operate on weekends in Queens. Click here for details on the MTA Weekender.
Photo. The photo at right shows the Festival de las Flores in Jackson Heights.
Friday & Weekend - Carnival, Theatrical of Apt For Sale (tenant included - comedy)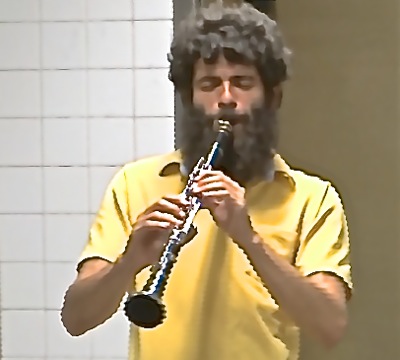 Photo. In the photo at right is a street musician performing at a Queens subway station earlier this week.
There's a Carnival in Astoria Park running from 12 noon to past 11 pm on Saturay & Sunday with rides, games and food [kids - some free, some not?].
There's an exhibit entitled Debt+ at the Flux Factory at 39-31 29th Street in LIC that's available for viewing from 12 noon - 6 pm [art - free donations welcome]. There's a closing reception on Friday 6/24 beginning at 7 pm.
Weekend. Thalia Spanish Theatre at 41-17 Greenpoint Ave in Sunnyside is hosting performances of the modern comedy entitled Apartment For Sale (tenant included) with both Spanish and English performances beginning at 8 pm on Friday & Saturday, also at 3 pm Saturday [$25 - click to Member Queens Events Calendar for more details].
Weekend. Tom Sach's art installation, entitled Tea Ceremony is on exhibit at the Noguchi Museum on 9-01 33rd Road & Vernon Boulevard in LIC / Astoria along with two other exhibits - Design into Art and Functional Ceramics and its ongoing collection [art].
Saturday - Kyaking, Fiesta de las Flores Parade & Festival, Plaza Party, Swimming, Art & Music, Theatre (see above)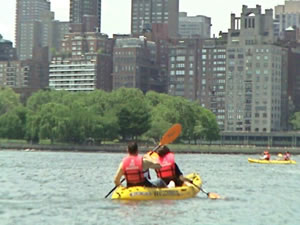 Photo. The photo at right shows kyakers in the East River off Hallets Cove near Socrates Sculpture Park in Astoria / LIC [kids / sports].
There's kyaking and canoeing from 1 pm to 4 pm at Hallets Cove just north of Socrates Sculpture Park along the East River [sports - free / donations].
Fiesta de las Flores Parade begins at 12 noon and runs until about 2 pm beginnning at Northern Blvd and 69th Street in Jackson Heights [kids / parades].
Fiesta de las Flores runs from 10 am to 6 pm at the Queens Theatre in the Park in Flushing Meadows Corona Park [kids - free].
There's a Plaza Stroll Launch Party at Travers Park at 78th and 34th Avenue in Jackson Heights [kids]. The party includes dance and musical performances, bike help, health, food trucks and other activities for kids and community.
The Queens Museum in Flushing Meadows Corona Park is hosting the Queens Art International 2016 Exhibit which among others, includes an exhibit on the Ramones [art].
The Sculpture Center at 44-19 Purves Street is hosting a musical performance entitled Holding Space from 5 pm to 8.30 pm [art / music - $10 - Sculpture Center in Member Calendar].
Swimming lessons at Flushing Meadows Corona Aquatic Center at 9 am or beginning at 11 am at FarRockaway H.S organized by the Swim StrongFoundation [click to Member Queens Events Calendar for details].
Also SEE FRIDAY & WEEKEND EVENTS ABOVE that run on Saturday & Sunday. Click for Ramadan clothing at Islam Fashion.
Sunday - Groovin' in the Park, Summer Festival, Astoria Park Carnival & Art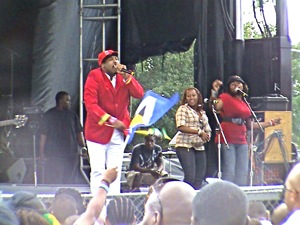 Photo. The photo at right shows reggae musicians in Jamaica.
There's a Carnival in Astoria Park running from 12 noon to past 11 pm on Saturay & Sunday with rides, games and food [kids - some free, some not?].
Groovin' in the Park returns with a series of reggae, rhythm & blues performances from 12 noon to 8 pm at Roy Wilkins Park at Merrick & Baisley Blvd in Jamaica [music - $70 rsvp at www.groovininthepark.com]. It's also a bit of a food scene.
There's a Summer Festival entitled Only in Queens from 1 pm to 8 pm in Flushing Meadows Corona Park near the Unisphere, including music, food trucks and other entertainment [kids / entertainment].
Tom Sach's Tea Ceremony on exhibit at the Noguchi Museum on 9-01 33rd Road & Vernon Boulevard in LIC / Astoria [art].
The Queens Museum in Flushing Meadows Corona Park is hosting the Queens Art International 2016 Exhibit which among others, includes an exhibit on the Ramones [art].

Also SEE FRIDAY & WEEKEND EVENTS ABOVE that run on Saturday & Sunday.
---
This Week -
Week of 6/27 - 6/30/16
Weather Forecast as of June 25, 2016 for 6/27 - 6/30.
This week the temperature highs will be in the 80's and lows in the mid 60's. There's a 60% chance of a third of an inch of rain on Tuesday.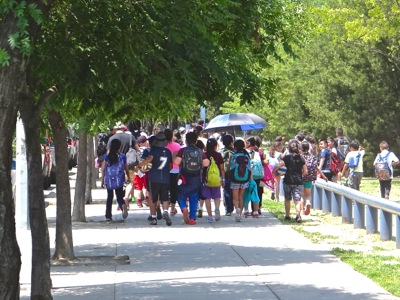 Photo. The photo at right shows a school group returning from a summer day in Flushing Meadows Corona Park.
Monday - TBD
TBD.
*The details for most of these events may be found on the Member Calendar for Queens Events which contains listings by arts, non-profits & community orgs.***
Also see events that run through the Weekend as noted above as well as clicking into the September events calendar which has a list ofvenues that have ongoing things to do. Click on the link above to go to the Member Events Calendar to view events. And click here tofind art, theater or film open calls, jobs openings, affordable housing, government sponsored classes & funding. The Queens Golfing season is also in full swing.
---
5th Annual Queens Fashion Show
Jamaica Just My Style Hits the Runway Saturday 6/18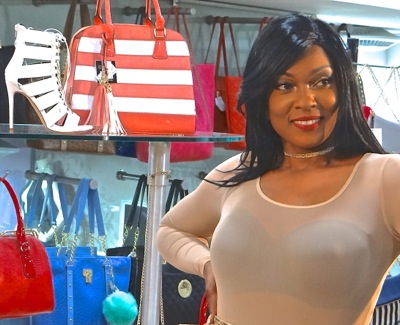 June 13, 2016 / Jamaica Neighborhood / Queens Fashion & Style / Queens Buzz.
The 5th Annual Jamaica Just My Style Fashion Show arrives Saturday at the Jamaica Performing Arts Center. Mrs. Queens, Nadine Grisby, will be headlining the event, which showcases local Jamaica and Queens designers, models and retailers.
I had an opportunity to get a small preview of some of the glitz and glamour in early May when the Jamaica Center BID [Business Improvement District] held a photo shoot at Pretty Women and Hotpoint Fashions, two leading women's clothing stores located along Jamaica Avenue near 165th Street.
It was a cool Spring day as I made my way to the photo shoot. The first photos were to be taken in the upstairs of Pretty Women, which is located in a large, spacious early 20th century store located along Jamaica Avenue just west of 165th Street.
Fashion Photo Shoot on the Ave - Mrs. Queens at Pretty Women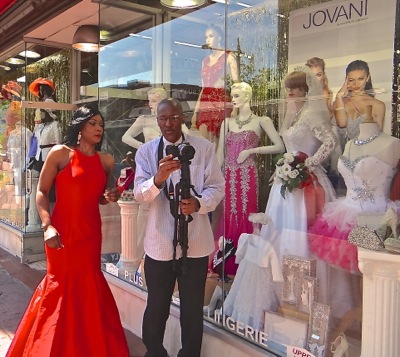 I walked up the steel framed staircase, appreciating the vintage beauty of the old department store. As I walked out onto the second story floor, the nearly century old wooden floorboards announced my presence. The flooboards provided an ever-so-soft reassuring cushion, like an old fashioned gymnasium allowing me to glide along toward the center of the store where Mrs. Queens, Nadine Grisby, was being photographed by Teddy Wilson. Jamaica Center Director of Business Services and Operations, Valerie Stevens, was also there facilitating the entire photographic event.
I joined in the festivities, photographing Nadine, as she danced and showered us with her theatrical persona. Pretty Women had arranged to have a few formals photographed for the shoot. In between the posing, while Mrs. Queens was changing outfits, I took a few photos of the store, which I've included in the video below.
Before departing I was introduced to Bert Salih, who has been operating the Pretty Women clothing store for 22 years on Jamaica Avenue. Pretty Women moved into this building only two years ago and has filled it with women's formals and evening wear for weddings, formals, proms and Quinsera, in sizes ranging from 2 to 24 and in names brands including Jovani, Colours, Serendipity and Mary's Bridal of Texas. He went on to tell me that this was the first time he had decided to participate in the Jamaica Just My Style Fashion Show, but that he was very excited to do so.
Click here to read the rest of the story about the Jamaica Just My Style Fashion Show in Queens, including links to prior years coverage, a video of some of the photo shoot, an interesting tale about Mrs. Queens and a link to free tickets to the show on Saturday.
---
Only in Queens
Muslims & Jews Organize Iftar Ramadan Dinner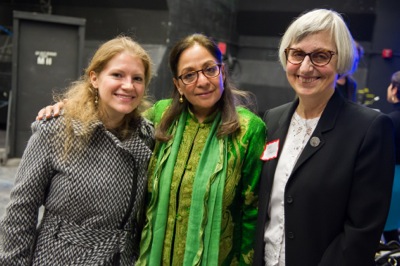 June 7, 2016 / Forest Hills Neighborhood / Religion & Culture in Queens / Queens Buzz.
Only in Queens. On Thursday June 9th, the Turkish Cultural Center and the Central Queens Y will break bread together at an Iftar Ramadan dinner beginning at sundown [7.30 pm] at the Central Queens Y at 67-09 108th Street in Forest Hills.
Ramadan is the ninth month of the Muslim year and the holiest month of the Islamic year. During this time Muslims pay special attention to praying, fasting and reflecting upon their lives. The Islamic Holy Month has similarities to the Christian Lenten season, as well as the Judaic Day of Atonement, Yom Kippur.
Islamic cultural traditions are based upon the lunar calendar, so the Ramadan Holy Month moves slightly around the solar calendar, from year to year. This year Ramadan began on June 5th and will end on July 5th. Attendees of all faiths are welcomed, as are families. The intent is to embrace a harmonious understanding of our shared planetary cultural identities, which the framers of the U.S. Constitution had envisioned centuries ago when they founded this nation.
The Iftar Dinner will be a dairy Middle Eastern meal catered by Meal Mart from Kew Gardens Hills. Meal Mart is Glatt Kosher and is under the supervision of the Vaad Harabonim of Queens. The meal costs $15 per adult and children under 12 are $5 each. Reservations may be made by registering online at www.cqy.org/tickets or you can call 718.268.5011 - ext 151, or email pkurtz@cqy.org.
---
Astoria International Cultural Festival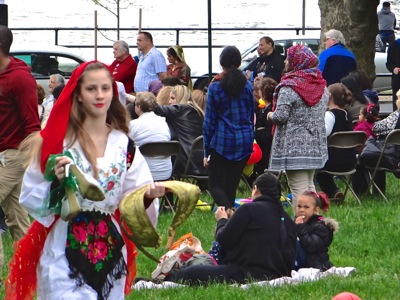 May 31, 2016 / Astoria Neighborhood / Ethnic Culture in Queens / Queens Buzz.
On Saturday May 21st from 1.30 until past 6 pm, there was a series of cultural performances held on the Great Lawn of Astoria Park. The event was hosted by the Central Astoria Local Development Coalition [CALDC] to showcase the multi-ethnicity of tne neighborhood.
Nearly a dozen local cultural groups performed, including Ballet Los Pampas representing Argentina, KUD Halaturko representing Bosnia, Croatian Franciscan Fathers Youth Club, Ayazamana Cultural Center representing Ecuador, Cretan Association representing Greece, NYC Bhangra representing India, McManus School of Irish Dance, The Braata Folk Singers representing the Caribbean / Jamaica, and the Korean Traditional Music and Dance Center.
There was a crowd that numbered in the hundreds over the course of the afternoon. Many brought lawn chairs and blankets to sit upon while they watched the show. The weather cooperated as the temperature was in the 60's and while at times cloudy, it was dry.
Several food vendors came out to augment the cultural celebration, now in its second year. As I came late in the afternoon, I had missed the prime time of that part of the event. In the photo at right you can see one of the performers walking up the Astoria Park Great Lawn after her performance.
Click here for a brief video of some of the 2016 International Culture Festival in Astoria Park.
---
Serving Sunnyside a Taste
Neighborhood Businesses Provide Samplings of Beverages & Cuisine
May 24, 2016 / Sunnyside Neighborhood / Queens Food & Wine / Queens Buzz.
Lowerys Wine & Liquor Prepares for Taste of Sunnyside 2016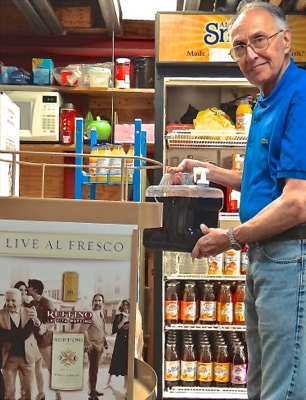 On Tuesday afternoon on my way home from a gig, I found myself stopping in at Lowerys Wine & Liquors for a brief hello. Lowerys has long been an institution serving the Sunnyside community, and I found Owner Anthony Lodati and Manager Janet Rios hard at work, preparing for the 7th Annual Taste of Sunnyside, which was to be held later in the day.
Along the casked walls there was an ample selection of wines, and I found Anthony moving about the store like a sommelier in pursuit of a mix of wines for the evening. Meanwhile, back in the office and staging area, I found Janet preparing party favors for the event, which were to be gifted at half-hour intervals, during the Annual Sunnyside Taste 2016.
As they were both pre-occupied, I shot a few photos and continued my journey home.
Later that afternoon, I headed over to the Taste of Sunnyside, for a few nibbles and sips. This year the Taste of Sunnyside featured seven beverage companies and 25 Sunnyside restaurants.
7th Taste of Sunnyside 2016 in Photos & Video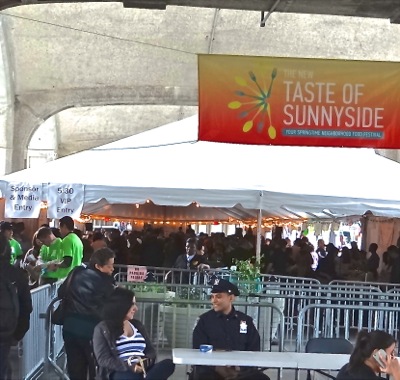 The Taste of Sunnyside 2016 is in its 7th year, the first of which started at Queens Boulevard and 39th Street in 2010. The intent of the Taste of Sunnyside event is to raise awareness of some of the restaurants and beverage companies serving the neighborhood, while simultaneously raising funds for the Sunnyside Shines Business Improvement District [BID].
The Sunnyside Shines BID's mission is to promote a specified commercial district of the neighborhood running from about 50th Street down to about 38th Street along Queens Blvd and the eastern section of Greenpoint Avenue through a combination of area maintenance and business enhancement services.
Click here to read the rest of the story about the Taste of Sunnyside 2016 with photos & video.
---
Grand Central Atelier: Artists in our Midst
Classical Drawing, Painting & Sculpture Studios Participate in LICAO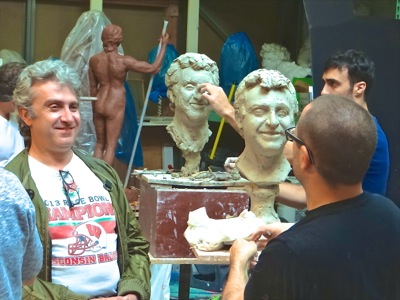 May 23, 2016 / LIC Neighborhood / Arts in Queens / Queens Buzz.
The 6th Annual LIC Arts Open [LICAO] ended yesterday evening. While the weather on Saturday was mixed, Sunday seemed to make up for it. The mission of the LICAO program is to provide a venue for local artists to showcase their studios and works.
A local writer and playwright, Joy Tomasko, has been involved with the Grand Central Atelier for a number of years. I first met her while attending a performance of a theatrical production of hers at the LaGuardia Performing Arts Center, where she was the Playwright in Residence at the time.
I found the play, entitled Surrender, to be deeply philosophical. It was an audience interactive production, which took us on a multi-dimensional journey - so when Joy announced she was doing an interactive art exhibit at Grand Central Atelier during the LIC Arts Open Weekend - I decided to check it out.
In the photo at right are sculptors at Grand Central Atelier creating a bust of an unknown man, who thousands of years from now, will become famous by virtue of the plentitude of busts depicting his personage.
We'll have more on this event later in the week.
---
Corona History Comes Alive
Queens Authors Revive Over a Century of Vanishing History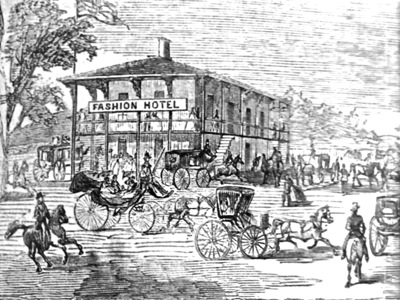 May 16, 2016 / Corona Neighborhood / Queens Historical Society in Bayside / Queens Buzz.
I spent an evening at the Bayside Historical Society at Fort Totten listening to two Queens historians recount the glorious past of what is now known as the Corona neighborhood. Historians Jason Antos and Constantine Theodosiou teamed up to research what I'd call 'ancient' Corona, which recounts the history of Corona prior to the first Worlds Fair in 1939.
The photo to your right is a print of The Fashion Hotel, which was adjacent to the Corona Race Track, on a race day.
The history was far more interesting than I had expected, as I had preconceptions that the history of Corona had been told in prior works about Jackson Heights and Flushing. But the two intrepid historians, whose ethnic affiliation dates back to Thucydides, one of the first great historians of the western world, unearthed a treasure trove of historical lore which brought the neighborhood back to life, as an entity in its own right.
Among their findings was the tale of Tiffanys, Typhoid Mary, homestead mansions, early country and suburban living, and what I came to think of as the forerunners of the Belmont and Aqueduct Race Tracks. There is also a section about an early modern Corona real estate development, which had a character and quality very different from what was going on in neighboring Jackson Heights.
The two authors will be presenting their book at the Queens Historical Society this coming Sunday, May 22nd from 2.30 to 4.30 pm where they will also be signing books. We'll have more later this week.
---
Cultivating Character in the Garden
Jackson Heights Garden School Evolves with Community
May 10, 2016 / Jackson Heights / Schools in Queens / Queens Buzz.
Over the course of the past month, I have spent some good measure of time becoming better acquainted with the Garden School in Jackson Heights. The Garden School is a private, non-profit, neighborhood school that primarily serves Jackson Heights and Queens; but with a growing interest from the nearby boroughs of Manhattan and Brooklyn.
What makes the Garden School unique? The answer to that question is quite possibly as long as the history of the school itself.
One of the first unique aspects of the school that I discovered, was standing squarely in the midst of its founding fathers of 1923. It turns out that one of the leading forces behind the school's creation, was the head of the Queensboro Corporation. The Queensboro Corporation was the primary real estate developer of the Jackson Heights neighborhood nearly a century ago.
In addition to investing in the erection of some of the highest quality residential buildings in all of Queens - and for that matter all of New York City - the Queensboro Corporation also invested in developing the infrastructure of the Jackson Heights community through the Garden School. And nearly a century later, the vision and the quality of a Garden School education, endures. In some manner one might say, that the quality of a Garden School education has held up as well as the high quality of housing stock in the Jackson Heights neighborhood.
To be sure - the schools, the buildings and the real estate developers were different back then - as we'll see as we journey through the rest of this story, which we'll post late this week.
---
---
Who's Behind NY Post's Media Hazing of Mayor?
Will Billionaire Rupert Murdoch Profit from NY POST's Attack Stories?
Updated May 13, 2016 / Manhattan Neighborhoods / Manhattan Politics / News Analysis & Opinion / Gotham Buzz.
The NY Post's incredible barrage of attack stories on NYC Mayor de Blasio this past month led us to believe that something was amiss.
Is the NY Post Disinforming the Public?
After a month of a barrage of negative attack (ads?) stories regarding the Mayor's campaign funding, someone reading the NY Post might come away believing that Mayor de Blasio had already been convicted of numerous counts of breaking the law. As you will see later in this story, this would not be the first time the Murdoch organization's audience was not uninformed - but rather disinformed.
That said, if they read a newspaper that generally conforms to the professional standards of American journalism, like the New York Times, they would know that,
"It is not clear how direct a role, if any, the mayor played in some of these matters." - NYT April 29, 2016
Infomercials Presented as News?
Given that some of what Murdoch's organization [includes NY Post, Fox News, the Wall Street Journal and hundred(s) more properties] publishes and broadcasts appears to make significant departures from the American professional standards of journalism - one has to wonder if Murdoch's organization hasn't found a way to skirt campaign finance laws - as some of their 'news reporting' looks more like long-winded political infomercials.
Just Because They Say it's So, Doesn't Mean it's So
The NYS Board of Elections says,
"Independent Expenditures Do Not Include Expenditures in Connection with... A written news story, commentary, or editorial or a news story, commentary, or editorial distributed through the facilities of any broadcasting station, cable or satellite, unless such publication or facilities are owned or controlled by any political party, political committee or candidate ..."
Has Murdoch's organization found a way to skirt campaign finance laws by making huge, undisclosed, payment-in-kind, independent media expenditures to support or attack political candidates and push an issue agenda by running infomercials as news stories?
Does this practice enable the Murdoch organization to become the STRING PULLER, who makes their candidates POLITICAL PUPPETS?
Rupert's NY Post Goes After Mayor like Rabid Dog
There were 80 stories published about the Mayor by Billionaire Media Mogul Keith Rupert Murdoch's NY Post in the first 24 days of April.
That's more than three stories per day - and not a single one was positive [a few were neutral]. The stories were authored by 20 reporters, some of whom shared the bylines. This is the equivalent of having the entire editorial staff of a medium-sized daily newspaper, working full time on publishing stories about just one government official.
I'm pretty sure that the Washington Post didn't dedicate this kind of resource to covering the Nixon Watergate scandal in the early 1970's. It seems like overkill, which is generally indicative that something is not right.
I say not right because it has been my experience that this kind of overzealous attack oftentimes reflects more upon the prosecutor than the prosecuted.
Abusive, Power-Hungry Media Moguls in Film - 1941 & 1997
What I found while working on this story had some parallels to the 1997 James Bond movie, Tomorrow Never Dies. In the movie, Eliot Carver is the Media Mogul, and he uses his presses and TV stations to hype a war between China and Britain. In 2002 the NYT did a piece which they entitled 'Mr. Murdoch's War' which was about Murdoch's urging the U.S. and Britain to go to war in Iraq, which we'll have more about later in this story.
During my research a character profile of Billionaire Murdoch began to emerge that was something right out of the film Citizen Kane, who was portrayed by Orson Welles in 1941. It's interesting to note that 1941 was the same year that the FCC capped TV media ownership by a single person / entity at 35%. And this FCC ownership limit was overturned, some say because of Media Mogul Rupert Murdoch, and this will also be covered in more detail a bit later in this story.
The image to your right shows a page out of The Guardian, one of Britain's most respected newspapers, about the culture of Billionaire Media Mogul Keith Rupert Murdoch's organization.
Consider The Source
I. Criminal Acts: Murdoch Declared 'Unfit'
In 2012, only four short years ago, Billionaire Media Mogul Keith Rupert Murdoch was declared "Not a Fit Person" to lead his company by a British public official who led a commission that investigated the criminal operations conducted by people working for Billionaire Mogul Murdoch's media empire.
Murdoch's Hires Convicted of Bribery & Hacking Crimes (911 Victims)
For alleged crimes committed over the course of years within roughly the first decade of the 21st century, British authorities arrested and / or convicted dozens of people working for Murdoch's organization.
The crimes they were convicted of, alleged to have committed, or were arrested for - included bribing government and law enforcement officials, and hacking the phones of relatives of murder victims, the relatives of soldiers who died in Afghanistan and Iraq, relatives of the victims of the London terrorist attacks, relatives of 911 victims, a four year old's cystic fibrosis medical records, and the mother of a slain daughter.
It appears Murdoch's organization did this to build viewership for his media outlets. Investigation into the 911 allegations were dropped by the FBI, but reportedly to the dissatisfaction and without the consent of some of those believed to be affected.
II. Coincidental Events or Propaganda For Profit?
NewsCorp Influence on Elections Followed by Favorable Gov't Rulings
We found three examples of Murdoch's news organization appearing to meddle with electoral outcomes by using their media assets as a propaganda machine, rather than as a news organization.
1. Fox News Role in 2000 Election of Bush
Followed by Bush FCC Expanding TV Ownership Limits
In 2000, Fox News declared Bush the victor of the election around 2.30 am, the morning after the election. Later than morning, in New York City the media capital of the nation, an Election Extra morning edition of the NY Post hit the newsstands announcing Bush's victory in a definitive manner. This came after all four [including Fox] of the American TV networks had already declared Al Gore the probable winner on election night. A confused NYT headline appeared to follow Murdoch's Fox News and NY Post definitive announcement by declaring that Bush 'appeared to defeat Gore'.
In less than three years the Bush Administration's FCC rolled back limits on ownership of TV station coverage in the nation, which enabled Billionaire Murdoch's Fox Television to expand its TV station coverage, thus giving Murdoch's Fox network a competitive advantage. Coincidence, or does the NY Post headline below apply to Murdoch here?
2. Murdoch's Support of Cameron for British Prime Minister
Followed by Cameron's Gov't Presiding over Regulatory Approval Process of Murdoch Deal
In 2009 as the Murdoch's were reported to be contemplating making a bid for the shares of British Sky Broadcasting [aka B Sky B] that they didn't already own, David Cameron was contemplating a run for Britain's Prime Minister.
That summer a Cameron aide was reported to have spent five days visiting the Murdoch's news organization in New York. Following the visit, Murdoch began supporting Cameron's bid for Prime Minister [he won]. Roughly around the same time, Murdoch made a bid for B Sky B. The completion of the B Sky B acquisition was within a month of regulatory approval, but halted, because of 'near industrial scale' phone hacking scandal and news reports of bribes which were alleged to implicate Murdoch's news organization in 2011.
3. NY Post Endorses Cuomo for Governor
Followed by Murdoch NO-BID Deal Negotiations with New York State
In 2010 Murdoch's NY Post endorsed Andrew Cuomo's bid for NYS governor. In August 2011, a Murdoch company was about to be awarded a no-bid contract to track students' performance by the State of New York.
But the deal was halted because of the serious criminal charges of phone hacking by Murdoch's organization, as well as allegations regarding his organization's bribes of police and government officals.
This third coincidence leads us to consider the possibility of a possible NYC or NYS profit motive behind Murdoch's NY Post's barrage of attack stories on Mayor de Blasio.
III. Murdoch Organization & Disinformation
Murdoch's NY Post Hazing of Mayor: Propaganda for Profit?
In the story that follows you'll find some additional source material, including a book about Murdoch sold by British Amazon.com.
We make comparisons of Murdoch to William Randolph Hearst who reportedly told one of his newsmen - "You furnish the pictures and I'll furnish the war." Some believe Murdoch's role in stridently urging the English-speaking world into the Iraq war was for ratings.
We provide accounts of details about the criminal acts done by hires for Murdoch's organization.
We provide the names of the seven independent organizations which conducted studies showing that frequent viewers of Fox News appear to be disinformed.
And lastly, we conclude with a cursory look - because it's mostly allegations and innuendo - at the NY Post incessant barrage of attack stories of Mayor de Blasio.
Suggestion for New NY Post / WSJ / 21st Century Fox News Slogan: 'We Decide by Disinforming You.'
Fox News has used the slogan, 'We Report. You Decide.' But after doing the research for this story I wondered if the slogan in the headline above, 'We Decide by Disinforming You.' might be a better fit.
As mentioned above, seven studies, by independent and respected institutions, found that frequent viewers of Fox News are more likely to be disinformed about key issues of the day than other segments of the public. We'll have more on this later.
TV, Newspaper & PC Smoke Screens?
Is Billionaire Media Mogul Keith Rupert Murdoch using propaganda to enhance his organization's profit - OR is this all just an unusual series of coincidences?
You can judge for yourself whether you think Murdoch is running his media empire as a credible, contextual, balanced news reporting organization - OR - as an organization with a history of connections to criminal acts, and a propaganda-for-profit machine running near full capacity to topple the NYC Mayor.
Let's take a closer look into the facts behind our investigation into whether Billionaire Media Mogul Keith Rupert Murdoch is making efforts to media haze the NYC Mayor by using the NY Post as a propaganda tool.
Is Murdoch's Org Skirting Campaign Finance Laws?
Are They Disguising Advocacy & Attack Infomercials as News Reports to Skirt Campaign Finance Laws?
At the end of this report we question whether the Murdoch organization is passing off what appears to be its frequent, one-sided, unbalanced, propaganda-like reports - or what some might call advocacy or attack infomercials - as news reports to skirt campaign finance laws.
Click Link & Scroll down for rest of story & Video
Murdoch's NY Post appears to be used as propaganda machine working to oust the NYC Mayor
---
Clinton Defeats Sanders, Trump Defeats Rivals
Clinton 58% vs Sanders 42%; Trump 60% vs Kasich 24% & Cruz 15%
April 20, 2016 / Queens Neighborhoods / Queens Elections / Queens Buzz.
Bernie Sanders has been campaigning in New York the past week, drawing large crowds ranging from thousands to tens of thousands, as if he were a rock star. But on Tuesday, the voters weighed in and handed Hillary Clinton a convincing victory, helping her widen her delegate lead, and likely put her on the path to the Democratic Party nomination.
Democratic Delegate Count
To win the Democratic Party nomination, a candidate needs 2383 delegates of 4763 total. Within that total there are 712 super delegates, who can align themselves / vote for whomever they want but there's pressure to vote in favor of the direction that the state voted. The remaining 4051 delegates are won via the voting process and are called pledged delegates.
According to the Associated Press estimate, following the NY State win, Hillary Clinton now has 1428 pledged delegates and 469 super delegates, while Bernie Sanders has 1151 pledged delegates and 31 super delegates. There are 1472 pledged delegates remaining, so to win a majority of pledged delegates, Hillary has to win 598 or 41% of the remaining pledged delegates, while Bernie has to win 874 or 59% of them. Clinton has already received commitments from more than half of the 'super delegates'.
Given Sanders is generally still behind in the polls in some of the larger remaining states [behind 16% in Pennsylvania and behind 8% in California], that seems a tall order. While the polls were dead wrong in Michigan, they were spot on in New York. The Sanders campaign told a news outlet Tuesday evening that they will see how they do in the contests this coming week and then evaluate their chances going forward. The Democratic Convention has been scheduled from July 25 - 28, 2016 in Philadelphia.
Republican Delegate Count
Meanwhile on the Republican side there wasn't much news. Trump won handily defeating Kasich and Cruz. The Republicans have 2473 total delegates and 1237 are needed to win. According to the Associated Press estimate, following the NY State win, Trump has 845 delegates, while Cruz has 559 and Kasich has 147.
Trump needs 392 more delegates [about 40%] to go uncontested to the Republican Convention. There are 992 delegates remaining, but according to CBS only 674 delegates are available in the remaining voting contests prior to the Convention. So Trump may have to win 60% of the remaining unpledged delegates to go to the Convention uncontested. The Republican Convention is scheduled for July 18 - 21, 2016 in Cleveland.
The voting contests next week include Pennsylvania, Connecticut, Maryland and Delaware.
The fat lady hasn't yet sung, but it is beginning to look like a Clinton / Trump race to the White House.
---
On the Campaign Trail & 'Feeling the Bern'
Sanders Introduces Democratic Socialism to the American People
Updated April 19, 2016 from 4/15/16 / Queens Neighborhoods / Queens Politics / News Analysis & Opinion / Queens Buzz.
If nothing else, this has been an interesting presidential election cycle. It's not 'reality TV', its televised reality.
Making America Great ... again?
The Republicans attracted most of the attention early on, thanks mostly to Donald J. Trump's shock jock presidential candidacy. A candidacy that turned presidential debates about public policy into name calling, discussions of poll numbers & penis size, and relentless barrages of vituperative insults.
The Donald has, in his campaign, essentially told us to forgeddabout the ballooning government deficit, a dated and at times crumbling infrastructure, fixing our public education system, helping the shrinking middle class and addressing global climate change.
The Donald has distracted us from an intelligent discussion about these 'loser' subjects, and told us that he's going to rip 12 million people [the equivalent of about 5% of the nation's population] away from their families by deporting them, punishing women for getting abortions, and erecting a wall along the border with Mexico which he tells us the Mexicans are going to pay for.
Does Trump really think this is how to 'make America great ... again'?
Trump Candidacy Increases Ratings Which Translates to Profits
Trump may not make America great again, but he's been good for corporate-owned, network television ratings. The Hollywood Reporter quotes CBS Chairman, Leslie Moonves telling a Morgan Stanley conference in San Francisco on February 29th, 2016 that,
"The money's rolling in and this is fun ... this going to be a very good year for us. Sorry. It's a terrible thing to say. But, bring it on, Donald. Keep going."
While Sanders Delivers Substance & Expands Public Debate
So while Donald Trump has been filling the pockets of corporate-owned mass media, Bernie Sanders - the man with the real story - has largely been ignored. Ignored by the mass media, but embraced by the social media and a signficant and growing segment of the American populace. In fact Sanders, during the past week of campaigning in New York, attracted crowds of tens of thousands, while the other candidates on both sides of the ticket did not.
Click here to see photos of the Bernie Sanders rally in LIC Queens, as well as a story about the contest between Sanders and Clinton.
---
Person of Interest
'Irrelevant' Person Dead, 'Relevant' Person Still at Large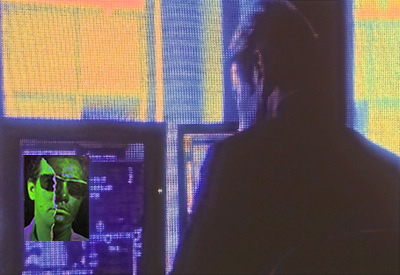 April 11, 2016 / Long Island City Neighborhood LIC / Astoria Neighborhood / Queens Community Issues / News Analysis & Opinion / Queens Buzz.
On Wednesday, April 6th shortly before 11 pm an unidentified motorist traveling south on 21st Street hit a pedestrian near 30th Road.
According to PIX11 News,
"The driver traveled a half a block with the victim on the hood of the car, slammed on the brakes, leaving the victim to fall on the roadway before fleeing the scene, according to a police source."
PIX11 News also noted that the car may have been a Toyota [guess for yourself by watching the video], of a dark or red color, and that there was glass on the road, indicating that the car may have been damaged in the fatal hit & run. As of Monday noon, police had still not released the name of the dead man, pending family notification. The man was crossing 21st Street outside of the painted crosswalk lines.
This was a real homicide, but not pre-meditated murder, like the crimes that Harold Finch, John Reese and Detective Lionel Fusco attempt to solve before they happen in the CBS television series Person of Interest. But like the crimes pursued by the citizen heroes of the CBS television miniseries, there's some reasonable probability that this hit and run homicide along 21st Street could have been prevented. In fact we documented the members of TA Queens trying to stop this fatality before it happened, wherein they assumed roles with moral parallels to the leading characters in the show Person of Interest.
Let's examine the evidence. Click here to read the rest of our report about the hit and run fatality on 21st Street in Astoria / LIC at 30th Road including a graphic NYPD video of the collision.
---
People Power & Queens Public Schools
Group Self Organizes to Improve Neighborhood Public Schools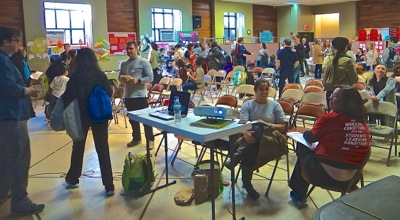 April 4, 2016 / Jackson Heights Neighborhood / Queens Public Schools / Queens Buzz.
On the afternoon of March 12th, I attended a series of workshops organized by the Jackson Heights People for Public Schools at the Community United Methodist Church. As I entered the building there was a swirling of human activity ranging from youngsters to middle aged parents.
The purpose of the workshops was to engage not just parents, but anyone interested in helping make Jackson Heights public schools better. The group had reached out to several municipal and state government officials for help, but I was informed that only NY City Council Member Daniel Dromm responded affirmatively to their solicitations.
Later this week we'll post a report about some of the issues touched upon at the Jackson Heights Schools workshop, such as the Core Curriculum, testing and some additional context for better understanding the charter versus public schools debate. We'll also include a bit of info on what your municipal and state legislators are and are not doing.
---
Which Queens 'Democratic' Pols Support $8 Tolls?
Several Queens Officials Support $8 Tolls on Queensborough & Other East River Bridges & at 60th Street to Raise Capital for the MTA
Queens Democratic Party Chairman Joe Crowley & NYS Governor Cuomo Supported Congestion Traffic Pricing in the Past
March 29, 2016 / Queens Neighborhoods / Queens Politics / News Analysis & Opinion / Queens Buzz.

The new Congestion Traffic Pricing Plan has been making its way into the legislative process over the past year. Just last week NYS Assemblyman Robert Rodriguez, a Democrat from Manhattan introduced the bill on March 23, 2016. The Move NY Congestion Traffic Pricing Plan is being sold into the legislature as a means to raise revenue to fund MTA Capital projects.
Currently NYS Senator Jose Peralta, Cuomo's Deputy of Legislative Affairs Mark Weprin & CCM's Van Bramer, Richards & Reynoso publicly support installing $8 tolls on the Queensborough & other East River bridges to raise capital for the MTA.
Governor Cuomo's Words Are ...
Governor Andrew Cuomo supported the Congestion Pricing Plan put forth years ago, which wasn't popular with many of the voters in Brooklyn & Queens. The two boroughs have a combined population which rounds to 5 million or 25% of the 20 million people who live in New York State.
Cuomo was quoted as making the following statement by the Observer in an article published a year ago on March 15, 2015,
"It's not, 'Can I support it?' Will the people support it? Can you get it done? Can you get a congestion plan passed and we've gone through this a couple of times and it was an overwhelming 'no' and I haven't seen anything happen that would change my opinion,"

The Governor has essentially been repeating this position publicly ever since.
Inconsistent with Governor Cuomo's Staff Actions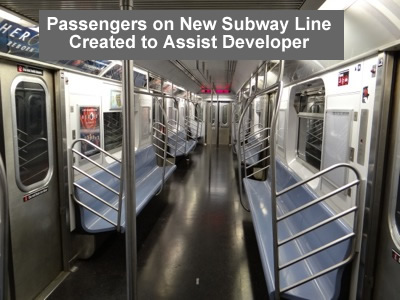 But while the Governor is publicly distancing himself from the measure which is unpopular in Queens and Brooklyn, former NY City Councilmember Mark Weprin, who is now Cuomo's Deputy of Legislative Affairs, has supported the Move NY Congestion Traffic Pricing Plan.
Weprin vehemently oppposed Congestion Traffic Pricing in 2008 when he was a NY City Councilmember, but in 2015 Weprin began publicly supporting the revised Congestion Traffic Pricing Plan as he transitioned from NY City Councilmember to becoming Cuomo's Deputy of Legislative Affairs. NYS Assemblyman David Weprin, Mark's brother, continues to publicly oppose the plan.
It's worth mentioning that the Weprins and the Cuomos have had close family political ties spanning two generations.
Congressman Crowley's Position Circa 2007
Queens Democratic Party Chairman, U.S. Congressman Joseph Crowley, supported the Congestion Traffic Pricing Plan backed by former Mayor Bloomberg, according to a June 11, 2007 report by the New York Times which quoted Crowley as saying,
"the overall [2007] plan — and congestion pricing is just a part of it — will make this a more livable city and make it easier to attract the best and the brightest not only from around the country but from around the world."
We've not yet seen any comments by Congressman Crowley on the current Move NY Plan which was recently introduced.
Move NY's 'New & Improved' Congestion Traffic Pricing Plan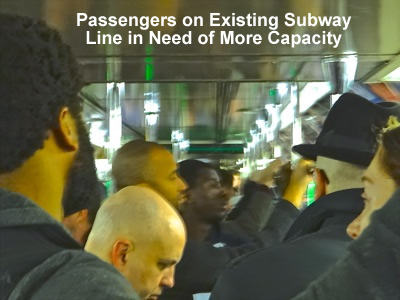 We studied the Move NY Traffic Congestion Pricing proposal by first taking a closer look at what groups are pushing the plan [follow the money]. Gridlock Sam Schwartz Consulting LLC is one of the primary promoters of the plan, and the consulting company is owned in part by a large, multi-national, transit infrastructure contractor. We also evaluated the assumptions they used to create the estimates provided in the plan, which we found to be inconsistent with fairly recent independent studies by respectable institutions, and we also looked at what happened in one of the other cities around the world that implemented the plan.
In essence the plan retrofits [re-prices] the fossil fuel infrastructure, by making a significant investment to install and operate tolling around the center of Manhattan. The remaining proceeds would then go to fund other MTA capital projects [in London this was about half the proceeds]. The pricing would require those who can't afford the $8 tolls [each way] to either use mass transit [recent NYC metro studies have shown this switching doesn't happen] or to cross the bridge at other times at which time the tolls would cost less. The proponents say this would enable those who can afford the tolls to cross the East River bridges and 60th Street more quickly and move around mid Manhattan more easily [less traffic congestion with the rest of the community priced out of their way]. How 'democratic' is this?
Previously MTA Invests Billion$ in New Subways Appearing to Accommodate Billionaire Manhattan Developer(s) & Now Pols Want Metro Residents & Employees to Fund a System to Toll Tax Them to Fund MTA Capital Budget
The MTA during the Bloomberg (Republican) Administration made approximately $8 billion in MTA capital investments for about 30 to 40 blocks of Manhattan subway lines. One line travels from Times Square to the Javits Center [$2.4 billion mostly paid by city] and the other, which was strongly supported by NYC Comptroller Scott Stringer, is expected to travel along Second Avenue from
about East 60th Street to about East 86th Street when it is completed [ran way past budget and time estimates - currently about $5.2 billion].
The latter subway line has been called the 'subway to nowhere', while the other isn't much different - as it terminates at the Javits Center and billionaire real estate developer Steven Ross' & Related Companies' new Hudson Yards development - without any other subway connections. Pundits have opined that one [new #7 Hudson Yards station] and possibly both of these multi-billion dollar investments were made to accommodate Manhattan real estate developers [such as Ross], more than to facilitate transit for commuters and residents of New York City.
When I confronted an MTA spokesperson with this perspective, they told me that the Q line extension would alleviate a considerable amount of the congestion on the north / south east side Manhattan subway line, but made no comment regarding the Hudson Yards station.
The photos above show no passengers on the Javits subway [at an admittedly random time and not long after it was installed], while the second photo shows the #6 subway along the Upper East Side, also at a random time [I have #7 photos that look the same, but didn't have time to find one]. The map to your right shows the new #7 subway line extension ending as an unconnected spur.
Perhaps if the MTA and the government officals who oversee MTA capital project spending were more judicious in their selection of multi-billion dollar projects and allocation of funds, they wouldn't need to make a huge investment of the public's money in the creation and operation of an expensive new tolling system which they plan to use to charge taxpayers $8 tolls to cross 60th Street and the East River Bridges.
This plan essentially aids the wealthy by making their lives easier, while economically discriminating against those with less wherewithal, by making their lives harder. This doesn't strike me as a solution that's 'democratic' at all. There must be less costly, more fair ways to raise additional revenue for transit that NYC commuters - not Manhattan real estate developers - really need.
CLICK HERE TO SCAN / READ THE FULL REPORT on the Move NY Congestion Traffic Pricing Plan.
---
---
American Poolplayers Association Tourney
APA Leagues Gear Up For Spring & Summer Championships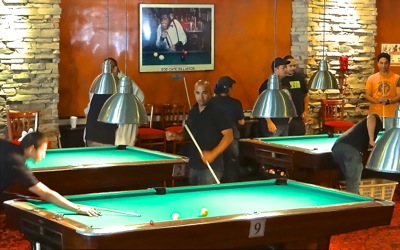 February 11, 2016 / Jackson Heights Neighborhood / Restaurants in Jackson Heights / Queens Buzz.
Last Fall I attended one of the Brooklyn Queens Bronx APA League Tournaments at BQE Billiards & Bar in Jackson Heights. It was an all day event wherein 270 pool players competed as teams, vying for top spot placements in the league, in order to move on to compete for the APA Championship in Las Vegas.
I was surprised by the friendly comraderie of the competitors. I thought they would regard each other more adversarially than they did. In conversing with a number of them I began to get the sense that, at the neighborhood league level, poolplayer leagues are more a community than a competition. Players are generally quite familiar with one another and each other's playing level, in the same manner as other intramural and league sports where the competition is real, but so is the comraderie.
We'll have more at a later date, including a video of league play and interviews.
---
---
Saving Jamaica Bay Documentary Film - Queens World Film Festival
Saving Jamaica Bay
Local Documentary Film At The Queens World Film Festival
March 21, 2016 / Astoria Neighborhood / Jamaica Neighborhood / Queens in Film / Queens Buzz.
I attended the 6th annual Queens World Film Festival on Thursday where I had an opportunity to view a film that's been years in the making by a local filmmaker, Dan Hendrick. The film is entitled Saving Jamaica Bay and it's an hour and 16 minute documentary about the ecosystem of New York City's Jamaica Bay.
The film storyline and cinematography capture the juxtaposition and the intensifying struggle, between man and nature. The beauty of the bay is captured on film, showing us that the fair maiden is in distress. But she's being rescued, or at least fought for, by a naturalist and former manager of the National Park Service Jamaica Bay Wildlife Refuge in tandem with a retired fireman and his son, who've taken upon themselves the mission of protecting what was shown to us to be an area of great urban abuse and refuse, but even greater beauty.
Click here to see more still photos and a review of the film entitled Saving Jamaica Bay at the Queens World Film Festival in March. The film is scheduled to be shown at other film festivals throughout the year, a few of which will be listed at the end of this report.
---
---
Mayor de Blasio's State of the City Address 2016 NYC
De Blasio's State of the City Address 2016
Moving NYC from 'Tale of Two Cities' to 'One New York'?
February 6, 2016 / Kingsbridge Heights Neighborhood Bronx / NYC Neighborhoods / NYC Politics & Government / Queens Buzz.
I attended Mayor de Blasio's second State of the City Address delivered at the Performing Arts Center at Lehman College in the Kingsbridge Heights neighborhood of the Bronx. In spite of its northern, non-central location, the speech was well attended. About three dozen protesters also made their way north of Manhattan into the Central west Bronx, wielding placards asking the Mayor to stop gentrification and something about fair labor practices.
I took my place among the press corps where we were seated right in the middle of the auditorium. After settling in, I started photographing the slides whizzing by on the main stage, showing the accomplishments of the de Blasio Administation during its first two years. I have included a slide show a bit later in this report, which contains some of the slides that I photographed.
Unlike last year, when the Mayor and the Police Commissioner were having difficulties adjusting to each other, this year the mood seemed buoyant. In front of me was a group of students from the Laboratory School of Finance & Technology - MS 223 - at 360 East 145th Street in the Mott Haven neighborhood in the Bronx. The school is connected with Bronx Prep and hence handles grades 6 through 12.
Click here to read our report of Mayor de Blasio's State of the City Address 2016. The report includes video excerpts of the Mayor's speech, as well as two other short video pieces including the harmony singing of the National Anthem by a talented Bronx choral group, and the teachers and students of MS 223.
---
---
Topaz Arts Woodside - Queens Art Galleries
Topaz Arts Woodside Opens New Exhibit
A Contemporary Exhibit of Collage, Assemblage, Sculpture & Installation
March 14, 2016 / Woodside Neighborhood / Art Scene in Queens / Queens Buzz.
Last weekend I attended the opening reception at Topaz Arts in Woodside for Case Studies, which is an exhibition of contemporary collage, assemblage, sculpture & installation. The exhibit features five artists - Joseph Paul Fox, Ged Merino, Orange, Roger Rothstein and Junko Yamada who exhibited a variety of contemporary works.
I arrived around 3 pm on a beautiful sunny Saturday afternoon. The temperature was in the 60's and the door was wide open, welcoming the fresh Spring air and guests into the art gallery in Woodside. Along the front window there was a table of hors d'oeuvres and wine, while along the walls of the gallery were very neatly partitioned exhibits by each of the five artists.
The inspiration for the exhibit was an influential American artist, Joseph Cornell [1903 – 1972] who lived and created his artworks in Queens. Cornell was a pioneer in assemblage art and considered by many to be a Surrealist. He shunned the Surrealist label however, believing Surrealist artists' works alluded to black magic, while his referenced his own private, poetic world using found objects. By the 1930's he was a well-known New York assemblage artist, and appeared in numerous New York City metro art exhibits, including at the [then] new Museum of Modern Art in Manhattan.
Click here to view the rest of the story including photos and video about the new art exhibit, Case Studies, at Topaz Arts gallery in Woodside, Queens.
---
Click here for things to do on the Upper East Side UES, or things to do in Midtown NYC, or things to do in the East Village and here for Whitestone hair salons.
---
---
Queens Museum Winter Exhibits
An Artistic Mix of Media & Subjects
February 15, 2016 / Flushing Neighborhood / Queens Art Museums / Queens Buzz. The Queens Museum has several exhibits that will end this month. I went to see them because I had heard about how interesting they were. One is the music of the cosmos, some time after the Big Bang, being played on a Steinway piano. Another links into the map of the city of New York made for the 1964 World's Fair, by using rendering video images to connect the artist's real video of her apartment to the real video of the map in the Queens Museum. And there's a moving work by an African American artist who spent some time in her childhood living in a homeless shelter. She did a mixed media installation that includes video, newspaper clippings and replicas of the limited possessions one in that situation can hold onto.
The last exhibit I viewed [see photo at right] was by a Chinese born American artist, Zhang Hongtu, who captures the iconic force of Mao Zedong [1893 - 1976]. Mao led an insurgency against the ruling class in China around the time of WWII. He eventually succeeded in taking power from them and ruled China from 1945 until he died in 1976. In 1972 Mao welcomed Richard Nixon to China is what was the beginning of a long transition from Communism to the mix of capitalism and Communism we see today.
Anyhow the artist found Mao's presence to be ubiquitous and he creatively emblazoned the feeling of Mao's presence on a number of artistic works in his installation which ranged from a ping pong table [part of the Mao / Nixon diplomatic outreach], to a video installation of a fashion show, to everyday items. We hope to follow up at a later date with a longer report about these exhibits at the Queens Museum - ending on February 28th.
---
New York City Economic Outlook 2016 - NYC Economy
Queens Economy - 2016 Outlook NYC
Currently Full Employment, Low Interest Rates, Low Inflation But Possible International Shocks
January 4, 2016 / Queens Neighborhoods / Queens Business / Queens Buzz.
We took a look into the crystal ball over the holiday break to see what may lie ahead for the NYC economy in the coming year. We studied the stats and facts put out by many of the national data producers at the Bureau of Labor Statistics, the Federal Reserve, the Treasury Department and the AIE. What follows is a brief summary of some of the statistics we gathered on the global, national and New York City economy including unemployment statistics by borough for 2015.
U.S. & NYC Economy Near / At Full Employment
Currently Queens and Manhattan are doing the best with respect to employment, with unemployment rates below 5%, which economists consider to be full employment as the 5% unemployed are viewed as normal 'friction' in the economy, accounting for people coming into, leaving and changing jobs within the labor force.
In 2009 - 2010, during the first two years of the Great Recession, the nation's unemployment rate hit 9.4%, while the unemployment rate for New York City hit 10.4%. The employment picture for the nation and the five boroughs of New York City has slowly but steadily improved since then, with unemployment trending lower, reaching full employment this year at 5% for the nation and 4.8% for New York City this fall.
Employment Impact / Relationship to Inflation
Employment affects inflation, as when everyone is fully employed, recruiting firms bid up the price of labor and workers feel secure enough to spend aggressively, bidding up the price of goods. The Federal Reserve attempts to reign in inflation - because it creates economic instability - by raising interest rates which increases the cost of capital needed to expand operations or make large purchases more expensive. On December 16, 2015, the Federal Reserve raised its key short-term interest rate by 25 basis points (0.25%) to begin to get ahead of potentially inflationary issues that may lie ahead. We'll look into a few of these later in this report.
Economists in one of the banking reports I received believe that there is still slack in the labor market that is not reflected in the numbers as many people have part-time jobs, while they would like full time jobs. Also the labor force participation rate fell during the Great Recession and it became more difficult to find work. Now with a full employment economy it is believed that some of those folks who gave up looking will try to re-enter the workforce. An example of the decline in participation rate might be a spouse who helped supplement household income but couldn't find the right work, and now starts looking again.
Click here to continue reading our report about the New York City NYC Economy Outlook 2016 which delves into full employment impact on inflation, interest rates, consumer debt levels, oil & commodity prices, domestic and international currencies & economic growth, the financial markets and how all of this may impact the different sectors of the Queens & New York City economy.
---
---
LPAC - Unpacking American Identity
Theater: Unpacking American Identity
Want to Know What it Feel like to be a Minority Living in the USA?
March 1, 2016 / Long Island City Neighborhood / Dance & Theater in Queens / Queens Buzz.
I attended A Black Lives Matter Play performed at the LaGuardia Performing Arts Center in Long Island City. The play is part of a theatrical theme developed by LaGuardia College Performing Arts Center to explore the intricate mosaic of humanity that comprises American society. A wide number of the cultural composite represented in American society may be found in the culturally diverse student body at LaGuardia Community College in Long Island City.
Last year the program focused on exploring Muslim identity in New York City. The intent was to provide a more holistic view of Islamic peoples than portrayed by the American media, whose primary depiction of Islam, a culture representing over a fifth of the world's population, is centered around those working in the field of terrorism. And by American media, it's important to include the Hollywood entertainment industry, which accounts for a huge portion of time people spend absorbing programs factually or fictionally portraying the world around us.
The obsession with the more gruesome events and villainous people of a culture is not uncommon for the American media. One doesn't have to look far to find lopsided depictions of the culture of Italian Americans, through the obsession of those working as mafiosos, of Latin Americans as drug lords, and of African Americans, by depicting them as hoodlums.
Enter LaGuardia Community College Performing Arts Center and 'Unpacking American Identity', which strives to use theater to educate, elucidate and eradicate the inherent biases and popular misconceptions disseminated via the unrelenting sounds, images and lopsided portrayals of the cultures of the members of their student body.
---
---
Mother's Day Restaurants In Queens
Mother's Day Restaurants In Queens
Mother's Day Restaurants in Astoria, LIC, Sunnyside, Woodside & Jackson Heights
Queens Restaurants / April 4, 2016. Mother's Day is less than one week away. It's a good time to let your loved one know you care. Flowers, gifts and brunch or dinner are always welcome, as is any thoughtful gesture that provides some measure showing your appreciation of your mother or the mother of your children. After all, without mothers, we would all cease to be.
It's best to book a restaurant reservation for Mother's Day brunch, as on Mother's Day in Queens, many restaurants are full. So if you're thinking about eating out at a restaurant this Mother's Day in Astoria, LIC, Jackson Heights, Sunnyside, Woodside or Flushing; it's best to do your research early, and call ahead to book Mother's Day restaurant reservations.
Mother's Day History - Restaurants In Queens
The origins of Mother's Day in the United States began with the efforts by Anna Jarvis in honor of her own mother. According to Wikipedia, Anna began the campaign in 1905 - the year her mother died - and in 1910 West Virginia was the first state to adopt it as a holiday. In 1914 Woodrow Wilson made the second Sunday in May as a national holiday to honor mothers.
Click this link to view a brief guide of Mother's Day restaurants in Queens 2016 where you will find links to Queens restaurants we've reviewed. The restaurants we've reviewed include a mix of high, medium and budget priced restaurants that are spread throughout the borough and offer a large variety of ethnic cuisines. Enjoy.
---
---
---
Astoria Furniture Stores Have It All - Queens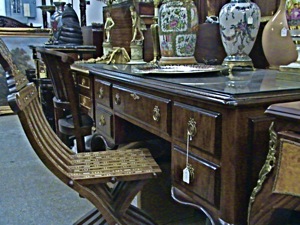 Astoria Shops / Astoria / Queens Buzz. The furniture stores located on the southern end of Steinway Street in the Astoria neighborhood of Queens seem to have something to offer to just about everyone. This part of Steinway is a furniture shopper's mecca, offering plenty of choices from classical colonial, to urban apartment living to bedding to suit nearly every spine.
I took a quick trip there, which is easily accessible via the N, W, G, R or V subway lines and within a sturdy walking distance from Long Island City, Astoria, Sunnyside and Woodside. Just up the street from Steinway is Broadway, where you'll find the Omonia Cafe where after a good morning or afternoon of shopping, you can kick back along one of the sidewalk tables ane enjoy a bit of coffee and some delicious baked goods. Click here to learn more about the furniture stores in Astoria Queens.
---
Click for free checking in Queens or to buy eyeglasses Astoria, for Astoria hair salons, for Astoria wine stores, for Jackson Heights immigration lawyers, for Midtown dentists & Midtown Chiropractors, and for things to do in Queens. Eyeglasses in Jamaica NYC and bike stores Queens.
---
Mens Clothing Styles - Queens
Shopping Queens / Astoria / Midtown Buzz. Esquire Men's Clothing Store continues to serve the greater Astoria and Queens area, as it has for over thirty years.
The shop is owned and managed by Frank and Kevin Adhami, and their father, who is in his eighties, still visits the store on an almost weekly basis.
Esquire is located along Steinway Street between 30th and 31st streets. The store contains a wide selection of men's coats, suits, casual wear, shoes and men's accessories like belts and ties.
This story will provide some information about the store itself as well as fashion recommendations for the Spring and for job hunters.
Click this link to view a story written on Men's Clothing In Astoria Queens NY. Click here for men's clothing stores in NYC, and here to buy Stone Rose shirts in NYC, and here to buy Alberto pants in NYC, and here to buy Eton shirts and here to buy Hugo Boss sneakers in NYC. Click here for Astoria / LIC Queens tile stores serving Brooklyn, Greenpoint & Williamsburg or here for abayas in Queens & Brooklyn NYC and for hijabs in Queens & Brooklyn NYC.
---
Queens Farmers Markets
April 9, 2016 / Astoria Sunnyside Woodside Jackson Heights Long Island City LIC Flushing Jamaica / Queens Buzz. A few of the seasonal farmers markets will begin opening in the next few months.
The Sunnyside Farmers market on Skillman Ave & 43rd Street was approved to operate year 'round in 2014. The Sunnyside Farmers market becomes the third farmers market to operate year round. Jackson Heights was the first & Forest Hills was the second, so now Queens has three farmers markets operating year 'round.
Click the link below to see a listing of the Queens Farmers Markets operating during the 2016 season including links to maps. Click the other link below for a rolling update of Queens Street Fairs schedule of 2016 through the end of the year, including dates and maps showing their locations.
Click here for our updated posting of Queens Street Fairs - Queens NY. Click here for a listing of the Queens Farmers Markets. You will always find both street fairs and farmers markets for the current month in the Queens Events section of the site [see top tool bar for button / link]. Click here to view the map of the Jamaica farmers market.
---
---
Queens Real Estate
Real Estate in Astoria, Jackson Heights, Long Island City LIC, Sunnyside, Woodside, Flushing, Jamaica
Queens NY / 2016. These links will take you into sections & reports on the Queens real estate market in Queens beginning in 2009.
These reports include reviews of apartment rental prices, as well as condo, co-op and home prices and availability in the Queens market.
We have also done neighborhood specific reports about Astoria real estate, LIC / Long Island City real estate, Jackson Heights real estate, Woodside & Sunnyside real estate, Flushing Real Estate and Jamaica Real Estate. Click here to view Long Island City apartments for rent LIC.
While we found these neighborhoods mirrored / trailed many of the national trends, we found some interesting differences, including differences from neighborhood to neighborhood.
Click here to read the Queens Real Estate market analysis 2009. Click here for Jackson Heights realtors and Jackson Heights real estate.
---
Queens Buzz Voluntary Subscriptions
We work very hard to help keep you informed by providing you with independent news coverage, as well as information about events in the arts, culture and business in the borough.

You can help us continue to provide you with independent, first-person, fact-based, contextural reporting by purchasing an annual subscription. As it's voluntary, there are a variety of price options, one of which should fit within your budget.
Thanks for your encouragement & support.
---