A Closer Look into Role of the Daily News Coverage in Takeover of Queens Library
Real Estate Billionaire Mortimer Zuckerman's Daily News Continuously Portrays the Fiscally Sound, Award Winning Queens Library Board of Trustees & CEO in a Negative Light

While Lauding the Brooklyn Public Library Trustees for Sale of Real Estate to Developer to Obtain Needed $40 Million Cash
The Queens Library has 62 Branch Locations Sitting Atop Some of the Best Real Estate in Queens Worth Hundred$ of Million$ or more

Queensborough President Melinda Katz Appears to have had Prior Relationship with Daily News Owner Mortimer Zuckerman's Boston Properties as Lobbyist

Updated December 20, 2014 / Queens Library / Queens News Analysis & Opinion - Issues / Queens Buzz.
Please note that to date no public official have spoken about any development deals using Queens Library property.
Daily News Publication of Leaks with No Announcement of Real Wrongdoing - What Happened to Presumption of Innocence?
I'm going to work under the assumption that Queens Library CEO Thomas Galante is innocent of all charges until proven guilty. That is the way things are supposed to be done in America.
Many leaks of all kinds of confidential information about the Queens Library CEO have made their way into Real Estate Billionaire Mortimer Zuckerman's Daily News this year - including plenty of minutiae - but not a single word about any real wrongdoing.
Daily News Headlines Appear to Play Role in Queens Library Takeover - Urging Replacement of Governance Team
The Daily News appears to have done more than just report on the Queens Library crisis of confidence. In fact, the Daily News was the first to report the crisis - and they appear to have played a major role throughout it - as their organization urged the dismissal of Galante and the trustees who supported him on numerous occasions in the headlines alone. The following are some examples of headlines taken from stories in the NY Daily News:
March 31, 2014 - Headline reads: "Turn The Page On Tom / Why the Queens Library Chief can no longer be trusted"
June 27, 2014 - Headline reads: "Sack them all / Bye-bye to Queens Library chief Tom Galante — and the board members who enabled his reign of greed"
July 24, 2014 - Headline reads: "Sack Galante next / Incompetent Queens Library board being dismantled"
December 11, 2014 - Headline reads: "Fat city fathead / Thousands of reasons to fire Tom Galante"

The Daily News - Name Calling CEO Galante in its Editorial Coverage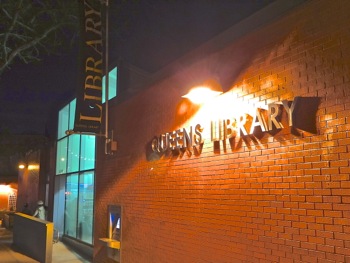 Last week, the Daily News provided the public with more details of Queens Library CEO Thomas Galante's expense reports over the past (few) year(s). Their presentation of the information appeared one-sided and cast Queens Library CEO in a negative light, as little effort seems to have been made to explain the business purpose or provide context for the expenditures.
The Daily News also published an editorial, which resorted to name-calling including calling Galante:
"fathead"
"little piggy"
"emperor"
and characterizing his spending as "preposterous"
This was not the first time they called him names in their publication this year.
We'll explore recent coverage by the Daily News in a more detail further down in this report, as it is reflective of their coverage of this crisis of confidence in the Queens Library all year. A crisis which the Daily News in fact began, with a series of exclusive reports earlier in the year.
Queens Borough President Melinda Katz Appears To Have Had Prior Relationship with Daily News Owner Mortimer Zuckerman's Boston Properties as a Lobbyist
According to a source, Queens Borough President Melinda Katz appears to have had prior relationship with Daily News Owner Mortimer Zuckerman's Boston Properties as a lobbyist working for Greenberg Traurig law firm in 2012.
A New York Observer story dated, April 10, 2012, states:
"... Still, Manhattan Borough President Scott Stringer has expressed skepticism toward the project, which he would like to see reduced in size, and the community panned the rezoning outright."
"To help makes its case, NYU recently retained Ed Wallace and Melinda Katz, two land-use attorneys who have helped shape a number of important development projects as they wended their way through public review—not least because both of them also once spent time as members of the  City Council, the body that will have the ultimate say on NYU's rezoning."
And a bit later in the story.
"Mr. Wallace served as the councilman-at-large for Manhattan and chief of  staff to the council president back in the old days of the Board of Estimate, after which he joined Mort Zuckerman's Boston Properties before moving over to Greenberg Traurig, the law firm where he is now co-managing partner of the New York office. Ms. Katz joined the firm in 2010 as a partner in the real estate division after serving two terms in the council, one of which was spent as chair of the influential land-use committee, where she oversaw a number of redevelopments similar to NYU's."
The NYC government maintains a website showing registered lobbyists' relationships with clients. We took this image from the NYC.gov website which shows that from March through December of 2012 - one year before she became Queens Borough President - Melinda Katz was a registered lobbyist working for the lawfirm of Greenberg Traurig, with a client relationship with Mortimer Zuckerman's Boston Properties.

Click here to read our report regarding the Queens Library controversy and the Daily News reporting of it.
---
Things To Do Queens
Hanukkah Party & more to come shortly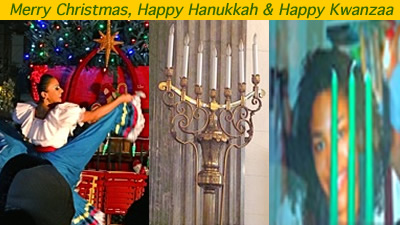 December 19, 2014 / Things To Do Queens / Queens Buzz.
Weather. Highs about 40 and lows about 30 and sunny until Sunday when it will be partly cloudy.
You can click here for holiday shopping specials in Queens.
Saturday
There's a Christmas carol walk beginning at Cassidy's Ale House in East Elmhurst / Jackson Heights beginning at 7 pm.
Sunday
There's a Kehillat Tikvah Hanukkah party in Jackson Heights beginning at 3.30 pm - call 718-569-1887 for location.
Member Calendar Events
There are terrarium classes held at Luludi in Astoria on Friday & Saturday.
On Saturday there are flamenco dance classes in Astoria with American Bolero.
On Sunday morning there's a Toastmasters event in Elmhurst and Kids Church in Jamaica.
Rest of Weekdays - click to the Queens Member Calendar for other member posted events happening during the week.
And click here to find art, theater or film open calls, jobs openings, affordable housing, government sponsored classes & funding.
Use the Business Directory to your right to find contact info, website links and maps for events posted herein; or the search function top left to find related stories, maps, restaurants or anything else on this site. And of course there's always an opportunity for shopping in Queens which you can find here, which we will update soon.
---
Galante Dismissed by Queens Library Board
Statement Says Dismissal is "for Cause" & Trustee Vote Unanimous
December 17, 2014 / Queens Library / Queens Buzz. We received this statement from the Queens Library regarding the sacking of the now former CEO of the Queens Library.
"This evening, the Board of Trustees heard a report by counsel. Based on that and a prior report by counsel, a decision was made to terminate immediately Mr. Galante's employment. As the Library moves forward, the Board of Trustees will continue working to ensure greater transparency and the proper administration of the Library and its funds in furtherance of its mission. Queens Library will continue to provide outstanding value to the people of Queens."
Queens Borough President Katz issued a press release that essentially provided the same information.
A subsequent statement issued by the Queens Library said that the Board of Trustees vote was unanimous and that Galante was dismissed "for cause". When we inquired what the cause for dismissal was, they declined to comment further. The question now becomes whether former Queens Library CEO Galante will contest the judgment, because a $2 million severance package is at stake.
We made an effort to contact his lawyer for comment and this was their reply.
"Tom Galante devoted 27 years of his professional career to the Queens Library, the past eleven 11 as its President and Chief Executive Officer. So, of course, Tom is disappointed by the action taken by the newly reconstituted Board of Trustees. He is extremely proud of his service to the Library and his accomplishments for the people of Queens. As Gabriel Taussig, Esq., the current Chairman of the Board of Trustees, and Jacqueline E. Arrington, then Chair of the Administrative Committee, stated back in February, "The Queen's Library's record of accomplishment and its tremendous success as a leader in the field and as a critical resource for the people of Queens is largely attributable to Mr. Galante's leadership." Indeed, under Tom's tenure, contributions to the Library increased by millions of dollars, and the Library has been recognized nationally as a role model and innovator, receiving the 2009 Library Journal's "Library of the Year" Award and the 2014 ALA/Information Today "Library of the Future" Award, to name just two significant achievements under Tom's leadership. For the past year Tom has been under constant attack in press accounts that have been based on inappropriate comments about and leaks of Library information. Because of his integrity and respect for the Library as an institution, Tom has chosen not to respond in the press. When he does speak publicly, it will be in a forum that values the truth and not the half-truths and distortions that so far have monopolized the press accounts."
Click here to view our reporting on the Queens Library crisis this year.
---
Thanksgiving Celebrations in Astoria & Forest Hills
Tuesday evening from 5.30 - 8. pm the Queens Community House will be hosting a Thanksgiving Potluck Dinner at 108-25 62nd Drive in Forest Hills.
Thursday beginning around 12 noon there's a free Thanksgiving Community Lunch hosted by the Greek American Homeowners Association at 23-49 31st Street in Astoria. The public is welcome and no rsvp necessary it runs as long as the food lasts.
---
'Damn I Look Good'
Art Exhibit At Topaz Arts In Woodside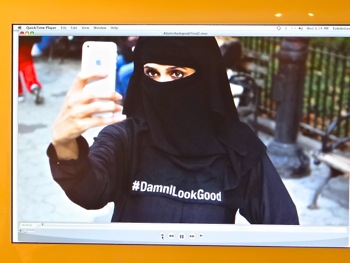 November 17, 2014 / Woodside Neighborhood / Art In Queens / Queens Buzz. On Wednesday I attended a performance of the Theater of the Oppressed NYC at Topaz Arts in Woodside. The performance is one of a number of artistic and theatrical programs organized in conjunction with a year long effort entitled, Beyond Sacred: Unthinking Muslim Identity, by the LaGuardia College Performing Arts Center.
On exhibit at Topaz Arts was a related art exhibit entitled Beauty, created by Qinza Najm of Manhattan. Qinza's work included a couple of oil on canvas paintings and a video, a photo still of which, you can see in the photo to your right. The intent of the art project was to challenge people's perceptions about Islam and Islamic garb.
The 911 terrorist attack on the World Trade Center killed 2,977 people and irreversibly changed the lives of the countless more who loved them. It also created a negative perception of all Muslims in the public eye, and hence also changed the lives for many millions of Muslims living in America who had nothing at all to do with 911. It's estimated that between five and ten million Muslims live in the U.S. - of which a third are believed to be from Africa, another third from southern and eastern Asia, and the remaining third from the Middle East. Is it estimated that there are 1.6 billion Muslims in the world, representing nearly a quarter of the world population.
Qinza's video has her wearing a black burqa in public places in New York City taking selfies [photos of herself as shown in the photo above]. The burqa has enscribed on it a Twitter hash tag followed by the art project name '#DamnILookGood'. The video includes Qinza's artistic statement that this is America and people of all cultures are free to wear what they want. In her video Qinza approaches people to try to get them to wear Islamic clothing for just a few minutes in public places in order to sensitize them to the current prejudicial feelings against them which is manifested through people's reaction to them while wearing traditional Islamic clothing. The burqa is the most conservative Muslim garb worn by Muslim women and is part of the ancient Islamic tradition of women completely covering their entire bodies when out in public.
We'll have more on this art exhibit and the Theater of the Oppressed at a later time.
---
Astoria Cove Real Estate Development
East River Waterfront Transformation Moves North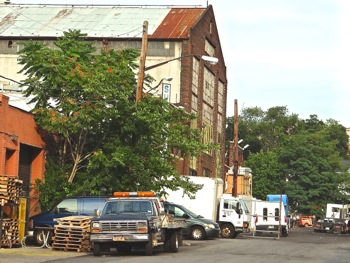 Updated December 3, 2014. The Astoria Cove development passed the NY City Council.
August 18, 2014 / Queens & Astoria Real Estate / Astoria Neighborhood / Queens Buzz. Unbeknownst to at least a few of the folks who live in the far northwest corner of Astoria and Queens, big plans for changes have been taking shape over the past couple of years.
The Hallets Point development passed Community Board One in May of 2013 and the Astoria Cove development is making its way through the governmental gauntlet of real estate development approvals.
The plan calls for a large new complex along the East River which will occupy the location where the building in the photo now stands, along with several other blocks of territory which will become its footprint. The building shown above is about a block east of Build It Green.
Community Board One and the Queens Borough President had issues with the development, primarily calling for a buildout of public infrastructure to support the development as well as for the inclusion of a higher number of affordable housing units. The development will be built completely on privately purchased land, which is in contrast to the Hallets Point development which was done using NYCHA [NYC Housing Authority] property.
We'll have more about this at a later date. By Michael Wood.
---
Air Beam: What Are You Breathing?
Adventurous Bike Ride With TA Queens ... On The Road To Find Out
November 10, 2014 / Queens Neighborhoods / Biking Queens / Queens Buzz. I just returned from a bike ride that began at the Central Park Boathouse and ended in Jackson Heights at 34th Street and the BQE Expressway. Celia Castellan, who is the organizer for Transportation Alternatives Queens [aka TA Queens] collaborated with me on this story which is about Queens & Manhattan air quality and also about biking. Celia is shown in the photo to your right, atop the Queensboro Bridge around 6 pm Monday night as we bike commuted from Manhattan to Queens.
It was a beautiful night with clear, dry air and temperatures around 60. Our mission was to test the Air Beam, a new device designed to enable people to measure the air quality, and then map the information to a public website, so that the public can begin to see what's going on with the air they breathe. The Air Beam is a blue, slightly-larger-than-a-cell-phone device, that you wear to measure the air [quality].
We began the ride in Central Park. We were on our way after receiving only a couple minutes of instruction. The device is brand-spanking new and must be sync'ed to an Android cell phone. The inventors work for a non-profit and are trying to raise a bit of money to mass produce it.
I'm going to take you on the rest of the ride, including a sampling of the air quality readings along the way, and provide some photos of the Queensboro Bridge bicycle commute a bit later this week. In the meantime, check out the Air Casting website and if you want to help, there are a few more days left on their Kickstarter campaign.
---
Jackson Heights Halloween Parade Photos
Parade More Like A Community Costume Party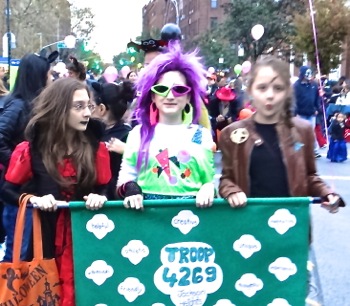 November 3, 2014 / Jackson Heights Neighborhood / Queens Parades / Queens Buzz. I attended the annual Jackson Heights Beautification Group's Kids Halloween Parade on Friday evening. I arrived shortly after it began and started photographing all of the parents and children in costume.
Unlike other parades, given this one was dedicated to the kids, there didn't seem to be the boundaries between parade marchers and the parade audience that one normally encounters. Those in the parade interacted with the audience, many of whom were family, friends and neighbors. And the parade more meandered than marched, with the kids in charge. It kind of felt like one big mega block party / Halloween costume ball.
We took many photos like the one you see to your right. It seems the Girl Scouts dress a bit differently than they did when I was that age. We'll post a photo slide show later today. And I have to give kudos to many of the parents, who seemed to embrace the holiday as much - or more than - their children.
---
Hunters Point South Opens Spring 2015
'Affordable' Housing Applications Set To Begin Mid October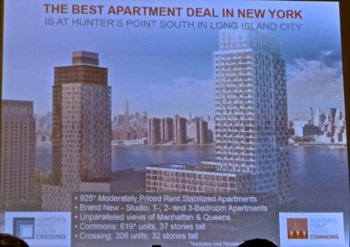 September 29, 2014 / Sunnyside NY / Sunnyside Real Estate / News & Analysis / Queens Buzz. On Monday evening I headed over to Sunnyside Community Services Center to attend the Hunters Point South Affordable Housing meeting. Several years ago the Hunters Point South development was approved by Community Board 2 and subsequently approved by the New York City Council and Mayor. Click the link above to read the earlier report.
The site has been under construction for years, and according to a Related Companies spokesperson at the meeting, the two towers containing affordable housing are to open to residents in the Spring of 2015. Naturally this assumes that all goes according to plan.
Hence on Monday evening, Related Companies representatives in tandem with Community Board Chairman Joe Conley, NY CCM Jimmy Van Bramer and NYS Assemblywoman Cathy Nolan, began the outreach to the community regarding the application process for the low income and affordable housing units in the two buildings.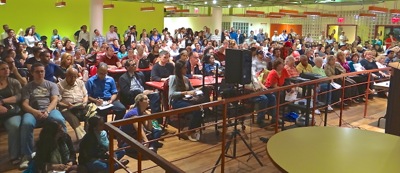 Attendance and interest by the community was very high and folks who arrived late were turned away as the Sunnyside Community Service Center was filled to capacity. That said there are two more of these outreach programs scheduled, the details of which you can find in our Things To Do calendar in the Business section. Click these links to gain a broader perspective of the Long Island City Neighborhood in which these units reside, as well as of the LIC real estate market for apts and condos or the Long Island City real estate market in general.
Full Report Contains Slides & Info On Qualification & Application Process For Hunters Point South Affordable Housing Units In LIC & Evaluation Of Affordability Versus Income & Apt Rents In LIC
Click here to read the rest of our report, including a photo slide show of the presentation of Affordable Housing in Hunters Point South in LIC Queens. I left out most of the presentation that dealt with how to set up a Housing Connect Profile and how to fill out the online application as it seemed pretty straightforward and you can also call the NYC Housing Authority [aka NYCHA] if you need help.
---
Can One Connect Communities Through Culture?
Islam & America: LaGuardia College Performing Arts Center Artistically Explores Muslim Culture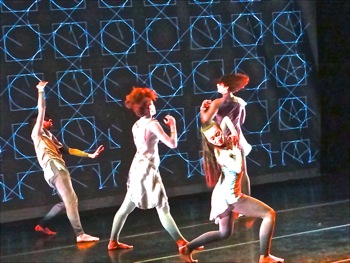 September 29, 2014 / Long Island City Neighborhood / Queens Theater / Queens Buzz. On September 11th, 2001 the Muslim culture came front and center into America's consciousness. It was a disastrous day for Americans including Muslim Americans. But for Muslim Americans it also created, and left behind, a long lasting negative bias toward all Muslims - not just those associated with the 911 atrocities.
Most of what America hears and knows about Muslim culture comes through the war torn lens of the Middle East, even though more than 80% of Muslims in the world live outside of that region. The reason America pays so much attention to the Muslims of the Middle East is that they are inextricably tied up with the world's - and our own - oil energy needs. Hence many of the stories we see and hear are generally associated with either the terrorists involved in 911 or the multi-millenia old blood feuds of the Middle East. Yet examining Muslim culture using the battles of the Middle East as the peephole, is akin to learning about German or Japanese culture through the narrow lens of World War II.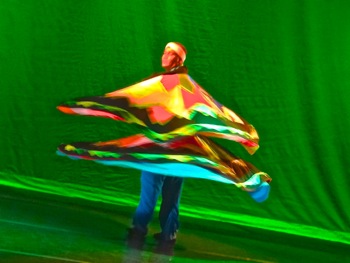 Historically America has had a generous heart, even toward those with whom we've fought. Two centuries ago we fought the Revolutionary War For Independence against Great Britain. And it was less than 70 years ago that both Germany and Japan were our nation's greatest enemies. Germany attacked our Atlantic crossing ships and Japan dropped bombs on our Navy at Pearl Harbor. Yet today we now count all of these nations among our closest friends.
There are an estimated 1.6 billion Muslims around the world, making it the second largest religious / cultural group in the world [there are 2.2 billion Christians]. And Muslim culture spans the globe, from the Middle East [317 million], to Europe [44 million], Africa [248 million], Asia [986 million] and the Americas [4 million]. But that said, only between four and five million of Muslims live in the Americas.
Hence, to broaden and deepen our understanding of Islamic culture beyond the Middle Eastern crises, the LaGuardia College Performing Arts Center applied for and won grants from the Association of Performing Artists, the Doris Duke Charitable Foundation and the Doris Duke Foundation for Islamic Art to widen our lens of Muslim culture. And they added more than a dash of NYC spice to it.
Thus on Friday evening, I attended a dance performance entitled Leap of Faith, the second event of the year long series entitled Beyond Sacred: unthinking Muslim identity. The performances included a belly dancer, a swirling dervish, and three modern interpretive dances - two of which explore personal journeys by Muslim Americans who are children of both cultures. We'll post more later today including a photo slide show of the performances.
---
---
---
The Legend Of Hell Gate Horror - Halloween Astoria
The Legend Of Hell Gate Horror
Hell Gate Horror Myth May Have Real Origins
October 19, 2014 / Astoria Neighborhood / Queens Culture / Queens Buzz. It's not often one stumbles upon a legend and then finds himself riddled in its mysteries. But so it was last Saturday evening, while biking through Astoria Park that I encountered an older gentleman who called to me asking for help. It was near dusk as the sun began setting behind the skyline and the shadows grew longer.
He was sitting on a park bench overlooking the Hell Gate Bridge and dressed in clothing of years gone by. He had not shaved in several days and his hair was a bit disheveled. I sized him up as I approached and determined that he was probably ok.
"Hi. What's up?" I asked.
"I need help." He replied. I looked at him inquisitively as he didn't appear to be in any immediate predicament, near as I could tell.
"What can I do for you?" I asked.
"I see by your bag that you work for a [web] magazine. Are you a reporter?" I nodded affirmatively. He pulled some photos from his coat and handed them to me.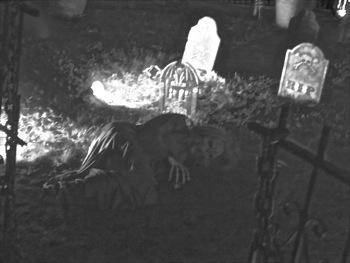 I started thumbing through them, seeing what seemed to be photos of ghosts flying through the Astoria neighborhood. The photos weren't that clear and mostly in black and white. I didn't really know what to make of them.
The man looked at me intently, as if to measure my interest. "I'm trying to get back in." He said. I looked at him stupefied. "What?" He repeated, "I'm trying to get back in."
"I heard you the first time, but I don't understand what you mean." I replied.
He went onto explain. "The Hell Gate Bridge began construction over one hundred years ago. The construction went on between 1912 and 1918. I was one of the construction workers and every year right around Halloween we'd throw a party in this neighborhood, near a cemetery."
"Nobody believed it at the time, but there were rumors that the cemetery was haunted and that those who walked through it around Halloween time, risked losing their body to one of the ghostly spirits. It seemed like pure nonsense, even at the time, one hundred years ago, as new scientific breakthroughs were being made all the time. Trains, autos, light bulbs and bridges like Hell Gate were examples of the huge changes we were seeing. Nobody really believed it, and certainly not me … but I was wrong."
Click here to read the rest of the story about the Legend Of Hell Gate Horror.
---
---
---
Luke Adams 1938 - 2014
Luke Adams 1938 - 2014
Small Town In The Big City
November 13, 2014 / Sunnyside Neighborhood / Queens Buzz. A warm hearted, quick-witted, long-time Sunnysider passed away earlier this week. He was a giver, not a taker. A lot can be said about Luke Adams, as there are as many tales to tell about the man as there are leaves on the trees in Sunnyside Gardens in summertime.
Luke grew up in Queens and as a fairly young man settled into Sunnyside. He ran a travel agency and took folks to places around the world. Lily Gavin of Dazies Restaurant shared Luke's passion for travel and she joined him on a number of trips. Luke was, by nature, an adventurer.
Luke's travel agency was adjacent to the office of the Woodside Herald. He became good friends with Joseph Sabba and his son Buster, both of whom were publishers of the Woodside Herald [in respective succession]. Luke assumed the role of a reporter and photographer for the paper, and he enjoyed those roles, which he would play in some manner for the rest of his life.
Click here for the rest of the story about Luke Adams Sunnysider.
---
---
Shakespearean 'Titan' In The Park
First Play By 'Theatre Company In Residence' At Queens Theatre In The Park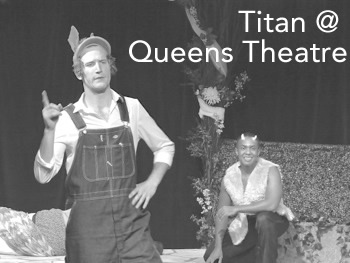 October 6, 2014 / Flushing Neighborhood / Queens Theater & Theatres / Queens Buzz. I made my way into Flusing Meadows Corona Park to preview Titan Theatre Company's production of the Shakespearean comedy A Midsummer Night's Dream. The play is an adapted version of the old bard's work.
In the adaptation Titan Theatre Company added a dash of 'gay-eity' to it and also edited down the play in both verbiage and performance time. The intent of the adaptation is to make performances of the 400 year old play more modern and appealing to present-day audiences.
I sat down in the little theatre of Queens Theatre In The Park shortly after the show had begun. Puck, the fairy, was administering the love potion - per his master Oberon's orders. But alas - Puck makes a mistake - and a string of comedic errors is set into motion.
In the photo at right is Bottom, one of the actors in the play-within-the-play, who's been transformed into an ass by a fairy Puck. Seated in the background is the devlish Puck who administered the magical serum.
We'll have more about Titan Theatre Company's performance at Queens Theatre In The Park, including a photo slide show, at a later date.
---
---
Bolivian Parade In Jackson Heights NYC
Parade Showcases Bolivian Culture In Queens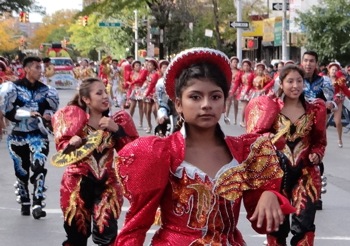 October 20, 2014 / Jackson Heights Neighborhood / Ethnic Culture In Queens / Queens Buzz. Jackson Heights is the home away from home for many cultures around the world. On numerous occasions throughout the year the community is provided an opportunity to celebrate and enjoy the pageantry showcasing many different cultures from Latin America, Asia and a bit of modern day Americana.
On Sunday, the Bolivians showcased their culture by providing a panoply of dancers and musicians in costumes of eras gone by. It was a cool day and the performers used that to their advantage by performing a number of synchronized dance steps to the great amusement of the parade audience standing on the sidewalks along 37th Avenue.
We'll have a bit more to add at a later date including a photo slide show.
---
---
Jamaica Collection Silences Critics
Event Showcases Top Fashion Designers & Models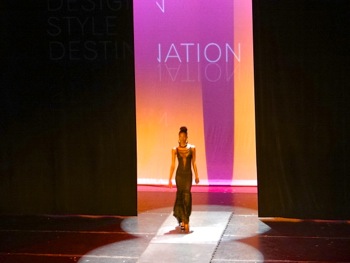 June 7, 2014 / Jamaica NY / Fashion In Queens / Queens Buzz. Queens is a paradise of cultural surprises. And the neighborhood of Jamaica Queens is no exception.
Hundreds of years ago Jamaica was one of the transportation hubs for receiving agrarian products from Long Island in exchange for other goods from around the nation and around the world. While Jamaica continues to be transportation hub, with connections to Penn Station, JFK and an entire web of NYC Metro buses and subways, it is also emerging as one of the great cultural hubs of Queens.
So on Saturday night, I made my way down to Jamaica town. And what I found, looking around, was a paradise of beautiful women, rugged and handsome men, with evocative knits and sculpted shapes reflecting a diversity of style spanning the modern metro universe - from the hip hop of the street to the garb of the classical women and men of Manhattan's Midtown. Step aside Fashion Week, there's a new show in town.
We'll post more at a later date including photo slide show. The photo above was taken at the Jamaica Collection Fashion Show on June 7th 2014. Click here to view a prior report about women's fashions in Queens.
---
---
---
Long Island City Retail Space To Rent Or Buy - LIC
The Changing Face Of LIC Retail
LIC Partnership Conferences Retailers & Realtors
October 29, 2014 / LIC Neighborhood / LIC Shopping / LIC Real Estate / Queens Buzz. I attended a conference entitled Queens: The New Retail Frontier. The event was co-hosted by the LIC Partnership hosted in tandem with the International Council of Shopping Centers. The International Council of Shopping Centers [ICSC] mission is to advance the shopping center industry and to promote its role in the commercial distribution of consumer goods and services. The LIC Partnership's mission is to promote neighborhood economic development and a vibrant and authentic mixed-use community.
The meeting was preceded with a bit of networking in conjunction with coffee and bagels. I spoke to an NYC mortgage professional who, in the course of our conversation, provided me with the following informational tidbits.
Construction spending is at an all-time high. The New York Building Congress confirmed this statement and estimated that NYC construction spending will be in excess of $37 billion dollars in 2014 and accounting for more than 130,000 [likely well paid] jobs. This is up from about $32 billion in 2013. This spending has been fueled in part by government spending since hurricane Sandy hit on October 22nd, 2012. According to the New York Building Congress, government spending accounted for half of construction spending in 2012 and is estimated to be somewhere in the 30% - 40% of construction spending in 2013 and 2014.
He went on to say that this construction in NYC was necessary as over 70% of New York City housing is more than 50 years old. I checked and according to Fannie Mae this compares with a national average of 56% of U.S. housing being more than 50 years old. Boston, by comparison, has only 38% of its housing stock built prior to 1960. A non-profit, Eye On Housing, notes that New York, Pennsylvania and Massachusetts are states with the oldest median aged housing in the nation. The median age of the housing stock in these states is estimated to be 57 years old.
And he noted that the cost of land was one of the major issues facing developers / builders. He noted that the cost per square foot in Manhattan was about $500 south of 96th Street and that he had recently heard that the cost per square foot in LIC was $300. He opined that at these prices one could only develop to sell residential space – not rent.
Based on what I learned from this one attendee, I expected this conference to be chock full of usable information. Click here to read the rest of our report on the LIC Partnership & International Council of Shopping Centers conference about retail real estate in LIC.
---
---
Restaurants In Jackson Heights - La Portena Argentine Steakhouse
Restaurants In Jackson Heights
LaPortena Argentine Steakhouse
Jackson Heights Neighborhood / Jackson Heights Restaurants / Queens Buzz. La Portena Argentinian Steakhouse isn't exactly the kind of restaurant that would come to mind when you think of Jackson Heights ... that is unless you live there. La Portena Argentinian Steakhouse is located at 74th Street and 37th Avenue in Jackson Heights. It's quite a popular restaurant which is what first caught my attention. While Indian, Bangladeshi, Thai and Nepalese restaurants first come to mind when thinking about Jackson Heights / Elmhurst restaurants, there's an entire Latin American flavor to the restaurant mix in the neighborhood - and the food and service are both very good. Click here to read a the full review of La Portena Argentinian Steakhouse, including more photos.
---
---
---
---
Astoria Furniture Stores Have It All - Queens
Astoria Shops / Astoria / Queens Buzz. The furniture stores located on the southern end of Steinway Street in the Astoria neighborhood of Queens seem to have something to offer to just about everyone. This part of Steinway is a furniture shopper's mecca, offering plenty of choices from classical colonial, to urban apartment living to bedding to suit nearly every spine.
I took a quick trip there, which is easily accessible via the N, W, G, R or V subway lines and within a sturdy walking distance from Long Island City, Astoria, Sunnyside and Woodside. Just up the street from Steinway is Broadway, where you'll find the Omonia Cafe where after a good morning or afternoon of shopping, you can kick back along one of the sidewalk tables ane enjoy a bit of coffee and some delicious baked goods. Click here to learn more about the furniture stores in Astoria Queens.
---
Click to buy eyeglasses in Queens / opticians in Queens, for hair salons in Astoria, for Midtown dentists & Midtown Chiropractors, sales on small business Saturday in Queens and for things to do in Queens. Eyeglasses in Jamaica NYC.
---
Mens Clothing Styles - Queens
Shopping Queens / Astoria / Midtown Buzz. Esquire Men's Clothing Store continues to serve the greater Astoria and Queens area, as it has for nearly thirty years.
The shop is owned and managed by Frank and Kevin Adhami, and their father, who is in his eighties, still visits the store on an almost weekly basis.
Esquire is located along Steinway Street between 30th and 31st streets. The store contains a wide selection of men's coats, suits, casual wear, shoes and men's accessories like belts and ties.
This story will provide some information about the store itself as well as fashion recommendations for the Spring and for job hunters.
Click this link to view a story written on Men's Clothing In Astoria Queens NY. Click here for men's clothing stores in NYC, and here to buy Stone Rose shirts in NYC, and here to buy Alberto pants in NYC, and here to buy Eton shirts and here to buy Hugo Boss sneakers in NYC.
---
Queens Farmers Markets
Astoria Sunnyside Woodside Jackson Heights Long Island City LIC Flushing Jamaica / May 20, 2014 / Queens Buzz. Two farmers markets are in full swing - in Jackson Heights & Forest Hills. Most will begin opening between May & early July. The Jackson Heights & Forest Hills markets operate year 'round.
Click the link below to see a listing of the Queens Farmers Markets 2014 including links to maps. Click the other link below for a listing of the Queens Street Fairs schedule of 2014 including dates and maps showing their locations.
Click here for our updated posting of Queens Street Fairs - Queens NY. Click here for a listing of the Queens Farmers Markets. You will always find both street fairs and farmers markets for the current month in the Queens Events section of the site [see top tool bar for button / link]. Click here to view the map of the Jamaica farmers market.
---
---
Queens Real Estate
Real Estate in Astoria, Jackson Heights, Long Island City LIC, Sunnyside, Woodside, Flushing, Jamaica
Queens NY / 2014. These links will take you into sections & reports on the Queens real estate market in Queens beginning in 2009.
These reports include reviews of apartment rental prices, as well as condo, co-op and home prices and availability in the Queens market.
We have also done neighborhood specific reports about Astoria real estate, LIC / Long Island City real estate, Jackson Heights real estate, Woodside & Sunnyside real estate, Flushing Real Estate and Jamaica Real Estate.
While we found these neighborhoods mirrored / trailed many of the national trends, we found some interesting differences, including differences from neighborhood to neighborhood.
Click here to read the Queens Real Estate market analysis 2009.
---
Queens Buzz Voluntary Subscriptions or Payments
You can help us continue and possibly expand our coverage, by voluntarily subscribing to

Queens Buzz. Click button for details & for New Years & Valentines Special Ad offer for Restaurants.
---