Updated - Steinway Mansion Under Contract To Private Buyer
Historic Mansion Was Built By Early NYC Technologist & Later Bought By Renaissance Man
Queens Officials Speeches About Nurturing Culture, Historic Preservation & Tourism Ringing Hollow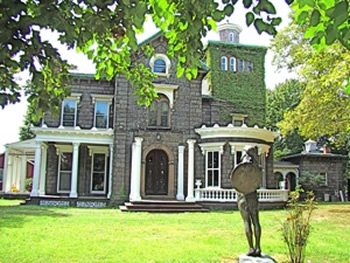 March 3, 2014 / Astoria Neighborhood / Real Estate In Queens / News & Opinion. Queens Buzz. Well, the saga is almost over. NYC and Queens government officials are about to let slip into private hands, the greatest historical relic of the 1800's in Queens. And what could have been - and could still be - one of the greatest historic sites / historic tourist attractions of Queens.
IMAGINE YOURSELF HANGING OUT ON THE MANSION GROUNDS ... & read on ...
It's not that Queens and NYC government officials haven't had a chance to save it. The historic mansion, which was landmarked for its historic signficance decades ago [landmarking prevents changes to outside of the structure], came on the market in August of 2010. The asking prices has been between $2 and $4 million, which given that far smaller homes with no significance are already selling for over $1 million in the Astoria neighborhood, it seemed like a reasonable asking price.
Brief History Of The Steinway Mansion - Click Photos For More Fotos & Info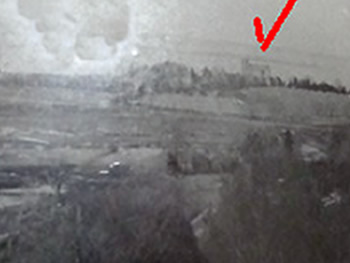 But no ... or rather nobody stepped up to lead the city in the direction of preserving this historic relic / legacy.
Government officials in the prior administrations could easily find tens and hundreds of millions of dollars for development projects, but they couldn't seem to find a penny to preserve a jewel of our historic past. A historic site that has the potential to transform the area into a burgeoning tourist destination. Something that could easily become a magnet and historic centerpiece for Queens. Click on the photo or this link to learn more about the Steinway Mansion significance.
Pianos of the 1800's Were The Equivalent Of Stereos, Televisions & Computers Today - The Home Entertainment Complex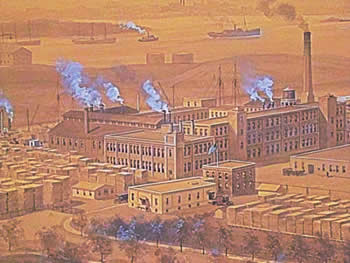 The Steinway Mansion's story in a nutshell is as follows. An Englishman Benjamin Pike, a seller of scientific instruments, [aka technology] built the mansion in the mid 1800's sparing no expense [that's why it stands today].
A German family, the Steinways [of Steinway & Sons Piano Factory] bought the mansion less than ten years later. The Steinway family lived in it for the next 50 years. The Steinways were competitive piano makers, which in the 1800's were the equivalent of sound systems in the middle of the last century, televisions in the last half of the last century and computers today. Pianos were the home entertainment equipment. And it was a big business and Astoria was one of the hotspots. One of the piano manufacturing buildings of a Steinway competitor [along the East River] was recently converted into luxury condominiums.
Steinway's Role In Shaping NYC's Evolution As A Cultural Center - Rivalling European Capitols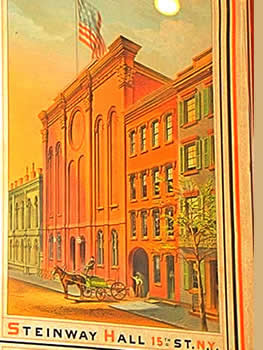 The Steinways were instrumental in making NYC a cultural capital of the world, by paying famous European musicians to visit NYC and perform at Steinway Hall. WilliamSteinway was also an early real estate developer, having purchased many, many acres of Astoria / LIC. And he was the first to attempt to dig a tunnel underneath the East River to ease the flow of people between Manhattan and Queens. And the Halberians - the Armenian family that currently owns the mansion - did a yeoman's job of preserving the structure and the historic legacy.
Graceland In Memphis Tennessee - A Vastly Profitable Historic Mansion
An example of making an historic mansion a huge tourist attraction and moneymaker is Graceland in Memphis. Following Elvis's death in 1977, Priscilla Presley hired a businessman who transformed Graceland into the tourist destination it has now become. Click here for Graceland Mansion on Wikipedia.
Ask Queens Government Officials To Transition From Talking About Their Vision To Doing Something About It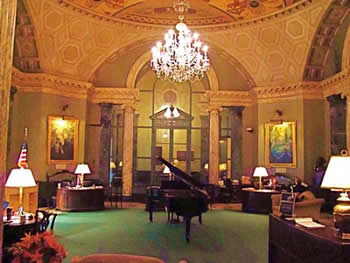 Queens government officials talk endlessly about nurturing a cultural environment in Queens and generating tourism for this borough. If they really want to do something to bring tourists into Queens, this is an opportunity to do something really big and really tangible, for what would be relatively little money.
If Queens government officials do nothing to preserve the Steinway Mansion, all of their speeches about nurturing culture, historic preservation and growing tourism will ring hollow.
Pike & Steinway - Technological Entrepreneurs
It's also worth noting that the first two owners of this mansion were early modern users of technology -Benjamin Pike, builder of the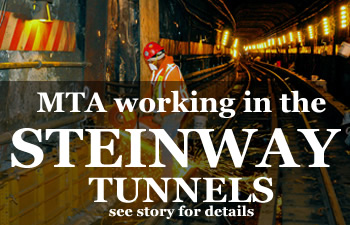 mansion, was an enterprising direct marketer of technology and William Steinway's pianos were the technological leaders. Steinway made a visionary effort to tunnel underneath East River in the late 1800's. The #7 subway line tunnels between Queens & Manhattan are still called the STEINWAY TUNNELS in memory of his first heroic effort. The MTA will be doing quite a bit of work in the Steinway Tunnels this year, which given their age, is not surprising. Queens Government officials also talk about nurturing technology, so it might be worthwhile to lay claim to some of Queens early American technological roots.
Given these sentiments, I decided to hold myself to the same actionable standard, so on Sunday at the St Pat's Parade in Sunnyside / Woodside I handed a packet of information about the Steinway Mansion to a Mayor de Blasio aide, and emailed him, several prominent Queens government officials and several fellow members of the press, with the same information Monday morning.
Accessible Location - Steinway Mansion Map
Over the years some folks have said that the Steinway Mansion is too far out of the way to become a viable venue? That's only true if you believe that being located less than two miles from one of the nation's busiest airports [LaGuardia], less than one mile from one of the city's busiest freeways [Grand Central Parkway] and a ten block walk from a ten minute subway ride from Manhattan - is out of the way. Click here to view a map showing the Steinway Mansion and Steinway Piano Factory locations proxmity to LGA, the MTA and the Grand Central Parkway.
Please Take A Minute To Make The Call - 718.286.3000
If you care about preserving the Steinway Mansion call the Queens Borough President's Office at 718.286.3000 and ask them to do something about preserving it for all of Queens, NYC and the world. They won'tdo anything if they think you don't care enough to make a phone call. Also call or email the same message to any other media outlets you use or visit. They can help keep this issue in the public eye.
Help Create The Groundswell Of Support This Historic Old Mansion Deserves
And then email your friends a link to this story and ask them to do the same.
If you're on a mobile device, you can use our click to call button to contact the Queens Borough President's office. Just ask them to "Start taking action on your vision for Queens and Save Our Steinway Mansion" and hang up. That's all they need to know and that's all you need to do. We, as a community, need to ring that phone off the hook.


THAT'S MICHAEL HALBERIAN TO YOUR RIGHT
Imagine Yourself At The Mansion, Sipping Tea Or Drinking Wine ...
Make this call while imagining yourself sitting at a table outside the mansion savoring a glass of wine or sipping a cup of tea with your friends - after a chamber concert or having browsed through the great photos and artifacts of Astoria / LIC / Queens early modern history. You're conversing about the great mysteries of the universe or what happened while you were out on the town the previous night. You're living in Queens, and the borough's newsymbol is this great historic mansion that's associated with this world renowned cultural icon - Steinway & Sons Piano.
The Numbers Add Up - Good Business & Good For Business
Am I wrong in assuming that some fraction of 53 million American and / or international tourists that visit NYC each year might find hanging out at the Steinway Mansion an enjoyable thing to do? Visiting to listen to some great classical music, or to browse through a historic home out of a Jules Verne novel, and then having drinks on the grounds before heading off to somewhere else [like shopping along what would become historic Steinway Street or eating at one of the great restaurants in the Astoria / Ditmars / LIC area].
Steinway Mansion As Feeder Site To Other Queens Historic Sites & A Boon To Queens Tourism Revenue
Don't you think that some portion of the 53 milliontourists that visit NYC, would think that visiting the Steinway Mansion is a good way to spend some time during their stay here? A museum where they could learn about Queens contributions to American history. Learning abouthow the gantries in LIC were used to move railway cars onto ferries, so that food from the Long Island farms could be brought into the city. Or about how Flushing lays claim to the first bold defiant acts in favor of religious freedom and tolerance with the Vlishing Remonstrance. Or how Rufus King was a bold spokesman against slavery in the 1700's. And about how the English and Dutch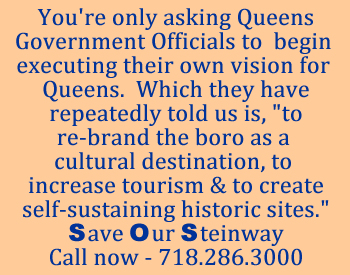 skirmished over the land around Newton Creek where the Ridgewood Historical Society stands today. Is this not a way to generate additional interest in the borough? Additional time and thus spending on travel, food, lodging and retail? The Steinwayname is world known. And everyone loves mansions. The Steinway Mansion could become the feeder historic site for the rest of the borough.
Do you think that tourists would balk at a $10 or $20 admission fee? If we got just 1% of them [1/2 million people] the Steinway Mansion would minimally generate $5,000,000 in revenue per year. There would also be additional revenue opportunities via sales of T-shirts and souvenirs, as well profits to be made from a cafe overlooking the grounds.
Marketing A Name The World Knows That Symbolizes The Highest Quality
The Steinway Name is recognized the world over as a symbol of the highest quality. This simplifies the advertising, as the name is already well known and has high appeal. The Steinway Mansion could easily be advertised by posting a billboard along the Grand Central Parkway informing fliers of this great tourist attraction, and also in the Air Train or in the Jamaica subway station through which many savvy Europeans traverse on their way into NYC. And on Queens Buzz, which is always a good way to add value to almost any Queens media buy. These are very low cost ways to get the word out and reposition the borough as the Queens Borough President has been saying she wants to do.
Make The Call Now & 'Social' The Story - 718.286.3000
And it would be appreciated if you use social media to ask your friends to contact the Queens Borough President's Office to support preservation of the Steinway Mansion. Also call or email the same message to any other media outlets you use or visit. They can help keep this issue in the public eye. Please note that for further information we've dedicated an entire section to the mansion underneath the History section on the navigation bar at the top of this page.
And then have yourself a good day and thanks for trying to do something to preserve an important legacy of Queens & NYC. See you at the mansion.
Consider Helping The Friends Of The Steinway Mansion
Also, it's worth mentioning that a group called the Friends of the Steinway Mansion was formed by the Greater Astoria Historical Society to make an attempt to acquire the mansion and convert it into a museum. And they're still actively trying to do something, so if you're interested, that's another way to get involved.
---
St Patricks Day Parade in Queens & Photos 2014
De Blasio Presence @ St Pat's Day Parade ...
Creates Media Frenzy As New Mayor Makes A Statement About Inclusion
March 2, 2013 / Ethnic Culture in Queens / Sunnyside & Woodside / Queens Buzz. I attended the St Pat's For All Parade in Queens on Sunday afternoon. It was an overcast day, with temperatures in the 30's. Speeches and an Irish cultural celebration began at 1 pm, followed by the parade which was to begin at 2 pm, but didn't get going until about 2.45 pm.
This year I skipped most of the pre-parade show and, like many in the crowd, awaited the presence of Mayor Bill de Blasio. De Blasio is the first Mayor of NYC to politely decline to march in the Manhattan St Patrick's Day Parade because it bans gays from marching in it.
The Mayor's presence included an increase in the presence of NYC elected officials who attended the parade. This included the new Queens Borough President, Melinda Katz, which is worth noting since it's the first time a Queens Borough President has attended this parade since I began covering it in 2008.
Click here to read our report about and view photos of the St Pat's Parade in Queens, including a photo slide show.
---
Chinese New Year Parade In Queens
The Year of the Horse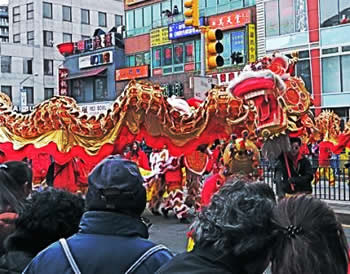 February 10, 2014 / Flushing Neighborhood / Ethnic Culture in Queens/ Queens Buzz. On Saturday February 8th at 11 am Flushing Queens celebrated the year of the horse with a traditional Chinese New Year Parade. The parade encompassed a cast of over a thousand and lasted nearly two hours.
The year of the horse in Chinese culture symbolizes kindness, strength and gregariousness. It's also a symbol in the Chinese zodiac and falls into the wood category which signifies strength and flexibility. In the photo to your right is a dragon in the Flushing Queens Chinese New Year Parade taken in 2013.
---
---
Luke Adams - The Irish in Sunnyside & Woodside
Irish Eyes - The Luke Adams Fundraiser
February 7, 2014 / Sunnyside Neighborhood / Queens Buzz. There's a benefit / fundraiser planned for Monday, February 10th at Murphy's Lobster Grill on Skillman Avenue at 49th Street in Sunnyside. The event is in honor of Luke Adams and scheduled to run between 5 and 8 pm. The Sunnyside Artists Organization is sponsoring the event which is open to the general public.
Luke has been an avid Sunnyside community supporter for longer than most of us have been alive. Patricia Dorfman, Luke's friend and also an active member of the community herself, wrote the following piece about Luke's contributions to the community and current situation, to help promote the fundraiser. The photos were shot and added by Queens Buzz.
In the photo at right, NYS Assemblywoman Cathy Nolan with Luke Adams. Click here to read Patricia Dorfman's story about Irish Eyes in Sunnyside, the Luke Adams fundraiser on February 10th at Murphy's Lobster Grill from 5 to 8 pm.
---
---
Queens School Changes
Educational Infrastructure Lags Population Growth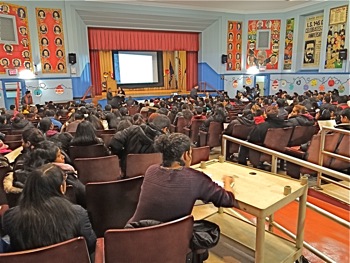 January 28, 2014 / Jackson Heights & Woodside Neighborhood / Queens Schools / Queens Buzz. I attended a Department of Education meeting to discuss the proposed changes scheduled for Intermediate Schools 230 and 145 in Jackson Heights. The plan calls for adding new space to I.S. 230, and then redrawing the district map for the two schools, so that going forward some children who would have attended I.S. 145 will enroll in I.S. 230. The children currently attending I.S. 145 will not be affected.
The intent of the plan is to alleviate the overcrowding in I.S. 145 which is operating above capacity. The overcrowding would be addressed by redrawing the school district maps following the completion of the new building at I.S. 230, so that fewer students would enroll in I.S. 145 going forward. The meeting was well attended as the I.S. 145 auditorium was fairly full when I arrived.
About half or better of the attendees were spanish language speakers and the Department of Education had not brought enough Spanish translation headsets to conduct the meeting bilingually without having the English presentation followed by a Spanish translation by a volunteer in attendance. A couple of community leaders drew my attention to this, and one of whom - an educator himself - was very irate. He explained that by not having enough headsets, the meeting would now accomplish about half as much in the same time period because of the time consumed in explaining things first in English and then in Spanish. With the headsets, the explanations would be been communicated simultaneously. He also noted that the translator was a volunteer and there wasn't any mechanism in place to ensure that the volunteer's translations were correct.
I.S. 145 recently suffered a tragic loss, as a student was killed by a motorist only blocks away from the school. Within the past six months three school age children living in the Jackson Heights vicinity have been killed by motorists, and the safety plan for the new building was one of the many concerns on the agenda. We'll post more about the meeting, and include an update about some of the proposed changes to address overcrowding in a Woodside school as well.
It seems that Queens schools, like other aspects of Queens public infrastructure [the #7 subway line / mass transit] and affordable housing, are lagging well behind Queens population growth and private development.
---
---
Independent Film Production Queens NYC
My Father My Don - Hollywood East
A Son's Journey From Organized Crime To Sobriety
On The Scene At Halvatzis Astoria Studio
January 14, 2014 / Astoria Neighborhood / Film in Queens / Queens Buzz. I had an opportunity to watch the filming of a new indie in the making. The film is based on the book, My Father My Don, by Tony ['Tony Nap'] Napoli.
The story is an autobiographical account of Tony Napoli's life which began in 1935. But the book reaches back into the 1880's in recounting how Tony's father 'Jimmy Nap' began his life of crime. Jimmy Nap ran one of the biggest illegal gambling operations in America in the 1970's and 1980's. Jimmy Nap's gambling operations, which he ran for the Genovese Crime Family, is believed to have grossed many, many hundreds of millions of dollars.
Tony was the son of this infamous Brooklyn mobster, who among other things, did bootleg runs for Al Capone in his early years. Tony's story is one of redemption, as he used to be a mob enforcer, making sure people paid up on their numbers and other gambling debts. He worked for his father, his don [don means boss]; and eventually took to the bottle to numb the pain.
In the photo above we see the film crew in action at the offices of Halvatzis Realty on Ditmars Blvd in Astoria [aka Halvatzis Astoria Studio]. In this scene Tony's father, Jimmy, is called into Al Capone's office after finishing a bootleg run.
Producer Hussain Ahmed wrote and is directing the 20 minute short film in Queens. Click here to read the rest of our report, including a photo slide show of the production of the independent film, My Father, My Don in Queens NYC, and a brief interview with Tony Napoli, the author and resident of Forest Hills in Queens.
---
---
---
Queens Community Boards
CB Application Deadline Is January 31st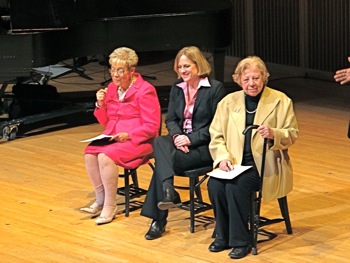 January 13, 2014 / Queens Politics / Queens Buzz. The new Queens Borough President, Melinda Katz, was sworn in on Thursday, January 9th. During her campaign and since she was elected, Ms. Katz indicated her top priority is going to be economic / real estate development in the borough, including borough infrastructure.
In reviewing Melinda Katz's background, it appears she has spent her entire life preparing to be Queens Borough President, with an eye toward economic / real estate development.
Melinda has worked with Community Boards as a liaison for a previous administration, chaired the Land Use Committe as a member of City Council, and took a position as a development lobbyist for a large international law firm in Manhattan. Melinda stated during her campaign and since taking office that she's very interested in bringing new economic and real estate developments to the borough.
New development will create new construction and service jobs, and increase demand for private goods and services; as well as public services such as private and public transit, parking space, open space / parks and schools. Hence, there are a wide variety of considerations that must be taken into account as new developments move through the governmental process.
Community Boards are the primary mechanism in the governmental process for the provision of community input. For decades they have played, and will continue to play, a key role in community development.
The deadline to apply for a position on a Queens Community Board is January 31st. Click this link to obtain an application from the Office of the Queens Borough President. Community Board members are selected by the Queens Borough President and the City Councilmember of the District. The new Community Board terms begin April 1, 2014.
---
---
Jamaica Real Estate - The Art Of Selling
Jamaica Center BID Talks About The Re-Emergence Of An Age Old & Vibrant Commercial Center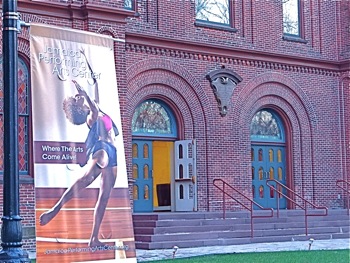 December 30, 2013 / Jamaica NY Real Estate / Jamaica NY / Queens Buzz. Earlier this month I attended an event hosted by the Jamaica Center BID to talk about real estate and commercial opportunities in the Jamaica neighborhood of Queens.
Jamaica is one of the largest and most vibrant commercial areas in Queens, and the event was designed to talk about Jamaica in that light.
I arrived a bit early and met with Felicia Tunnah, the new Executive Director of the Jamaica Center. It seems the subways and traffic congestion had conspired to delay speakers, attendees and possibly the event, but it wasn't too long before it began. Click here later this week to read more about real estate in Jamaica NY.
---
---
ACA Deadline Extended To 12/23
Registration For January 1st 2014 Insurance Coverage Extended To Dec 23rd In Queens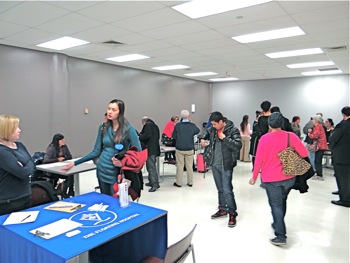 December 17, 2013 / Healthcare in Queens / Queens Buzz. The deadline for registering with the New York State healthcare / insurance exchange for January 1st, 2014 insurnace coverage has been pushed back a week from December 15th to December 23rd. We understand that implementation of the Affordable Care Act [ACA aka Obamacare] continues to be affected by executional problems, but according to experts, the problems are being addressed and the number of issues are abating.
In the photo to your right are Queens residents talking to Affordable Healthcare Act navigators who provide free assistance to people in selecting a healthcare plan. This event was sponsored by the office of City Councilmember Jimmy Van Bramer at LaGuardia Community College in LIC.
There are a few things we've picked up over the past week that are worth mentioning at this point.
First be aware that the providers listed on any given insurer's website is subject to change and sometimes the providers listed have quit the program and sometimes there are providers who are participating in the program who are not listed. This situation also oftentimes occurs with other insurance providers / health maintenance organizations. According to a policy expert from the Robert Wood Foundation, a healthcare focused non-profit, the listing / not listing issue on insurers' sites has increased by about 10% since the implementation of the Affordable Healthcare Act began in Queens on October 1st. The reason for this is that healthcare providers and insurers continue to analyze and evaluate how they are going to manage their networks to accommodate the influx of new patients / clients.
Another thing participants need to pay attention to is that participants need to obtain a card or member number from the insurance company in order to obtain / use the benefits from the listed healthcare providers. As we understand it, a number of people have registered using the NYS exchange and thought they had completed the process prior to obtaining their member number / insurance card. Exchange registrants need to follow up with the insurers to obtain the card. We also understand - but this has not been confirmed - that participants need to make their first payment for the plan they choose, prior to being able to obtain the benefits / use the healthcare system.
Lastly, another item we picked up refers to a clause in the program with respect to people who switch plans. Healthcare Plan Switchers are able to change providers during the year, but those who do so will be subject to higher co-pays. So try to choose a provider you think you will work for the long haul. We'll have more on the implementation of the Affordable Healthcare Act in Queens later this month.
Click here for prior coverage of the Affordable Healthcare Act in Queens [aka Obamacare in Queens].
---
---
Dutch Kill Gentrification: Restaurants & Real Estate in LIC
Dutch Kills Gentrification: Restaurants & Real Estate
The Making Of The Crescent Grill Restaurant in LIC
July 13, 2013 / Dutch Kills LIC / Restaurants in Queens / Real Estate in Queens / Queens Buzz. Last fall I embarked on a bit of an adventure when Michele Beaudoin of Beaudoin Realty Group [a QB client] introduced me to Daniel and Shaun Dougherty. She had just sold the brothers a two-story, corner building that had been a Beauty Supplies store along Crescent Street in the Dutch Kills neighborhood of Long Island City. The Doughertys had plans to convert the building into a restaurant. Likely the first restaurant of its kind in the Dutch Kills neighborhood of Long Island City.
I went to meet the brothers at the site of what would eventually be their new restaurant. I was given a tour of the facility while it was still, in essence, a recently vacated Beauty Supplies store. But not for long ...
Click here to read the rest of the story about the gentrification of the Dutch Kills neighborhood of Long Island City and the making of the Crescent Grill restaurant in LIC. The story includes information and photos about the design and construction of the renovated building, as well as a review of some of the culinary delights that await those who patronize the restaurant.
---
---
---
---
Astoria Furniture Stores Have It All - Queens
Astoria Shops / Astoria / Queens Buzz. The furniture stores located on the southern end of Steinway Street in the Astoria neighborhood of Queens seem to have something to offer to just about everyone. This part of Steinway is a furniture shopper's mecca, offering plenty of choices from classical colonial, to urban apartment living to bedding to suit nearly every spine.
I took a quick trip there, which is easily accessible via the N, W, G, R or V subway lines and within a sturdy walking distance from Long Island City, Astoria, Sunnyside and Woodside. Just up the street from Steinway is Broadway, where you'll find the Omonia Cafe where after a good morning or afternoon of shopping, you can kick back along one of the sidewalk tables ane enjoy a bit of coffee and some delicious baked goods. Click here to learn more about the furniture stores in Astoria Queens.
---
Click to buy eyeglasses in Queens / opticians in Queens, for hair salons in Astoria, for Midtown dentists & Midtown Chiropractors, sales on small business Saturday in Queens and for things to do in Queens.
---
Mens Clothing Styles - Queens
Shopping Queens / Astoria / Queens Buzz. Esquire Men's Clothing Store continues to serve the greater Astoria and Queens area, as it has for nearly thirty years.
The shop is owned and managed by Frank and Kevin Adhami, and their father, who is in his eighties, still visits the store on an almost weekly basis.
Esquire is located along Steinway Street between 30th and 31st streets. The store contains a wide selection of men's coats, suits, casual wear, shoes and men's accessories like belts and ties.
This story will provide some information about the store itself as well as fashion recommendations for the Spring and for job hunters.
Click this link to view a story written on Men's Clothing In Astoria Queens NY. Click here for men's clothing stores in NYC, and here to buy Stone Rose shirts in NYC, and here to buy Alberto pants in NYC, and here to buy Eton shirts and here to buy Hugo Boss sneakers in NYC.
---
Queens Farmers Markets
Astoria Sunnyside Woodside Jackson Heights Long Island City LIC Flushing Jamaica / March 1, 2014 / Queens Buzz. Two farmers markets are in full swing - in Jackson Heights & Forest Hills. Most will begin opening between May & early July. The Jackson Heights & Forest Hills markets operate year 'round.
Click the link below to see a listing of the Queens Farmers Markets 2014 including links to maps. Click the other link below for a listing of the Queens Street Fairs schedule of 2014 including dates and maps showing their locations.
Click here for our updated posting of Queens Street Fairs - Queens NY. Click here for a listing of the Queens Farmers Markets. You will always find both street fairs and farmers markets for the current month in the Queens Events section of the site [see top tool bar for button / link]. Click here to view the map of the Jamaica farmers market.
---
---
Queens Real Estate
Real Estate in Astoria, Jackson Heights, Long Island City LIC, Sunnyside, Woodside, Flushing, Jamaica
Queens NY / 2014. These links will take you into sections & reports on the Queens real estate market in Queens beginning in 2009.
These reports include reviews of apartment rental prices, as well as condo, co-op and home prices and availability in the Queens market.
We have also done neighborhood specific reports about Astoria real estate, LIC / Long Island City real estate, Jackson Heights real estate, Woodside & Sunnyside real estate, Flushing Real Estate and Jamaica Real Estate. Click here for our report about women's fashions in Queens.
While we found these neighborhoods mirrored / trailed many of the national trends, we found some interesting differences, including differences from neighborhood to neighborhood.
Click here to read the Queens Real Estate market analysis 2009.
---
Queens Buzz Voluntary Subscriptions or Payments
You can help us continue and possibly expand our coverage, by voluntarily subscribing to

Queens Buzz. Click button for details & for New Years & Valentines Special Ad offer for Restaurants.
---