Saving Jamaica Bay Documentary Film - Queens World Film Festival
Saving Jamaica Bay
Local Documentary Film At The Queens World Film Festival
March 21, 2016 / Astoria Neighborhood / Jamaica Neighborhood / Queens in Film / Queens Buzz.
I attended the 6th annual Queens World Film Festival on Thursday where I had an opportunity to view a film that's been years in the making by a local filmmaker, Dan Hendrick. The film is entitled Saving Jamaica Bay and it's an hour and 16 minute documentary about the ecosystem of New York City's Jamaica Bay.
The film storyline and cinematography capture the juxtaposition and the intensifying struggle, between man and nature. The beauty of the bay is captured on film, showing us that the fair maiden is in distress. But she's being rescued, or at least fought for, by a naturalist and former manager of the National Park Service Jamaica Bay Wildlife Refuge in tandem with a retired fireman and his son, who've taken upon themselves the mission of protecting what was shown to us to be an area of great urban abuse and refuse, but even greater beauty.
Click here to see more still photos and a review of the film entitled Saving Jamaica Bay at the Queens World Film Festival in March. The film is scheduled to be shown at other film festivals throughout the year, a few of which will be listed at the end of this report.
---
DanceWorks New York City NYC at the Frank Sinatra School of the Arts
DanceWorks New York City
Frank Sinatra School of the Arts in Astoria Hosts DanceWorks
November 23, 2015 / Astoria Neighborhood / Modern Dance in Queens / Queens Buzz.
I just returned from one of the most exciting dance performances I've seen in a long, long while. The dances were performed at the Frank Sinatra School of the Arts in Astoria on Saturday night. Unfortunately, DanceWorks performances may only be seen twice a year and the next one isn't until May 21st 2016 at this same location.
The show opened with a short introduction by DanceWorks Founder Lisa Mara, and DanceWorks New York City Director Jackie Arcy. Their introduction was followed by a dance video. And then the show began.
The show presented about two dozen original works and literally included a cast of about 140 dancers and choreographers. All of the dancers and choreographers had auditioned to participate in the show and then practiced and rehearsed for 16 straight weeks. The show lasted two hours, but the time flew by.
The photo above shows one of the dance performances at DanceWorks New York City at the Frank Sinatra School of the Arts.
Click here to read the rest of our report about the semi-annual performance entitled DanceWorks New York City NYC at the Frank Sinatra School of the Arts in Astoria.
---
FIAO - Federation of Italian Americans - Columbus Day Parade Astoria
Astoria Columbus Day Parade
38th Annual Parade Celebrates Italian's Discovery of the New World
October 12, 2015 / Astoria Neighborhood / Ethnic Culture Queens / Queens Buzz.
It was a near perfect day as I made my over to Steinway and 30th Streets to watch the Columbus Day Parade. The parade formed in the lot at Kaufman Studios, then marched north along Steinway Street, west along 30th Avenue before making its way north again along 33rd Street before terminating at Columbus Triangle at Astoria Blvd.
Federation of Italian Americans in Astoria [FIAO]
The Federation of Italian Americans organizes the parade each year, to commemorate Columbus's discovery of America. FIAO [The Federation of Italian Americans] has organized the Astoria Columbus Day Parade since 1978.
Columbus set sail in early August of 1492 and is said to have spotted land on October 12th of that same year, which is why we celebrate Columbus Day on the second Monday of October every year. The land Columbus had discovered was actually an island in the Caribbean and Columbus believed it to be a part of Asia. Columbus's voyage had been funded by the King and Queen of Spain, as they were beginning to compete with other European nations for overseas trade.
That's Mrs. Columbus standing just right of members of her security detail.
Click here to learn a bit more about Columbus's historic voyages, the naming of America, as well as a photo slide show of the Federation of Italian Americans FIAO Columbus Day Parade and the Columbus Triangle in Astoria.
---
Mad Men - MoMI Astoria
Art imitates life ... and ...
television brings back 1960's style & culture
Mad Men Exhibit At The Museum Of The Moving Image In Astoria
April 6, 2015 / Astoria NY / Film in Queens / Queens Buzz. Several weeks ago I attended the press preview of the Mad Men exhibit at the Museum of the Moving Image in Astoria.
Mad Men is the creation of writer Matthew Weiner who previously worked as a contributor on the HBO series, The Sopranos. Weiner enlisted Lionsgate Television to collaborate with him in producing the show, which was aired on cable channel AMC TV beginning in 2007.
The first pilot episode was filmed at SilverCup Studios in Queens, with subsequent episodes being produced in Los Angeles. The last show of the series aired on April 5, 2015.
Hence the Mad Men exhibit at the Museum of the Moving Image in Astoria was perfectly timed, and it will be on display until June of this year. In the photo at right is Don Draper, the proverbial star of the show, in his New York City advertising office on AMC TV's Mad Men.
So, relax, pour yourself a Scotch, pull a Cohiba cigar out of the humidor and click here to read on ... the Mad Men exhibit at MoMI Museum of the Moving Image in Astoria.
---
QNS Collective: Real Estate Development in Dutch Kills Photos
QNS Collective: We Will Still Be Here
Local Artist Photographs Dutch Kills Real Estate Development For Posterity
January 19, 2015 / Dutch Kills LIC / Art Exhibits in Queens / Queens Buzz. It's not often one gets to see a bit of history in the making. But last Saturday evening I made my way to the QNS Collective in Astoria / LIC to see a bit of it.
The event was the opening reception of We Will Be Here, a photographic exhibit by Salvador Espinoza about the changes taking place in the Dutch Kills neighborhood of Long Island City. The exhibit included 13 framed photos hanging on the walls of the second floor of the QNS Collective, a modern new office space in Astoria / LIC. Another twelve will be rotated into the exhibit during the course of its showing which runs through February 6th.
Dutch Kills Neighborhood Changing Fast
The photos are a recent look at the changes taking place in the Dutch Kills neighborhood. The photos were shot in black and white over the past year, and provide a personal glimpse of the development of the Dutch Kills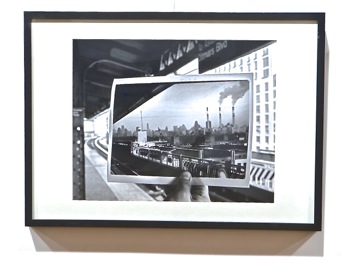 neighborhood by someone who grew up in it and has spent the better part of his life living there. The photo above shows Salvador standing in front of one of his photos where his brother held up a photo of a vista one would previously encounter while standing at the Queensboro Plaza subway station, which is now hidden behind a number of shiny new highrises.
Salvador told me that he moved out of the neighborhood for a few years [to Sunnyside] and he frequently returned to visit family and friends. He started noticing significant changes to the neighborhood occurring between each visit. He thought that someone should start recording the changes, because the neighborhood he grew up in, would soon vanish into the past. After giving the idea some thought, he concluded that perhaps he was the one to do it. So he reached out to the Queens Council on the Arts and they provided him with a small grant to pursue the project.
Salvador Espinoza Photographer, Director & Collaborator
Many years ago Salvador had been an amateur photographer, and when he took up this project, he began anew. Over the course of the past year he started taking photos of the neighborhood including some of the everyday houses that likely will soon be demolished and replaced by apartment buildings, as the value of Dutch Kills real estate h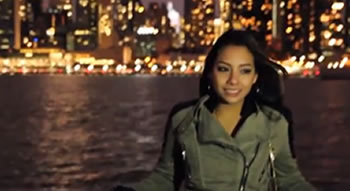 as skyrocketed in recent years.
Some of his photos include his neighborhood friends. I met Chris of EQ Lyrics, who is included in one of the photos of the exhibit. Chris had just completed a music video and tonight - as part of the exhibit opening - we were to witness the first public showing of Chris's music video. Salvador directed it and Chris plays the leading male role.
The lights dimmed, the crowd gathered around in a sort of amphitheater configuration, and the video began. The video is shot entirely in the LIC / Dutch Kills / Astoria neighborhood. The video is called A Beautiful Day which Chris told me was about, "getting drunk and banging chicks in the city" [a photo still from the video is to your right]. We've embedded the video at the end of this story.
Click here to read the rest of our story about the photo exhibit We Will Still Be Here, about the changing face of Dutch Kills real estate, at the QNS Collective through February 6.
---
Steinway Mansion Under Contract
Steinway Mansion Under Contract To Private Buyer
Historic Mansion Was Built By Early NYC Technologist & Later Bought By Renaissance Man
Last Chance For Queens Officials To Act On Their Speeches About Historic Preservation, Nurturing Culture & Tourism
March 12, 2014 / Astoria Neighborhood / Real Estate In Queens / News & Opinion. Queens Buzz. Well, the saga is almost over. NYC and Queens government officials are about to let slip into private hands, the greatest historical relic of the 1800's in Queens. And what could have been - and could still be - one of the greatest historic sites / historic tourist attractions of Queens. The Steinway Mansion is under contract to be purchased by a private buyer.
It's not that Queens and NYC government officials haven't had a chance to save it. The historic mansion, which was landmarked for its historic signficance decades ago [landmarking prevents changes to outside of the structure], came on the market in August of 2010. The asking prices has been between $2 and $4 million, which given that far smaller homes with no significance are already selling for over $1 million in the Astoria neighborhood, it seemed like a reasonable asking price.
Click here to read the rest of our report about the Steinway Mansion Under Contract. The story includes photos and links to other stories we've done over the years about the Steinway Mansion and it's inhabitants and their endeavors. The story also includes the business case for taking the Steinway Mansion public and transforming it into a museum / cultural destination for all of Queens, NYC & the world.
---
The Legend Of Hell Gate Horror - Halloween Astoria
The Legend Of Hell Gate Horror
Hell Gate Horror Myth May Have Real Origins
October 19, 2014 / Astoria Neighborhood / Queens Culture / Queens Buzz. It's not often one stumbles upon a legend and then finds himself riddled in its mysteries. But so it was last Saturday evening, while biking through Astoria Park that I encountered an older gentleman who called to me asking for help. It was near dusk as the sun began setting behind the skyline and the shadows grew longer.
He was sitting on a park bench overlooking the Hell Gate Bridge and dressed in clothing of years gone by. He had not shaved in several days and his hair was a bit disheveled. I sized him up as I approached and determined that he was probably ok.
"Hi. What's up?" I asked.
"I need help." He replied. I looked at him inquisitively as he didn't appear to be in any immediate predicament, near as I could tell.
"What can I do for you?" I asked.
"I see by your bag that you work for a [web] magazine. Are you a reporter?" I nodded affirmatively. He pulled some photos from his coat and handed them to me.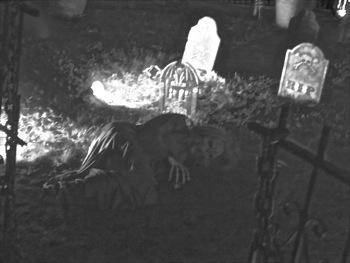 I started thumbing through them, seeing what seemed to be photos of ghosts flying through the Astoria neighborhood. The photos weren't that clear and mostly in black and white. I didn't really know what to make of them.
The man looked at me intently, as if to measure my interest. "I'm trying to get back in." He said. I looked at him stupefied. "What?" He repeated, "I'm trying to get back in."
"I heard you the first time, but I don't understand what you mean." I replied.
He went onto explain. "The Hell Gate Bridge began construction over one hundred years ago. The construction went on between 1912 and 1918. I was one of the construction workers and every year right around Halloween we'd throw a party in this neighborhood, near a cemetery."
"Nobody believed it at the time, but there were rumors that the cemetery was haunted and that those who walked through it around Halloween time, risked losing their body to one of the ghostly spirits. It seemed like pure nonsense, even at the time, one hundred years ago, as new scientific breakthroughs were being made all the time. Trains, autos, light bulbs and bridges like Hell Gate were examples of the huge changes we were seeing. Nobody really believed it, and certainly not me … but I was wrong."
Click here to read the rest of the story about the Legend Of Hell Gate Horror.
---
Obamacare Comes To Queens
Affordable Care / Obamacare Comes To Queens
Queens Prepares For The Affordable Healthcare Act
November 13, 2013. Update - Over 197,000 New Yorkers Have Completed Applications of which over 48,000 have already selected and enrolled in a plan. Over 142,000 people were helped by the New York State of Health which runs the health plan marketplace for New York State. Note that open enrollment for the tax year 2014 ends on March 31, 2014.
November 7, 2013 / Astoria Neighborhood / Healthcare in Queens / Queens Buzz. I just returned from the United Civic Community Association [UCCA] sponsored forum on Obamacare at the Museum of the Moving Image. The forum did a nice job of providing what appeared to be a good summary look into what the federal government's Affordable Healthcare Act [also known as Obamacare] is really all about.
The forum was moderated by Rose Marie Poveromo, President of the United Community Civic Association of Astoria and included a panel of experts. The panel included U.S. Congressman Joseph Crowley, Rebecca Jackson, a NY State of Health Project Coordinator, Caryn Schwab Executive Director of Mount Sinai Queens, Judy Trilivas Chief Operating Officer of Mount Sinai Queens and Minna Elias Congresswoman Maloney's Chief of Staff. They are shown seated from left to right in the photo above, at the UCCA hosted Obamacare Forum at the Museum of the Moving Image in Astoria.
Click here to read more about Affordable Care / Obamacare comes to Queens.
---
5 Boro Bike Ride In Queens: Astoria Park Rest Stop Photos
32,000 Bikers Pass Thru Queens: 5 Boro Bike Tour
May 5, 2013 / Long Island City & Astoria / Biking Queens / Queens Buzz. This Sunday some 32,000 bicyclists rode through Astoria and LIC on their way to completing a 40 mile bike ride through all five boroughs of NYC. Photographer Abdel Berrera caught up with them at the Astoria Park rest station where many took a moment to catch their breath.
Many of the cyclists come from other countries and other states. The bikers see this as a nice way to see all of New York City, not just Manhattan.
There are two 5 Boro Bike Tour rest stops: the first in Astoria Park and the second at the Con Ed rest station along the East River. Many took some time out to make adjustments to their bikes, gear and selves; and consumed a bit of food before resuming the relaxing trip and heading on to Brooklyn and Staten Island.
Click here to read a brief report and to see a photo slide show of the 5 Boro Bike Ride in Queens shot by Astoria photographer Abdel Berraha.
---
---
Astoria Shops & Shopping
Astoria Shops & Shopping
Astoria Neighborhood / Queens Buzz. Astoria has some of the finest shopping areas in Queens, including Steinway Street, Broadway and the Ditmars Blvd and 31st Street areas. This section contains maps, a shopping center that links to many advertiser home pages and stories about what you'll find in some of Astoria's unique stores.
Click here to enter the Astoria Shops and Shopping section of the site.
---
---
Astoria / Queens Member Events Calendar
1. Click the icon to your left to view the Queens Events Calendar.
2. To submit an event to the member calendar set up a member ID in the COMMUNITY section of the site along the left side bar. Then click into the Member Calendar link in the same section to post the event. To start posting a member event you must first click the drop down arrow to select the member calendar. Event postings are FREE to community organizations, arts groups and non-profits.
---
Astoria Events News Archives
---
Site Search Tips. 1) For best results, when typing in more than one word, use quotation marks - eg "Astoria Park". 2) Also try either singular or plural words when searching for a specific item such as "gym" or "gyms".
Click this link for promotions by advertisers in Queens.
Click this link to search for something in our Queens Business Directory containing over 1,000 listings. Click here for one of the leading places to buy funeral flowers in astoria. Or click here to find one of the leading realtors in Astoria. Click here for one of the leading sellers of Hunter Douglas blinds in Astoria. Click here to view the home page of one of the leading hair salons in Astoria.
---
Click the log in link below to create an ID and post an opinion. Or send this story to a friend by filling in the appropriate box below.
---