Business & Real Estate In
Jamaica NY
---
Jamaica NY is located in central Queens. There are approximately 90,000 residents in Jamaica, comprised of African Americans, Indians, Asians and European descendants.
Jamaica is home to a large train station through which connections may be made between the E, F and M subway lines, the LIRR, the Airtrain to JFK Airport and bus services throughout southern and eastern Queens. York College, King Manor and JCAL are a few of the cultural institutions in the area. Jamaica also offers another interesting array of food and shopping along Sutphin Blvd and Jamaica Avenue.
---
Click to view the Jamaica neighborhood
---
Banks & Loans In Jamaica & Queens
---
Jamaica Real Estate In Queens NYC
Jamaica Real Estate - The Art Of Selling
Jamaica Center BID & The Greater Jamaica Development Corporation Talk About The Re-Emergence Of A Vibrant Commercial Center
Updated May 3, 2014 / December 3, 2013 / Jamaica NY Real Estate / Jamaica NY / Queens Buzz. Earlier this month I attended an event hosted by the Jamaica Center BID to talk about real estate and commercial opportunities in the Jamaica neighborhood of Queens.
Jamaica is one of the largest and most vibrant commercial areas in Queens, and the event was designed to talk about Jamaica in that light.
I arrived a bit early and met with Felicia Tunnah, the new Executive Director of the Jamaica Center BID [Business Improvement District]. It seems the weather, traffic congestion and the subways had conspired to delay speakers, attendees and possibly the event, but it wasn't too long of a wait before the meeting began.
The delay gave all of us a bit of time to enjoy the food and beverages being served by local restaurants and a caterer. City Ribs, a small chain started by a locally raised entrepreneur served ... well ... ribs. Sangria Catering served a fresh salad and chicken dish and Applebee's served dessert.
Click here to read more about real estate in Jamaica NY and click here to read the rest of our report including photo slide show of the meeting about real estate in Jamaica Queens NYC.
---
Queens Real Estate & Business
Queens Real Estate & Business
Queens Business & Real Estate / Queens Neighborhoods / Queens Buzz. This section contains reports about lending, employment, manufacturing, retail, real estate & development, home improvement, construction and transportation in Queens. The focus of these reports will be in the neighborhoods of Astoria, Long Island City, Sunnyside, Woodside, Jackson Heights, Elmhurst, Corona, Flushing, Forest Hills and Jamaica NY.
Click here to view the Queens Real Estate & Business section of this site.
---
---
BOC - Business Outreach Network In Queens
Small Business Financing In Queens NYC
SBA In Queens & Business Outreach Center In Corona
January 31, 2012 / Corona / Queens Business / Queens Buzz. Last summer I decided to take Queens Buzz through the SBA process to raise capital to raise capital and to provide a description of the process that a new or struggling enterprises must go through in order to obtain non-traditional funding.
Over the course of the past decade, government and non-profit organizations have increasingly become aware of the importance and value of helping new and small businesses survive and thrive as a means of retaining and creating jobs within communities. In the current economic environment, helping these small companies is critical to accelerating the current economic recovery.
I entered the process of seeking a loan in July of 2011 ... click here to read more about the Business Outreach Center in Corona Queens. The photo above was taken at a 2012 seminar sponsored at the Business Outreach Center in Corona Queens entitled Financing Your Business.
---
Retail & Shopping In Jamaica
---
Wholesale & Manufacturing In Queens
---
Titan - Greek Food In Astoria Queens
A Titan In Our Midst
Titan & Optima Foods - Greek Food In Astoria Queens
Astoria / Queens Buzz. Astoria has long been known as the Greek section of Queens and NYC. And for nearly 30 years Titan Foods has been serving the Greek section of Queens and NYC with imported Greek food. In 1991 Optima Foods, which is owned by the same folks as Titan, began operating as a mid sized importer and since that time has grown to become one of the leading distributors of Greek food along the eastern seaboard of the United States.
Click this link to read the full story about Titan Foods - Greek food stores in Astoria Queens.
---
Cassinelli Food Products - Fresh Pasta Queens
Fresh Pasta Made Daily In Queens NY
Cassinelli Food Products Company
Astoria & Queens used to be heavily populated with Italian immigrants, particularly in the first half of the 20th century. They brought with them their knowledge and skills about food and wine, the products of which became, in time, a part of the American culture.
This is a report about the Cassinelli Food Products company. It's one of the last old world Italian pasta making companies in Queens. The Cassinelli pasta company makes fresh pasta in the Astoria neighborhood of Queens daily.
Click here to read the full report about fresh pasta in Astoria Queens NYC.
---
Restaurants In Jamaica
---
Jamaica Jerk Festival Photos - Caribbean Cuisine in Queens
Jamaican Jerk Festival
Afro Caribbean Cultural Event In Queens
July / Jamaica Neighborhood / Ethnic Food in Queens / Queens Buzz. It was a warm, dry, sunny Sunday, as I made my way into Roy Wilkins Park in Jamaica. Today was the 2nd annual Jamaican Jerk Festival, that I'd been waiting in anticipation for over the past few weeks. The Jamaican Jerk Festival is a combination reggae concert and food festival.
I entered through the gates of Roy Wilkins Park in the southern Jamaica neightborhood of Queens, as a slight breeze willowed its way through the trees and crowd. There were retail vendor tents to my left, with displays of vibrantly colored clothing and fashion jewelry Afro Caribbean style. Caps, hats, dresses, shirts and scarves hung loosely in little white tents, as shoppers and merchants mingled and did business.
Click here to read our report and view photos of the Jamaican Jerk Festival.
---
Jamaica Restaurants - Jamaica NY
Jamaica Restaurants - Restaurants In Jamaica NY
Jamaica / Queens Buzz. The Jamaica Restaurants section includes reports about restaurants in the Queens neighborhood of Jamaica NY. Jamaica is known for its Caribbean, African and Indian cuisines.
Click here to view the Jamaica restaurants section.
---
---
Government & Employment In Queens
---
State of the Borough Address
Queens Borough President Melinda Katz Gives Her First Address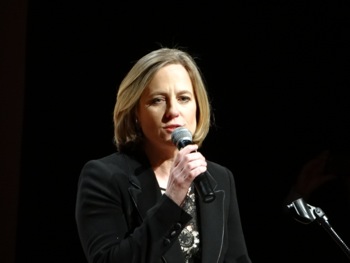 January 22, 2015 / Flushing / Queens Government & Politics / Queens Buzz. I arrived at the Colden Auditorium at Queens College around 11 am to hear Queens Borough President Melinda Katz deliver her first State of the Borough Address.
To my surprise the auditorium was filled to capacity. I spoke to several members of the audience afterwards to learn a bit more about who had come. Based on a small sample size, many of folks in attendance had affiliations with either community organizations or the unions.
Queens Borough President Melinda Katz's address was preceded by a number of traditional ceremonies including the presentation of colors, the Pledge of Allegiance, the singing of the National Anthem and introductory remarks by City Councilmember Julissa Ferreras of Corona and Dr. Felix V. Matos Rodriguez, President of Queens College. These ceremonies were followed by a musical performance by some of the students from the Frank Sinatra School of the Arts of Astoria.
Before Queens Borough President Melinda Katz arrived on stage in person, we were shown a video of her by her office talking about Queens and family.
---
Queens Economy On The Mend
Overall Employment Up, Unemployment Down & ... more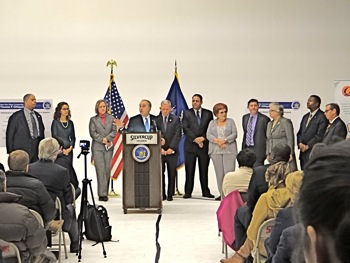 December 16, 2013 / Long Island City LIC / Queens Business / Queens Buzz. On Friday I attended the presentation of an Economic Snapshot of Queens by State Comptroller Thomas DiNapoli at Silver Cup Studios in Long Island City.
There was a large contingent of Queens government officials in attendance of the presentation - ranging in office from Borough President-elect, to City Councilmembers, to State Assemblypersons, to State Senators [see photo].
The news was good of course, as the Queens economy is on the mend. Unemployment is down, in spite of a growing labor force. And total jobs in Queens are estimated to be up 12,000 to about 882,000; while the private sector employment in Queens represents over a half million of that number. The event was sponsored by the Queens Economic Development Corporation.
We'll post more about the changes in the Queens economy later this week / month - including some contrarian points of view we picked up on the street. In the meantime you can click into a report we did about the different categories of Queens employment we did in March 2011, or into an update of Queens unemployment picture which we did in December 2012. And just last week we posted an update on Queens current unemployment statistics versus NYC and prior year. Enjoy.
---
Transportation In Jamaica & Queens
---
Van Bramer & Peralta Support $8 Tolls on Queensboro Bridge
Move NY Congestion Traffic Pricing Plan
Proposal To Toll Tax Away NYC Traffic Congestion Caused By A Century Of NYC Infrastructure Designed With Manhattan As The Hub
Van Bramer & Peralta Support 'Move NY' Plan Which Calls For The Installation Of $8 Tolls On Queensboro, Brooklyn, Manhattan & Williamsburg Bridges
November 9, 2015 / Queens Neighborhoods / Queens Government & Politics / News Analysis & Opinion / Queens Buzz.
NYC Councilmember Jimmy Van Bramer and 14 Democratic Progressives recently embraced the Move NY Congestion Traffic Price Plan, which among other things, calls for $8 tolls [or $5.54 with the use of an EZ Pass] on all East River Bridges, including Queensboro, Brooklyn, Manhattan & Williamsburg Bridges.
NYS Senator Jose Peralta of Jackson Heights / Corona has been an early advocate of the Move NY Congestion Traffic Price Plan.
Most of the rest of the Queens government officials do not support the plan. And hence we decided to take a closer look into the plan, to better understand what the issues are.
And we were more than a little bit surprised at what we found.
How Do The Plan Assumptions Stack With Known Realities?
In this report we're going to describe the Move NY repackaged Congestion Traffic Price Plan. Specifically we will explore the assumptions upon which the plan is based, and then go behind the curtain to explore some of the relationships between the different groups pushing the plan, in order to better understand the economics of the politics.
Move NY Congestion Traffic Pricing Plan Organizers & Shadow Lobbyists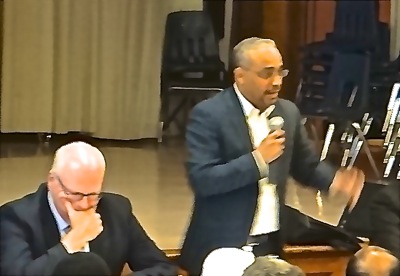 After the meeting I started investigating the Move NY Fair Plan and stumbled across a website name that feeds into the Move NY organization's website. The current Move NY official website name is www.iheartmoveny.org - but you can also get there using www.move-ny.org - which will forward you to the same site.
The owners of the www.move-ny.org site are listed as Blue State Digital, which is a public relations firm. Their website says that they,
"... build and galvanize communities on behalf of some of the world's leading nonprofits, advocacy groups, and brands."
They were written up in a New York Times OpEd piece by Thomas Edsell entitled Shadow Lobbyists, as a new class of public relations firms that galvanize public opinion in the same way that one galvanizes support for political candidates. It's still public relations, but the techniques are different. We'll probe the vested interested parties in more detail a bit further into the story.
In Move NY 'Fair' Plan There's More Than A Dozen(s) Of "Komanoff Assumptions or Estimates"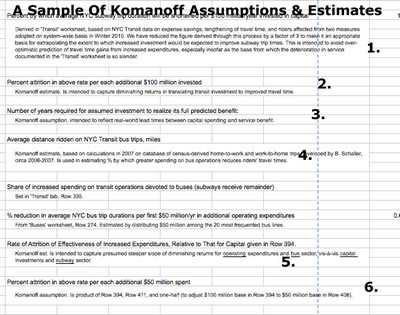 Charles Komanoff is a consultant for the Sam Schwartz Move NY 'Fair' Plan. The Move NY Plan appears to have relied very heavily [or entirely?] on Komanoff's BTA or Balance Transportation Analyzer. In a quick perusal at some of the underlying math, I found easily more than a dozen estimates and assumptions which were entitled 'Komanoff Estimate' or 'Komanoff Assumption'.
It's worth noting that in general, economic models such as the Balanced Transportation Analyzer or BTA, can be made to produce any conclusion one wants, if one is in control of the underlying assumptions.
Congestion Traffic Pricing Plan Assumptions & Pricing Elasticity
There are many underlying assumptions baked into the Move NY Plan that are worth questioning in far greater detail. But the biggest key assumption to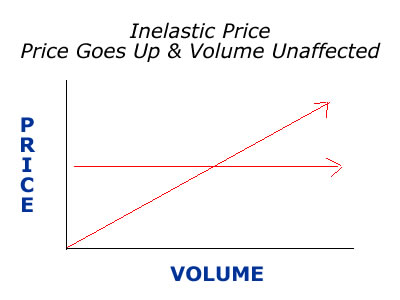 investigate is the pricing elasticities baked into the plan. Pricing elasticity predicts whether or not people will drive over a bridge or a road, if the price of the toll on the bridge / road increases or decreases.
Based on a number of studies done over the past decade, including two in the New York City area, some drivers will adjust the time of day they travel over a toll bridge or road slightly, in order to obtain a discounted rate, but few appear to decide whether or not to use a bridge or toll road because of a toll price increase.
Part of the implicit positioning of the plan is that it will reduce carbon emissions. Implicit because both Komanoff who provided the BTA [Balanced Transportation Analyzer] econometric model for the Move NY Plan, and Matthiessen who runs the public relations firm lobbying for the Move NY organization, are on the board of the Carbon Tax Center. More on this later.
Independent Studies Have Shown That Toll Price Increases Negligibly Impact WHETHER Or Not Drivers Will Use Bridges Or Roads Vs Public Transit, But Can Impact WHEN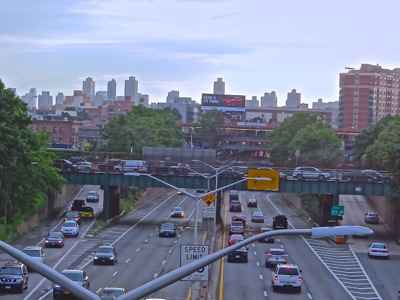 The studies of the impact of toll price changes on roads and bridges, were done by independent institutions like established universities and governments. The goal was to determine if pricing can be used to alter traffic patterns. We will provide you with the results of some of these studies further into this report, so you can judge for yourself whether or not to rely on the assumptions embedded in the Make NY Plan by consultant Charles Komanoff.
For those of you who didn't get a chance (or weren't interested) in studying economics, price elasticity is:
"… is a measure of the responsiveness of demand or supply of a good or service to changes in price. The price elasticity of demand measures the ratio of the proportionate change in quantity demanded to the proportionate change of the price."
An elastic price means if the price goes up, the quantity goes down and vice versa. An inelastic price means that people won't change their behaviors much in response to price increases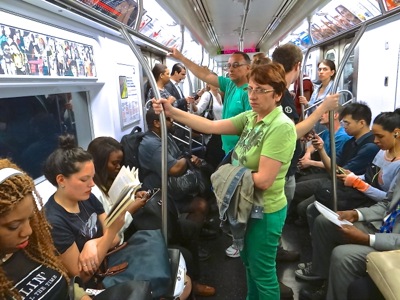 - oftentimes because they don't have what they consider to be reasonable alternatives.
Take electricity into your household prior to deregulation as an example. If the monopoly power company took a price increase, you didn't quit using the lights, stove, TV, furnace or washer / dryer because the options weren't that reasonable. Apparently the folks who use the toll bridges and toll roads don't feel they have good options either. So if the price of a toll bridge or toll road goes up, there's a negligible change in usage behavior - except with respect to shifting the time of use.
Of course in this case, the Move NY Plan is really advocating more than a toll price increase, as they are advocating the introduction of tolls where they had not been.
Toll prices appear to influence bridge / road usage times [eg. motorists plan their trips either immediately before or after peak periods] but do not appear to alter the means of transportation chosen [eg. take the car vs take the train]. The implication is that there may not be an ecological benefit to this plan.
Congestion Pricing Experience In London
London, Stockholm and Milan have implemented Congestion Traffic Pricing Plans in parts of their cities. One cannot underestimate the differences between New York City and its European counterparts including road widths [the plans targeted European Medieval town centers], the population density [Manhattan is many times more dense than of any of them], the geography [Manhattan is an island connected by 18 bridges and tunnels, while London, Milan & Stockholm are not] and so forth.
That said, London was the first city to implement congestion traffic pricing in 2003. We will take a brief look into some of the outcomes of that implementation later in this report, but the two key findings that stick with me are: 1) London never went forward with extending the Congestion Traffic Pricing zone and 2) it's been reported that the implementation infrastructure costs were very sizeable, and that less than half of the new revenue ended up in proposed infrastructure development.
New York City Transit System Designed in 1900 & Built by 1961 When NYC Was A Different Place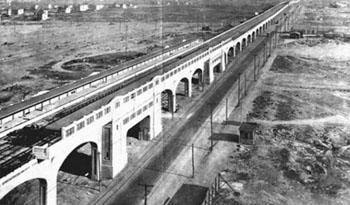 In 1900 Manhattan represented 52% of the population of New York City and Brooklyn represented 33% - the remaining 15% was spread in the other three boroughs which were somewhat rural and low density population areas.
Around the turn into the 20th century city planning, by necessity, came into vogue. And it was also the time during which New York City mass transit began being built. By 1940 most of the build out was completed save the Brooklyn Battery Tunnel (1950), the Verrazano Narrows Bridge (1961) and the Throgs Neck Bridge (1961).
Today Manhattan represents about 20% of the population, while Brooklyn is about 30%, Queens 27%, Bronx 17% and Staten Island 6%. If you look at the map below, you'll see how the bridges and tunnel transportation infrastructure converges on Manhattan because that's historically and still the New York City hub.
Can The City Toll Price Its Way Out Of A Century Of Infrastructure Design & Build?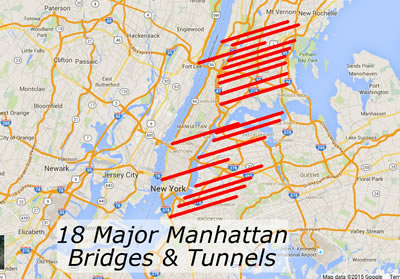 The total bridge / tunnel crossings of the outer four boroughs is 28 and 15 of them are with Manhattan. Manhattan by itself has a total of 18 crossings, including the 15 just mentioned and another 3 major crossings coming in from New Jersey.
Decades of prior New York City Mayors and New York State Governors & the respective legislative bodies have failed to recognize and address perhaps the most basic reality and issue facing the New York City transportation system today - that the overall transportation infrastructure was designed and built 70 to 100 years ago to serving Manhattan as the hub.
While the population densities of the boroughs has changed significantly, Manhattan still remains the center of the city in terms of commercial and cultural activity and this is due in part to its accessibility.
How Fair Is The Move NY 'Fair' Plan?
Sam Schwartz's Move NY Congestion Traffic Pricing Plan appears to be a socially and economically regressive tax increase because if it succeeds, the brunt of the pain will be borne by the lower and middle income wage earners who will bear the costs if they can't leave their car - and if they do, who will put an even greater strain on the subway system which already appears to be running near full capacity. The subway system is a transit category upon which the Move NY Plan only marginally touched upon.
Geographically the burden targets the Bronx, Manhattan and other motorists who cross Manhattan at 60th Street and the motorists including from Queens, Brooklyn and Manhattan who cross the East River. They are not, as the Move NY Plan states, crossing for free because they contribute plenty to the public coffers in high rents, property taxes and municipal taxes that support both New York City and New York State infrastructure. And many of whom likely need to use their cars to enter Manhattan because they probably don't have good choices, contrary to what Move NY Plan hypothecates.
The Move NY Plan will certainly raise needed funds for public transit, and might possibly reduce carbon emissions IF the motorists re-schedule their trips AND the new tolls REDUCE bottlenecks at the East River Bridges and along 60th Avenue in Manhattan - not make them worse. Currently neither the bridges nor the 60th Street cross line have tolls.
The research indicates that the plan will not likely reduce the number of motorist trips as toll pricing appears to be inelastic and thus not a deciding variable as to whether or not people use their cars. And if the London experience is any guide, expect a sizable chunk of new revenue to go toward creating and managing the implementation of the Congestion Traffic Pricing Plan in lieu of investments in other public transit.
Click here for the rest of our story about the Move NY Congestion Traffic Pricing Plan as we explore in greater detail a connected web of people, lobbyists and organizations behind Move NY Congestion Traffic Pricing Plan and their possible motivations. We critique the plan including a review of the assumptions, and a closer look at independent studies done with regard to motorists response to toll prices and changes.
---
---
Home Improvement & Construction In Queens
---
Jamaica NY Real Estate Related Info
Click this link for promotions, discounts and coupons in Jamaica and Queens.
Click this link to go to the Jackson Heights Elmhurst Neighborhood / Things To Do In Jackson Heights - Attractions / Jackson Heights Events / Jackson Heights Maps / Jackson Heights Maps / Jackson Heights Shops.
Site Search Tips. 1) For best results, when typing in more than one word, use quotation marks - eg "Astoria Park". 2) Also try either singular or plural words when searching for a specific item such as "gym" or "gyms".
---
Archives - TBD
---
Click this link to search for something in our Queens Business Directory.
---
Click the log in link below to create an ID and post an opinion.
Or send this story to a friend by filling in the appropriate box below.
---