Business & Real Estate In
Sunnyside & Woodside
---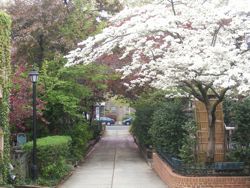 Sunnyside & Woodside NY is on the western end of Queens just east of LIC and is commutable via the # 7 subway line as well as by the LIRR at 61st Street. It is also centrally located for road access to the BQE, LIE and Grand Central Parkway. This section of Queens has a population of about 26,000 and 90,000 respectively and is one of the most mixed neighborhoods in the city. The demographic composition includes European, Middle Eastern, Latin American and Asian descendants.
Sunnyside Gardens were developed back in the 1920's under a program that was guided in part by Eleanor Roosevelt prior to her becoming Roosevelt's wife. The Gardens were designated a historic district in 2007 and are known for the English-style landscaping. The Sunnyside neighborhood has restaurant and shopping areas that run along Queens and Northern Blvds, as well as Skillman, Greenpoint and Roosevelt Avenues.
---
Click to view the Sunnyside & Woodside neighborhoods
---
Sunnyside Yards: Rail Yards & Building Platforms
Sunnyside Yards: Finding Our Place In Space & Time
Part III. A History Of Building Over Rail Yards In New York City
April 20, 2015 / Sunnyside / Queens Real Estate / News Analysis & Opinion / Queens Buzz.
Click here to view our first report about Sunnyside Yards which provides a brief history of the development of transportation and real estate in Queens in the 19th and 20th centuries. Click here to read our second report about Sunnyside Yards which provides a far more in-depth history of the real estate development and transportation in the 20th century.
On this leg of the journey in our report series on Mayor de Blasio's proposed development of Sunnyside Yards, we take a more in-depth view of the history of real estate development of the air rights of rail yards in New York City. So with no further ado, let's continue.
The photo to your right shows the vision of
William J. Wilgus who coined the phrase "taking wealth from the air" as it was he who first proposed monetizing the air rights of New York Central and Hudson River Rail yards, which ran north along what is Park Avenue today.
This was an example of the ingenious thinking of the time, as he leveraged a new technologies, by electrifying the rail system, lowered the rail tracks and built platforms over them. I took the photo above right, of what I believe to be a 1902 graphic of his vision, which I found at a public exhibit in Midtown.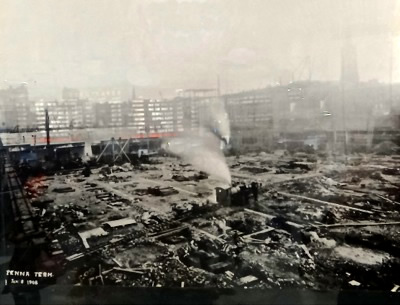 We return to the dawn of the 20th century, when horses and carriages were still one of the primary modes of inner urban transit, but this transportation mode would relatively quickly be replaced by the expansion of the trolley car system and eventually subway system in New York City. In 1900, according to historian Dave Lawyer, there were only 8,000 automobiles in the entire nation.
Overland transit between cities was a mix of horses and carriages and the rail roads, but over the course of the 19th century rail roads had become the most reliable means of long distance overland transit. Lawyer says that in 1900 there were 200,000 miles of steam rail and 14,000 miles of electric rail ways which were primarily for street cars and rail ways serving urban areas.
Transportation by water, which for millenia had been the most viable means of long distance travel between states and towns, continues to this day to play a role in long distance transit - although these days primarily of the transportation of goods.
The photo at right shows the Penn Station rail yards circa January 1908 as plans for its erection over the rail yards were getting underway. Pennsylvania Rail Road built Penn Station which was opened to the public two years later in September 1910. The station, one of the great New York City landmarks, was demolished amidst much public furor beginning in late 1963.
We'll continue with our report series about Mayor de Blasio's proposal to develop the air rights over Sunnyside Yards a bit later today or in the week.
---
Sunnyside Yards
Sunnyside Yards: Finding Our Place In Space & Time
Part II. History Of Transit & Housing In Queens: Sunnyside Yards
March 18, 2015 / Sunnyside / Queens Real Estate / News Analysis & Opinion / Queens Buzz.
In Part I of this report series about Mayor de Blasio's proposed development of Sunnyside Yards, we saw how Queens evolved from the rolling woods and farmlands of the early 19th century, into an industrial and manufacturing center along the East River waterfront in the second half of that century. In 1898 Queens became a part of New York City and the dawn of the 20th century had begun.
Work On The Steinway Tunnel Resumes & Begins The Era Of The Commute
In 1892 William Steinway [he died in 1896] began digging a tunnel underneath the East River between Queens and Manhattan. He had envisioned completing it to enable mass transit flows between Queens and Manhattan to enhance the value of his vast Astoria / Long Island City real estate holdings, but he died before that vision came to fruition. The Steinway Tunnel, which was named in his honor and which it carries to this day, is now the underground tunnel for the #7 subway line between Flushing Main Street in Queens, and Times Square in Manhattan. I shot the photo to right at LaGuardia Community College in LIC which shows a newspaper account of a 1907 test run of the line, three years after the completion of the Steinway Tunnel between Manhattan and Queens in 1904.
Large Scale Real Estate Development Begins In Queens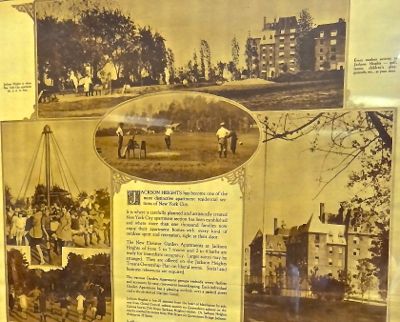 Following the creation of the interborough subway lines, affordable housing developments followed in Jackson Heights, Forest Hills and Sunnyside. The photo at right shows a 1922 real estate development in Jackson Heights built for the upwardly mobile growing middle class. I shot this photo at the Jackson Heights Beautification Group's Historic House [Garden] Tour Weekend.
We ended Part I talking about Public Housing that ultimately became low income housing, and which had systemic problems attributed to the civil rights struggle of the mid 20th century, and which was followed by social upheaval accompanied by narcotics. While remnants of the past remain with us, the most egregious aspects of these historical issues have been ameliorated.
And so we begin Part II by taking a deeper dive into the evolution of New York City's transportation system and housing development, with an eye toward how mass transit and the auto enabled the daily movement of millions of people / workers between their workplaces in Manhattan to their homes in the outer boroughs - most notably of Queens.
What follows is Part II of a deeper look into the Mayor's proposed development of the Sunnyside Yards.
---
Sunnyside Yards Real Estate Development LIC & Queens
Sunnyside Yards: Finding Our Place In Space & Time
Part I. A Closer Look Into The Many Dimensions Of The Mayor's Proposed Development
March 8, 2015 / Sunnyside / Queens Real Estate / Queens Buzz. There's been plenty of talk about the proposed development of Sunnyside Yards since Mayor de Blasio first announced it as one of the top real estate development sites that could be used to mitigate New York City's current housing crisis.
I've been taking an informal poll about the proposed development, and generally have heard people voicing opposition to it, even though the proposal is still in its early stages. To be sure there are potential issues associated with the real estate development which one could easily construe to be negative [like the population density impact on infrastructure], but there are also opportunities associated with it, which one could see in a positive light [like tying funding for more transit to address the stress already on the #7 subway line].
What will follow over the course of this week, is our look into the proposed development of the Sunnyside Yards.
---
Queens Real Estate
Queens Real Estate
Market Analysis Of Real Estate In Queens
Queens NY / December 7, 2009. This is a report on the Queens real estate market. The report covers the latter half of 2009. This analysis includes looking at apartment rental prices, as well as condo, co-op and home prices and availability. This Queens real estate market analysis focuses on the Astoria, LIC / Long Island City, Jackson Heights, Sunnyside and Woodside neighborhoods. While we found these neighborhoods mirrored or trailed many of the national trends, we found some interesting differences, including differences from neighborhood to neighborhood. Click here for our second half 2009 market analysis of Queens Real Estate.
---
Home Improvement & Construction In Queens
---
Banks & Loans In Sunnyside, Woodside & Queens
---
Retail & Shopping In Sunnyside & Woodside
---
Wholesale & Manufacturing In Queens
---
Restaurants In Sunnyside & Woodside
---
Taste Of Sunnyside Photos 2014
Taste of Sunnyside in Photos
May 20, 2014 / Queens Restaurants / Sunnyside Restaurants / Queens Buzz. I attended the New Taste of Sunnyside which was held underneath the #7 subway line at 46th Street in Sunnyside.
One might think that this location could be distracting with the subway moving to and fro overhead, but with the live musical performances going on in the foreground, I didn't once - during the hour and a half that I was there - notice the subway overhead.
The crowd attending this event has changed over the years. This year the people in attendance seemed to be primarily in their 20's, 30's and 40's. In prior years, many of the attendees had already endured an additional decade or two of wear and tear.
I was informed that there were well in excess of 600 paying attendees, and a number of additional tickets were distributed for business and charitable purposes. Rachel Thieme, Sunnyside Shines Executive Director, was the primary organizer supported by the Board including John Vogt, Chairman and Artie Weiner, Treasurer - all of whom are shown in the slide show included in this report.
Click here to read the rest of our report including a slide show of photos of Taste of Sunnyside 2014.
---
Turkish Cooking In Sunnyside Queens
Turkish Cooking Classes in Queens
Cooking Class Mixes Culture, Cuisine & Comedy In Cool Klatch
February 6, 2013 / Sunnyside / Food in Sunnyside / Queens Buzz. I attended an evening cooking class offered by the Turkish Cultural Center in Queens. They offer one cooking class each month, wherein they teach Turkish cuisine. Seating is limited to about fifteen; and you don't have to be a member or Turkish to attend. In fact almost all of the people in attendance were not Turkish, and there were a couple of males in attendance too.
My interest in Turkish cuisine has grown over the past few years, as Sunnyside and western Queens has become a small magnet for Turkish immigrants. Turks have a long history of culinary achievement and a number of them have opened grocery stores and restaurants which have become quite popular in their neighborhoods [see review of the Turkish Grill restaurant in Sunnyside].
Click here for our report with photos of Turkish cooking classes in Queens.
---
---
Government & Employment In Queens
---
Queens Unemployment - Employment in Queens NYC & NYS
Queens Employment Rate Continues To Best NYC Metro
September 23, 2015 / Queens Neighborhoods / Queens Business / Queens Buzz.
Queens County continued its streak of besting three of the other four boroughs in New York City with respect to low unemployment. In the July period unemployment fell to 4.9%, which is slightly below what is generally considered a full employment unemployment rate of 5%.
Queens Employment Fueled By Building Boom
Queens is currently experiencing a building boom, with the epicenters in the neighborhoods of Long Island City, Astoria, Flushing and to a lesser extent Jamaica. In addition to the creation of temporary construction jobs which end when the building has been completed, some of the new commercial developments have targeted white collar office space, which has then been used to lure large commercial tenants from other boroughs, into Queens. Bloomingdales was one such recent company to announce a large move [a return] into Queens.
Click here to read the rest of our report on employment and unemployment in Queens, NYC and NYS.
---
Transportation In Sunnyside, Woodside & Queens
---
---
Sunnyside Real Estate / Woodside Real Estate Related Info
Click this link for promotions, discounts and coupons in Woodside, Sunnyside and Queens.
Click this link to go to the Astoria Neighborhood / Long Island City LIC Neighborhood / Sunnyside Woodside Neighborhood News / Jackson Heights Elmhurst Neighborhood / Flushing Corona Neighborhood / Jamaica Neighborhood.
Site Search Tips. 1) For best results, when typing in more than one word, use quotation marks - eg "Astoria Park". 2) Also try either singular or plural words when searching for a specific item such as "gym" or "gyms".
Click here to learn more about Welcome Home real estate in Sunnyside.
---
Archives - TBD
---
Click this link to search for something in our Queens Business Directory.
---
Click the log in link below to create an ID and post an opinion.
Or send this story to a friend by filling in the appropriate box below.
---