Business & Real Estate In
Sunnyside & Woodside
---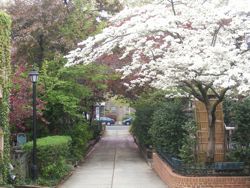 Sunnyside & Woodside NY is on the western end of Queens just east of LIC and is commutable via the # 7 subway line as well as by the LIRR at 61st Street. It is also centrally located for road access to the BQE, LIE and Grand Central Parkway. This section of Queens has a population of about 26,000 and 90,000 respectively and is one of the most mixed neighborhoods in the city. The demographic composition includes European, Middle Eastern, Latin American and Asian descendants.
Sunnyside Gardens were developed back in the 1920's under a program that was guided in part by Eleanor Roosevelt prior to her becoming Roosevelt's wife. The Gardens were designated a historic district in 2007 and are known for the English-style landscaping. The Sunnyside neighborhood has restaurant and shopping areas that run along Queens and Northern Blvds, as well as Skillman, Greenpoint and Roosevelt Avenues.
---
Click to view the Sunnyside & Woodside neighborhoods
---
Phipps Houses Real Estate Development Sunnyside Queens - Proposal
Phipps Proposed Real Estate Development in Sunnyside
October 26, 2015 / Sunnyside Neighborhood / Sunnyside Real Estate / Queens Buzz.
I attended a town hall regarding a real estate development proposal put forth by the Phipps Houses organization. The Phipps Houses organization is a non-profit dedicated to building and managing affordable housing. They have a number of sites including the Phipps Houses in Sunnyside and they are partners with the Related Companies in the real estate development at Hunters Point South.
The meeting was a voluntary first step taken by the Phipps Houses organization to gather community feedback and engage with the neighborhood regarding a proposal to use the land they own that is across Barnett Street behind the Phipps Houses in Sunnyside. The strip of land is currently occupied by a parking lot which stands adjacent to the LIRR railway tracks.
The proposal is in its early stages and at this point in time we were told that nothing is in the works formally - meaning no proposal has yet been officially submitted for government review. To build the 200 unit apartment complex, they need to request a zoning change from the city and thus would have to go through the Uniform Land Use Review Procedure [ULURP] which can be lengthy and fraught with tension if the neighborhood is not, in some measure, on board.
What follows is an account of the presentation and discussion that took place Monday night October 26th, 2015 at the Phipps Houses in Sunnyside. The report includes a 7 minute video with highlights from the meeting which includes imporant points, some tensions, and a bit of laughter.
Click here to view the rest of our report on the proposed Phipps Houses real estate development in Sunnyside Queens.
---
Sunnyside Yards: Rail Yards & Building Platforms
Sunnyside Yards: Finding Our Place In Space & Time
Part III. A History Of Building Over Rail Yards In New York City
April 20, 2015 / Sunnyside / Queens Real Estate / News Analysis & Opinion / Queens Buzz.
Click here to view our first report about Sunnyside Yards which provides a brief history of the development of transportation and real estate in Queens in the 19th and 20th centuries. Click here to read our second report about Sunnyside Yards which provides a far more in-depth history of the real estate development and transportation in the 20th century.
On this leg of the journey in our report series on Mayor de Blasio's proposed development of Sunnyside Yards, we take a more in-depth view of the history of real estate development of the air rights of rail yards in New York City. So with no further ado, let's continue.
The photo to your right shows the vision of
William J. Wilgus who coined the phrase "taking wealth from the air" as it was he who first proposed monetizing the air rights of New York Central and Hudson River Rail yards, which ran north along what is Park Avenue today.
This was an example of the ingenious thinking of the time, as he leveraged a new technologies, by electrifying the rail system, lowered the rail tracks and built platforms over them. I took the photo above right, of what I believe to be a 1902 graphic of his vision, which I found at a public exhibit in Midtown.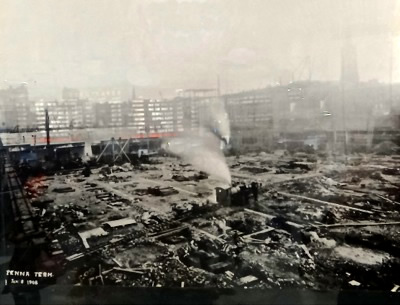 We return to the dawn of the 20th century, when horses and carriages were still one of the primary modes of inner urban transit, but this transportation mode would relatively quickly be replaced by the expansion of the trolley car system and eventually subway system in New York City. In 1900, according to historian Dave Lawyer, there were only 8,000 automobiles in the entire nation.
Overland transit between cities was a mix of horses and carriages and the rail roads, but over the course of the 19th century rail roads had become the most reliable means of long distance overland transit. Lawyer says that in 1900 there were 200,000 miles of steam rail and 14,000 miles of electric rail ways which were primarily for street cars and rail ways serving urban areas.
Transportation by water, which for millenia had been the most viable means of long distance travel between states and towns, continues to this day to play a role in long distance transit - although these days primarily of the transportation of goods.
The photo at right shows the Penn Station rail yards circa January 1908 as plans for its erection over the rail yards were getting underway. Pennsylvania Rail Road built Penn Station which was opened to the public two years later in September 1910. The station, one of the great New York City landmarks, was demolished amidst much public furor beginning in late 1963.
We'll continue with our report series about Mayor de Blasio's proposal to develop the air rights over Sunnyside Yards a bit later today or in the week.
---
Sunnyside Yards
Sunnyside Yards: Finding Our Place In Space & Time
Part II. History Of Transit & Housing In Queens: Sunnyside Yards
March 18, 2015 / Sunnyside / Queens Real Estate / News Analysis & Opinion / Queens Buzz.
In Part I of this report series about Mayor de Blasio's proposed development of Sunnyside Yards, we saw how Queens evolved from the rolling woods and farmlands of the early 19th century, into an industrial and manufacturing center along the East River waterfront in the second half of that century. In 1898 Queens became a part of New York City and the dawn of the 20th century had begun.
Work On The Steinway Tunnel Resumes & Begins The Era Of The Commute
In 1892 William Steinway [he died in 1896] began digging a tunnel underneath the East River between Queens and Manhattan. He had envisioned completing it to enable mass transit flows between Queens and Manhattan to enhance the value of his vast Astoria / Long Island City real estate holdings, but he died before that vision came to fruition. The Steinway Tunnel, which was named in his honor and which it carries to this day, is now the underground tunnel for the #7 subway line between Flushing Main Street in Queens, and Times Square in Manhattan. I shot the photo to right at LaGuardia Community College in LIC which shows a newspaper account of a 1907 test run of the line, three years after the completion of the Steinway Tunnel between Manhattan and Queens in 1904.
Large Scale Real Estate Development Begins In Queens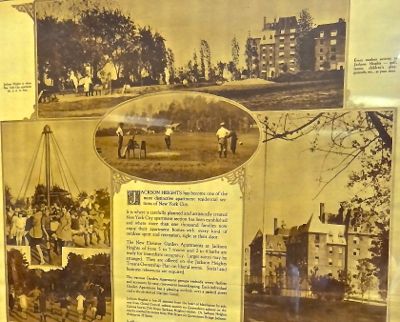 Following the creation of the interborough subway lines, affordable housing developments followed in Jackson Heights, Forest Hills and Sunnyside. The photo at right shows a 1922 real estate development in Jackson Heights built for the upwardly mobile growing middle class. I shot this photo at the Jackson Heights Beautification Group's Historic House [Garden] Tour Weekend.
We ended Part I talking about Public Housing that ultimately became low income housing, and which had systemic problems attributed to the civil rights struggle of the mid 20th century, and which was followed by social upheaval accompanied by narcotics. While remnants of the past remain with us, the most egregious aspects of these historical issues have been ameliorated.
And so we begin Part II by taking a deeper dive into the evolution of New York City's transportation system and housing development, with an eye toward how mass transit and the auto enabled the daily movement of millions of people / workers between their workplaces in Manhattan to their homes in the outer boroughs - most notably of Queens.
What follows is Part II of a deeper look into the Mayor's proposed development of the Sunnyside Yards.
---
Queens Real Estate
Queens Real Estate
Market Analysis Of Real Estate In Queens
Queens NY / December 7, 2009. This is a report on the Queens real estate market. The report covers the latter half of 2009. This analysis includes looking at apartment rental prices, as well as condo, co-op and home prices and availability. This Queens real estate market analysis focuses on the Astoria, LIC / Long Island City, Jackson Heights, Sunnyside and Woodside neighborhoods. While we found these neighborhoods mirrored or trailed many of the national trends, we found some interesting differences, including differences from neighborhood to neighborhood. Click here for our second half 2009 market analysis of Queens Real Estate.
---
Home Improvement & Construction In Queens
---
Banks & Loans In Sunnyside, Woodside & Queens
---
New York City Economic Outlook 2016 - NYC Economy
Queens Economy - 2016 Outlook NYC
Currently Full Employment, Low Interest Rates, Low Inflation But Possible International Shocks
January 4, 2016 / Queens Neighborhoods / Queens Business / Queens Buzz.
We took a look into the crystal ball over the holiday break to see what may lie ahead for the NYC economy in the coming year. We studied the stats and facts put out by many of the national data producers at the Bureau of Labor Statistics, the Federal Reserve, the Treasury Department and the AIE. What follows is a brief summary of some of the statistics we gathered on the global, national and New York City economy including unemployment statistics by borough for 2015.
U.S. & NYC Economy Near / At Full Employment
Currently Queens and Manhattan are doing the best with respect to employment, with unemployment rates below 5%, which economists consider to be full employment as the 5% unemployed are viewed as normal 'friction' in the economy, accounting for people coming into, leaving and changing jobs within the labor force.
In 2009 - 2010, during the first two years of the Great Recession, the nation's unemployment rate hit 9.4%, while the unemployment rate for New York City hit 10.4%. The employment picture for the nation and the five boroughs of New York City has slowly but steadily improved since then, with unemployment trending lower, reaching full employment this year at 5% for the nation and 4.8% for New York City this fall.
Employment Impact / Relationship to Inflation
Employment affects inflation, as when everyone is fully employed, recruiting firms bid up the price of labor and workers feel secure enough to spend aggressively, bidding up the price of goods. The Federal Reserve attempts to reign in inflation - because it creates economic instability - by raising interest rates which increases the cost of capital needed to expand operations or make large purchases more expensive. On December 16, 2015, the Federal Reserve raised its key short-term interest rate by 25 basis points (0.25%) to begin to get ahead of potentially inflationary issues that may lie ahead. We'll look into a few of these later in this report.
Economists in one of the banking reports I received believe that there is still slack in the labor market that is not reflected in the numbers as many people have part-time jobs, while they would like full time jobs. Also the labor force participation rate fell during the Great Recession and it became more difficult to find work. Now with a full employment economy it is believed that some of those folks who gave up looking will try to re-enter the workforce. An example of the decline in participation rate might be a spouse who helped supplement household income but couldn't find the right work, and now starts looking again.
Click here to continue reading our report about the New York City NYC Economy Outlook 2016 which delves into full employment impact on inflation, interest rates, consumer debt levels, oil & commodity prices, domestic and international currencies & economic growth, the financial markets and how all of this may impact the different sectors of the Queens & New York City economy.
---
Retail & Shopping In Sunnyside & Woodside
---
Wholesale & Manufacturing In Queens
---
Restaurants In Sunnyside & Woodside
---
Woodside Restaurants: Taste Of Woodside
Taste of Woodside: Grammy Nominated Mariachi Music & A First Class Repast
Latin Grammy Nominated Mariachi Band Serenades Local Woodside Restaurant Feast
November 16, 2015 / Woodside Neighborhood / Woodside Restaurants / Queens Restaurants / Queens Buzz.
On Thursday I made my way to cover the Taste of Woodside at Gulshan Terrace at 59-15 37th Avenue in Woodside. It was a dry, pleasant November evening as I arrived along with a host of other attendees.
Inside the Gulshan Terrace event hall there was a bar off to the left and the ticket table off to the right. Straight ahead was a large open space that was populated with tables and chairs and an elevated stage. And off to both the left and right were the serving tables of the restaurateurs. I felt like I had arrived at the wedding reception of a young couple … but I had not.
Instead I was greeted by a young-at-heart couple of Woodside on the Move Board Members. Jim Daley wasted no time in making me feel quite welcome and Joanne Smith made me feel right at home … like I was one of the family. Before they had become too dispersed, I was able to gather the full Woodside on the Move Board for a photo, which is included at the end of the report next to the thanks and appreciation section.
This was the fourth annual Taste of Woodside, and tonight I would have the opportunity to sample the food of fifteen restaurants from Woodside. But alas, I was not able to sample all of them in the allotted time.
What follows here is a brief sampling of the foods I was able to sample at the Taste of Woodside. I have included a few photos of the fifteen Woodside restaurants at the Taste of Woodside and a video of the music performed by an all female Mariachi band.
---
Taste Of Sunnyside Photos 2014
Taste of Sunnyside in Photos
May 20, 2014 / Queens Restaurants / Sunnyside Restaurants / Queens Buzz. I attended the New Taste of Sunnyside which was held underneath the #7 subway line at 46th Street in Sunnyside.
One might think that this location could be distracting with the subway moving to and fro overhead, but with the live musical performances going on in the foreground, I didn't once - during the hour and a half that I was there - notice the subway overhead.
The crowd attending this event has changed over the years. This year the people in attendance seemed to be primarily in their 20's, 30's and 40's. In prior years, many of the attendees had already endured an additional decade or two of wear and tear.
I was informed that there were well in excess of 600 paying attendees, and a number of additional tickets were distributed for business and charitable purposes. Rachel Thieme, Sunnyside Shines Executive Director, was the primary organizer supported by the Board including John Vogt, Chairman and Artie Weiner, Treasurer - all of whom are shown in the slide show included in this report.
Click here to read the rest of our report including a slide show of photos of Taste of Sunnyside 2014.
---
---
Government & Employment In Queens
---
Mayor de Blasio's State of the City Address 2016 NYC
De Blasio's State of the City Address 2016
Moving NYC from 'Tale of Two Cities' to 'One New York'?
February 6, 2016 / Kingsbridge Heights Neighborhood Bronx / NYC Neighborhoods / NYC Politics & Government / Queens Buzz.
I attended Mayor de Blasio's second State of the City Address delivered at the Performing Arts Center at Lehman College in the Kingsbridge Heights neighborhood of the Bronx. In spite of its northern, non-central location, the speech was well attended. About three dozen protesters also made their way north of Manhattan into the Central west Bronx, wielding placards asking the Mayor to stop gentrification and something about fair labor practices.
I took my place among the press corps where we were seated right in the middle of the auditorium. After settling in, I started photographing the slides whizzing by on the main stage, showing the accomplishments of the de Blasio Administation during its first two years. I have included a slide show a bit later in this report, which contains some of the slides that I photographed.
Unlike last year, when the Mayor and the Police Commissioner were having difficulties adjusting to each other, this year the mood seemed buoyant. In front of me was a group of students from the Laboratory School of Finance & Technology - MS 223 - at 360 East 145th Street in the Mott Haven neighborhood in the Bronx. The school is connected with Bronx Prep and hence handles grades 6 through 12.
Click here to read our report of Mayor de Blasio's State of the City Address 2016. The report includes video excerpts of the Mayor's speech, as well as two other short video pieces including the harmony singing of the National Anthem by a talented Bronx choral group, and the teachers and students of MS 223.
---
Queens Unemployment - Employment in Queens NYC & NYS
Queens Employment Rate Continues To Best NYC Metro
September 23, 2015 / Queens Neighborhoods / Queens Business / Queens Buzz.
Queens County continued its streak of besting three of the other four boroughs in New York City with respect to low unemployment. In the July period unemployment fell to 4.9%, which is slightly below what is generally considered a full employment unemployment rate of 5%.
Queens Employment Fueled By Building Boom
Queens is currently experiencing a building boom, with the epicenters in the neighborhoods of Long Island City, Astoria, Flushing and to a lesser extent Jamaica. In addition to the creation of temporary construction jobs which end when the building has been completed, some of the new commercial developments have targeted white collar office space, which has then been used to lure large commercial tenants from other boroughs, into Queens. Bloomingdales was one such recent company to announce a large move [a return] into Queens.
Click here to read the rest of our report on employment and unemployment in Queens, NYC and NYS.
---
Transportation In Sunnyside, Woodside & Queens
---
Van Bramer & Peralta Support $8 Tolls on Queensboro Bridge
Move NY Congestion Traffic Pricing Plan
Proposal To Toll Tax Away NYC Traffic Congestion Caused By A Century Of NYC Infrastructure Designed With Manhattan As The Hub
Van Bramer & Peralta Support 'Move NY' Plan Which Calls For The Installation Of $8 Tolls On Queensboro, Brooklyn, Manhattan & Williamsburg Bridges
November 9, 2015 / Queens Neighborhoods / Queens Government & Politics / News Analysis & Opinion / Queens Buzz.
NYC Councilmember Jimmy Van Bramer and 14 Democratic Progressives recently embraced the Move NY Congestion Traffic Price Plan, which among other things, calls for $8 tolls [or $5.54 with the use of an EZ Pass] on all East River Bridges, including Queensboro, Brooklyn, Manhattan & Williamsburg Bridges.
NYS Senator Jose Peralta of Jackson Heights / Corona has been an early advocate of the Move NY Congestion Traffic Price Plan.
Most of the rest of the Queens government officials do not support the plan. And hence we decided to take a closer look into the plan, to better understand what the issues are.
And we were more than a little bit surprised at what we found.
How Do The Plan Assumptions Stack With Known Realities?
In this report we're going to describe the Move NY repackaged Congestion Traffic Price Plan. Specifically we will explore the assumptions upon which the plan is based, and then go behind the curtain to explore some of the relationships between the different groups pushing the plan, in order to better understand the economics of the politics.
Move NY Congestion Traffic Pricing Plan Organizers & Shadow Lobbyists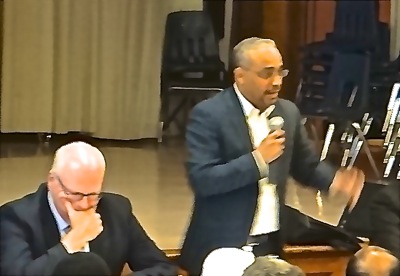 After the meeting I started investigating the Move NY Fair Plan and stumbled across a website name that feeds into the Move NY organization's website. The current Move NY official website name is www.iheartmoveny.org - but you can also get there using www.move-ny.org - which will forward you to the same site.
The owners of the www.move-ny.org site are listed as Blue State Digital, which is a public relations firm. Their website says that they,
"... build and galvanize communities on behalf of some of the world's leading nonprofits, advocacy groups, and brands."
They were written up in a New York Times OpEd piece by Thomas Edsell entitled Shadow Lobbyists, as a new class of public relations firms that galvanize public opinion in the same way that one galvanizes support for political candidates. It's still public relations, but the techniques are different. We'll probe the vested interested parties in more detail a bit further into the story.
In Move NY 'Fair' Plan There's More Than A Dozen(s) Of "Komanoff Assumptions or Estimates"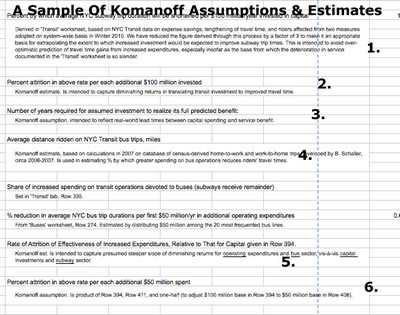 Charles Komanoff is a consultant for the Sam Schwartz Move NY 'Fair' Plan. The Move NY Plan appears to have relied very heavily [or entirely?] on Komanoff's BTA or Balance Transportation Analyzer. In a quick perusal at some of the underlying math, I found easily more than a dozen estimates and assumptions which were entitled 'Komanoff Estimate' or 'Komanoff Assumption'.
It's worth noting that in general, economic models such as the Balanced Transportation Analyzer or BTA, can be made to produce any conclusion one wants, if one is in control of the underlying assumptions.
Congestion Traffic Pricing Plan Assumptions & Pricing Elasticity
There are many underlying assumptions baked into the Move NY Plan that are worth questioning in far greater detail. But the biggest key assumption to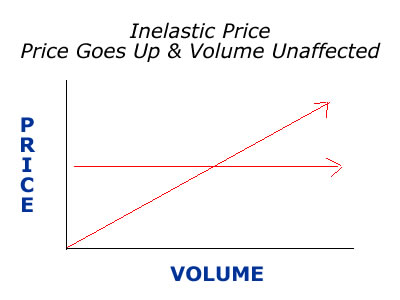 investigate is the pricing elasticities baked into the plan. Pricing elasticity predicts whether or not people will drive over a bridge or a road, if the price of the toll on the bridge / road increases or decreases.
Based on a number of studies done over the past decade, including two in the New York City area, some drivers will adjust the time of day they travel over a toll bridge or road slightly, in order to obtain a discounted rate, but few appear to decide whether or not to use a bridge or toll road because of a toll price increase.
Part of the implicit positioning of the plan is that it will reduce carbon emissions. Implicit because both Komanoff who provided the BTA [Balanced Transportation Analyzer] econometric model for the Move NY Plan, and Matthiessen who runs the public relations firm lobbying for the Move NY organization, are on the board of the Carbon Tax Center. More on this later.
Independent Studies Have Shown That Toll Price Increases Negligibly Impact WHETHER Or Not Drivers Will Use Bridges Or Roads Vs Public Transit, But Can Impact WHEN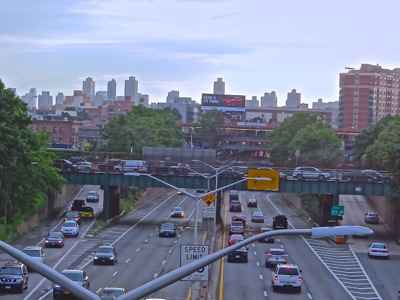 The studies of the impact of toll price changes on roads and bridges, were done by independent institutions like established universities and governments. The goal was to determine if pricing can be used to alter traffic patterns. We will provide you with the results of some of these studies further into this report, so you can judge for yourself whether or not to rely on the assumptions embedded in the Make NY Plan by consultant Charles Komanoff.
For those of you who didn't get a chance (or weren't interested) in studying economics, price elasticity is:
"… is a measure of the responsiveness of demand or supply of a good or service to changes in price. The price elasticity of demand measures the ratio of the proportionate change in quantity demanded to the proportionate change of the price."
An elastic price means if the price goes up, the quantity goes down and vice versa. An inelastic price means that people won't change their behaviors much in response to price increases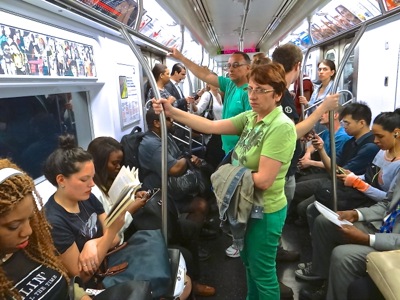 - oftentimes because they don't have what they consider to be reasonable alternatives.
Take electricity into your household prior to deregulation as an example. If the monopoly power company took a price increase, you didn't quit using the lights, stove, TV, furnace or washer / dryer because the options weren't that reasonable. Apparently the folks who use the toll bridges and toll roads don't feel they have good options either. So if the price of a toll bridge or toll road goes up, there's a negligible change in usage behavior - except with respect to shifting the time of use.
Of course in this case, the Move NY Plan is really advocating more than a toll price increase, as they are advocating the introduction of tolls where they had not been.
Toll prices appear to influence bridge / road usage times [eg. motorists plan their trips either immediately before or after peak periods] but do not appear to alter the means of transportation chosen [eg. take the car vs take the train]. The implication is that there may not be an ecological benefit to this plan.
Congestion Pricing Experience In London
London, Stockholm and Milan have implemented Congestion Traffic Pricing Plans in parts of their cities. One cannot underestimate the differences between New York City and its European counterparts including road widths [the plans targeted European Medieval town centers], the population density [Manhattan is many times more dense than of any of them], the geography [Manhattan is an island connected by 18 bridges and tunnels, while London, Milan & Stockholm are not] and so forth.
That said, London was the first city to implement congestion traffic pricing in 2003. We will take a brief look into some of the outcomes of that implementation later in this report, but the two key findings that stick with me are: 1) London never went forward with extending the Congestion Traffic Pricing zone and 2) it's been reported that the implementation infrastructure costs were very sizeable, and that less than half of the new revenue ended up in proposed infrastructure development.
New York City Transit System Designed in 1900 & Built by 1961 When NYC Was A Different Place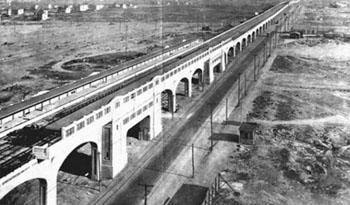 In 1900 Manhattan represented 52% of the population of New York City and Brooklyn represented 33% - the remaining 15% was spread in the other three boroughs which were somewhat rural and low density population areas.
Around the turn into the 20th century city planning, by necessity, came into vogue. And it was also the time during which New York City mass transit began being built. By 1940 most of the build out was completed save the Brooklyn Battery Tunnel (1950), the Verrazano Narrows Bridge (1961) and the Throgs Neck Bridge (1961).
Today Manhattan represents about 20% of the population, while Brooklyn is about 30%, Queens 27%, Bronx 17% and Staten Island 6%. If you look at the map below, you'll see how the bridges and tunnel transportation infrastructure converges on Manhattan because that's historically and still the New York City hub.
Can The City Toll Price Its Way Out Of A Century Of Infrastructure Design & Build?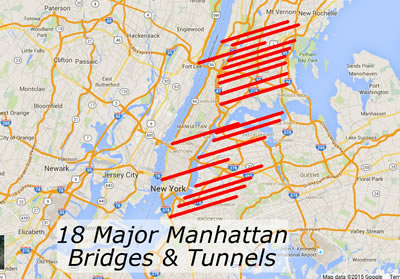 The total bridge / tunnel crossings of the outer four boroughs is 28 and 15 of them are with Manhattan. Manhattan by itself has a total of 18 crossings, including the 15 just mentioned and another 3 major crossings coming in from New Jersey.
Decades of prior New York City Mayors and New York State Governors & the respective legislative bodies have failed to recognize and address perhaps the most basic reality and issue facing the New York City transportation system today - that the overall transportation infrastructure was designed and built 70 to 100 years ago to serving Manhattan as the hub.
While the population densities of the boroughs has changed significantly, Manhattan still remains the center of the city in terms of commercial and cultural activity and this is due in part to its accessibility.
How Fair Is The Move NY 'Fair' Plan?
Sam Schwartz's Move NY Congestion Traffic Pricing Plan appears to be a socially and economically regressive tax increase because if it succeeds, the brunt of the pain will be borne by the lower and middle income wage earners who will bear the costs if they can't leave their car - and if they do, who will put an even greater strain on the subway system which already appears to be running near full capacity. The subway system is a transit category upon which the Move NY Plan only marginally touched upon.
Geographically the burden targets the Bronx, Manhattan and other motorists who cross Manhattan at 60th Street and the motorists including from Queens, Brooklyn and Manhattan who cross the East River. They are not, as the Move NY Plan states, crossing for free because they contribute plenty to the public coffers in high rents, property taxes and municipal taxes that support both New York City and New York State infrastructure. And many of whom likely need to use their cars to enter Manhattan because they probably don't have good choices, contrary to what Move NY Plan hypothecates.
The Move NY Plan will certainly raise needed funds for public transit, and might possibly reduce carbon emissions IF the motorists re-schedule their trips AND the new tolls REDUCE bottlenecks at the East River Bridges and along 60th Avenue in Manhattan - not make them worse. Currently neither the bridges nor the 60th Street cross line have tolls.
The research indicates that the plan will not likely reduce the number of motorist trips as toll pricing appears to be inelastic and thus not a deciding variable as to whether or not people use their cars. And if the London experience is any guide, expect a sizable chunk of new revenue to go toward creating and managing the implementation of the Congestion Traffic Pricing Plan in lieu of investments in other public transit.
Click here for the rest of our story about the Move NY Congestion Traffic Pricing Plan as we explore in greater detail a connected web of people, lobbyists and organizations behind Move NY Congestion Traffic Pricing Plan and their possible motivations. We critique the plan including a review of the assumptions, and a closer look at independent studies done with regard to motorists response to toll prices and changes.
---
---
Sunnyside Real Estate / Woodside Real Estate Related Info
Click this link for promotions, discounts and coupons in Woodside, Sunnyside and Queens.
Click this link to go to the Astoria Neighborhood / Long Island City LIC Neighborhood / Sunnyside Woodside Neighborhood News / Jackson Heights Elmhurst Neighborhood / Flushing Corona Neighborhood / Jamaica Neighborhood.
Site Search Tips. 1) For best results, when typing in more than one word, use quotation marks - eg "Astoria Park". 2) Also try either singular or plural words when searching for a specific item such as "gym" or "gyms".
Click here to learn more about Welcome Home real estate in Sunnyside.
---
Archives - TBD
---
Click this link to search for something in our Queens Business Directory.
---
Click the log in link below to create an ID and post an opinion.
Or send this story to a friend by filling in the appropriate box below.
---