Business & Real Estate In
Sunnyside & Woodside
---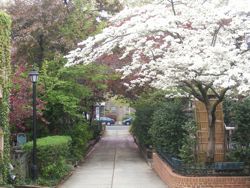 Sunnyside & Woodside NY is on the western end of Queens just east of LIC and is commutable via the # 7 subway line as well as by the LIRR at 61st Street. It is also centrally located for road access to the BQE, LIE and Grand Central Parkway. This section of Queens has a population of about 26,000 and 90,000 respectively and is one of the most mixed neighborhoods in the city. The demographic composition includes European, Middle Eastern, Latin American and Asian descendants.
Sunnyside Gardens were developed back in the 1920's under a program that was guided in part by Eleanor Roosevelt prior to her becoming Roosevelt's wife. The Gardens were designated a historic district in 2007 and are known for the English-style landscaping. The Sunnyside neighborhood has restaurant and shopping areas that run along Queens and Northern Blvds, as well as Skillman, Greenpoint and Roosevelt Avenues.
---
Click to view the Sunnyside & Woodside neighborhoods
---
Queens Real Estate
Queens Real Estate
Market Analysis Of Real Estate In Queens
Queens NY / December 7, 2009. This is a report on the Queens real estate market. The report covers the latter half of 2009. This analysis includes looking at apartment rental prices, as well as condo, co-op and home prices and availability. This Queens real estate market analysis focuses on the Astoria, LIC / Long Island City, Jackson Heights, Sunnyside and Woodside neighborhoods. While we found these neighborhoods mirrored or trailed many of the national trends, we found some interesting differences, including differences from neighborhood to neighborhood. Click here for our second half 2009 market analysis of Queens Real Estate.
---
Home Improvement & Construction In Queens
---
Banks & Loans In Sunnyside, Woodside & Queens
---
Economic Forecast For Queens 2012 - Queens Economy
Economic Outlook 2012 - Queens Economy
Federal Reserve Economist Discusses 2012 Outlook At LIC Partnership Breakfast
February 13, 2012 / Long Island City / Queens Business / Queens Buzz. I attended a lecture given by New York Federal Reserve Economist Rae Rosen at the LIC Partnership breakfast in Long Island City. In the lecture the economist talked about many of the critical factors that would play a role in the outcome of how the economy would perform in 2012. How these factors play out will ultimately impact the kind of economic year Queens, NYC and NYS will have in 2012.
U.S. Economic Performance in 2012 Vs Averages
The U.S. economy grew 2.8% in the fourth quarter, ending the 2011 year on a strong note, after a slow beginning. For 2012 the consensus forecast is between 2.5% to 3%, with the highs above 3% and the lows just above 1% which still implies a growth year. The U.S. average growth rate since the end of WWII has been about 3.28%. According to one report I read, the probability the U.S. will slip back into recession has fallen to 23%.
Click here for our report of the lecture given by Federal Economist Rae Rosen at the LIC Partnership breakfast in February 2012 - Queens Economic Forecast 2012.
---
BOC - Business Outreach Network In Queens
Small Business Financing In Queens NYC
SBA In Queens & Business Outreach Center In Corona
January 31, 2012 / Corona / Queens Business / Queens Buzz. Last summer I decided to take Queens Buzz through the SBA process to raise capital to raise capital and to provide a description of the process that a new or struggling enterprises must go through in order to obtain non-traditional funding.
Over the course of the past decade, government and non-profit organizations have increasingly become aware of the importance and value of helping new and small businesses survive and thrive as a means of retaining and creating jobs within communities. In the current economic environment, helping these small companies is critical to accelerating the current economic recovery.
I entered the process of seeking a loan in July of 2011 ... click here to read more about the Business Outreach Center in Corona Queens. The photo above was taken at a 2012 seminar sponsored at the Business Outreach Center in Corona Queens entitled Financing Your Business.
---
Retail & Shopping In Sunnyside & Woodside
---
Wholesale & Manufacturing In Queens
---
Restaurants In Sunnyside & Woodside
---
Taste Of Sunnyside - Sunnyside Restaurants
Taste of Sunnyside
Food, Fun & Fanfare at Taste of Sunnyside 2012
October 15, 2012 / Sunnyside / Sunnyside Restaurants / Queens Buzz. It was a rainy evening as I headed down to the third annual Taste of Sunnyside at the Sunnyside Community Service Center on 39th Street. I looked forward to seeing what new restaurants and people I would encounter - as the restaurants that participate in the Taste of Sunnyside change from year to year.
The main hall seemed less crowded than last year, due in part because the large sit down tables had been moved out to make more space. This had the effect of allowing people more room to mingle; but you pretty much had to stay on your feet throughout most of the event. The crowd that had gathered was ethnically diverse, somewhat youthful and hungry.
Click here to view our report on the Taste of Sunnyside Restaurants.
---
Turkish Cooking In Sunnyside Queens
Turkish Cooking Classes in Queens
Cooking Class Mixes Culture, Cuisine & Comedy In Cool Klatch
February 6, 2013 / Sunnyside / Food in Sunnyside / Queens Buzz. I attended an evening cooking class offered by the Turkish Cultural Center in Queens. They offer one cooking class each month, wherein they teach Turkish cuisine. Seating is limited to about fifteen; and you don't have to be a member or Turkish to attend. In fact almost all of the people in attendance were not Turkish, and there were a couple of males in attendance too.
My interest in Turkish cuisine has grown over the past few years, as Sunnyside and western Queens has become a small magnet for Turkish immigrants. Turks have a long history of culinary achievement and a number of them have opened grocery stores and restaurants which have become quite popular in their neighborhoods [see review of the Turkish Grill restaurant in Sunnyside].
Click here for our report with photos of Turkish cooking classes in Queens.
---
---
Government & Employment In Queens
---
Queens Employment - Jobs Sectors & Employment In Queens
Queens County Employment Bests NYC
Queens is one of NYC's Top Employment Performers
December 19, 2012 / Queens Neighborhoods / Employment in Queens / Queens Buzz. Tis the season to be jolly and reflect on what's happened economically over the past year while contemplating and planning for what lies ahead. To that end we did a bit of research into Queens current economic trends, specifically in the employment area.
Queens Employment & Economy is Diversified
Queens has a relatively diversified employment base. Queens County industries include: 1) transportation facilities such as JFK and LaGuardia Airports, Long Island Railroad stations, a network of MTA subways and buses, and a network of federal, state and local roadways,
2) energy infrastructure including two major power plants along the East River,
3) a growing hospitality section including hotels, a large casino, two horse race tracks, a major league baseball team, thousands of small to large retailers,
4) an array of about 2,200 restaurants,
5) a full service construction industry,
6) some light manufacturing and
7) government / social services / education as Queens is home to about a dozen hospitals [both private & public] and over three hundred public schools.
Click here to read our report on employment, unemployment & industry in Queens.
---
Helen Marshall - Queens State of the Borough Address 2012
Queens State of the Borough Address 2012
Boro President Helen Marshall Informs Us We're Holding Our Own
January 24, 2012 / Flushing / Queens Government & Economy / Queens Buzz. Today I attended the Borough President's State of the Borough Address in the Colden Auditorium at Queens College in Flushing. Queens College President Dr. James Muyskens opened the program, followed by City Council Speaker Christine Quinn.
There were hundreds of people in attendance. The audience included government officials, members of the police, fire and sanitation departments, a number of community board members, educators, healthcare administrators as well as members of the press.
Helen Marshall's address covered education, healthcare, parks, the economy, business, development, aviation [the airports], culture, historic preservation and awards to a few denizens of the borough for outstanding work. In the photo Queens Borough President Helen Marshall looks a graphic which includes the plans for the new technical center planned for Roosevelt Island by Cornell University and Technion. Click here to our report with photos of the Queens State of the Borough Address 2012.
---
Transportation In Sunnyside, Woodside & Queens
---
MTA - Service Disruption #7 Subway Line in Queens
MTA - #7 Subway Line in Queens
Service Disruptions On #7 Subway Line - Dec 2012 - Mar 2013
December 26, 2012 / Long Island City / Queens Business / Queens Buzz. There will be service disruptions on the #7 subway line in Queens from Dec 2012 to March 2013.
Click here to read our report about the #7 Subway line service disruptions in Queens Dec 2012, Jan 2013, Feb 2013 & Mar 2013.
---
---
Sunnyside Real Estate / Woodside Real Estate Related Info
Click this link for promotions, discounts and coupons in Woodside, Sunnyside and Queens.
Click this link to go to the Astoria Neighborhood / Long Island City LIC Neighborhood / Sunnyside Woodside Neighborhood News / Jackson Heights Elmhurst Neighborhood / Flushing Corona Neighborhood / Jamaica Neighborhood.
Site Search Tips. 1) For best results, when typing in more than one word, use quotation marks - eg "Astoria Park". 2) Also try either singular or plural words when searching for a specific item such as "gym" or "gyms".
---
Archives - TBD
---
Click this link to search for something in our Queens Business Directory.
---
Click the log in link below to create an ID and post an opinion.
Or send this story to a friend by filling in the appropriate box below.
---