Restaurants In Astoria
Al Omda Egyptian Restaurant To The Mayor's Liking
Astoria Neighborhood / Astoria Restaurants / Queens Restaurants / Queens Buzz. Al Omda, loosely translated, means 'mayor of the city' in the Egyptian language. And the feast we had on Friday night was certainly worthy of such a high-ranking government official. But tonite there weren't any officials, just three men with hearty appetites looking for a great meal in the heart of Astoria.
Restaurants In Astoria - Owners & Decor
Our host for the evening was Magdi Ahmed, the owner of the restaurant. He, like nearly 50% of all Queens residents, was born in another country.
He hails from Alexandria, Egypt and the food served in his small cozy restaurant still makes the home folks proud, because many Egyptian Americans frequent his restaurant to enjoy hearty meals of Alexandrian style fare at prices one can only call very, very reasonable.
The Egyptian restaurant is decorated simply but in a middle-eastern motif. The space is well used, and they can seat up to about fifty people. In fact, we were told that the restaurant served as the setting for a movie, which will be released very soon. Magdi's wife Marcia, who's an American-born lawyer, passed this bit of information onto us. Sorry folks, but my memory fails me, although I think it was the Accidental Husband.
Appetizers In Astoria Restaurants
Anyhow, instead of ordering off the menu, Magdi said he would serve some of the the restaurant's clientele's favorite dishes. Since it was a Friday, and none of us really knew much about Egyptian dishes, we thought we'd give it a whirl. So we started with pita bread served with an eggplant puree and tahini which is a sesame seed and garlic dip. The fresh eggplant puree was my favorite. We spread generous portions of its rich creamy texture all over the bread to take the edge off our appetites.
Magdi topped off the appetizers with rice filled sausages, which were flavored with tomato, honey and dill. These sausages surprised us as their appearance made them look much heavier than the surprising texture and treat they turned out to be. It was at this point that I began to imagine that I was a benevolent pharaoh and we were floating down the Nile being feted with the rewards of a great harvest.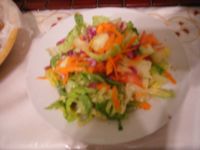 The next course was a house salad to clean our palates in preparation for the main courses. It's worth noting that Magdi doesn't serve alcohol, as he preserves some of the cultural traditions of the country in which he was born. Nonetheless he was gracious enough to allow us to purchase a few beers down the street at the local grocery store to imbibe along with the meal. The second note to be made is that this reduced our tab significantly, as beverages frequently make up a significant portion of the tab.
Main Courses At Al Omda Egyptian Restaurant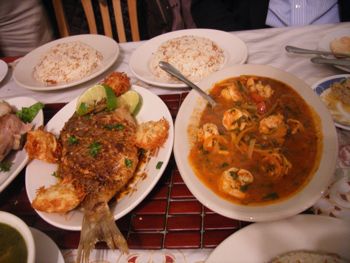 So there were three fantastic main courses, but I'm going to say that the curry shrimp was clearly my favorite [I like curry]. The large shrimps were seasoned with a sweet curry sauce that included tomato, parsley and onions. I could have eaten the entire dish myself, but I'm afraid my fellow reviewers would have put up a fight.
The lamb shank was also among some of the finest lamb that I have tasted in a long, long time. The rich moist meat fell off the bone into moist tender pieces. Each piece of lamb fell apart in my mouth, the juices of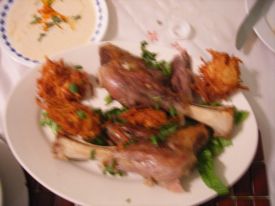 the meat were complemented by tiny bits of fat which added to the general moistness and succulent flavor.
The last entrée was a Borgas fried fish, prepared Egyptian style [see picture]. It was grilled to perfection and seasoned with green pepper, caiman, salt, vinegar and garlic. Each of us took turns peeling the tender white meat off the fish bones. This flavorful fish had been caught out off Long Island earlier in the day. It really doesn't get any more fresh than that.
Vegetable Side Dish - Egyptian Restaurants In Astoria Queens
Magdi complemented the main dishes with an Egyptian vegetable, the name of which none of us knew. It's white like a potato, but it breaks apart in your mouth like turnip. This was served in a hot soup, garnished with parsley and a salty broth.
And so our stomachs, filled with so many delectable Eqyptian dishes, began to tell us that this meal was
nearing its end. The portions were so generous, that we decided to pass on the desserts and instead treat ourselves to a walk down 30tht Street. Before we left we had the opportunity to meet the chef, whose interest in and love for her work was made obvious by her culinary creations and thank our waitress whose service was so par excellence that it would have made even a pharaoh happy.
Al Omda Egyptian Restaurant In Astoria
Click this link to view a map of the Al Omda Restaurant in Astoria. Click this link to obtain the contact info and website url for the Al Omda Egyptian Restaurant in Astoria Queens.
Astoria Neighborhood Links
Click on these advertisements for promotions, discounts and coupons by retailers and restaurateurs in Astoria and nearby Queens.
Click this link to go to the:
Astoria Neighborhood or Astoria Business Directory
Astoria Real Estate or Events & Things To Do In Astoria
Restaurants In Astoria or Astoria Shops & Shopping
---
Site Search Tips. 1) For best results, when typing in more than one word, use quotation marks - eg "Astoria Park". 2) Also try either singular or plural words when searching for a specific item such as "gym" or "gyms".
Click this link to search for something in our Queens Business Directory.
---
Click the log in link below to create an ID and post an opinion.
Or send this story to a friend by filling in the appropriate box below.
---