Queens Real Estate & Realtors
& Mass Transit & Transportation In Queens
---
Real Estate, Realtors, Condos & Apts In Queens
Except For The First Report(s), These Are Organized By Neighborhood
---
City Withdraws Plans To Use Eminent Domain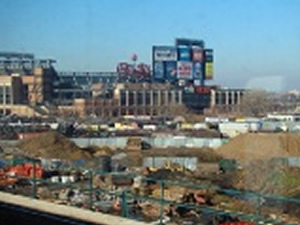 May 11, 2012 / Flushing / Queens Buzz. The Bloomberg Administration withdrew its threat to use eminent domain to condem the properties of the remaining Willets Point property-owners who did not want to sell their land. This statement was issued just prior to the beginning of court proceedings by the remaining holdouts, contesting the city's use of eminent domain.
The city had planned to remove the final holdouts and clear the way for a large new development that would include residential, commercial and office space, and parking. The city now owns 90% of the land in Willets Point, having bought out most of the prior owners.
Click here for a prior report about the Willets Point development in Flushing.
---
---
Astoria Real Estate / Realtors
---
Click here to view the home page about Astoria real estate by one of the leading realtors in Astoria.
---
Flushing Real Estate / Realtors
---
---
Jackson Heights Real Estate / Realtors
---
Queens Builders & Contractors - Queens Bronx Builders Assn Trade Show
Queens Bronx Builders Association
Building Businesses Slowly Improving - Builders Cautiously Optimistic
October 25, 2012 / Jackson Heights / Queens Business / Queens Buzz. I attended the Queens Bronx Builders Association Trade Show at the LaGuardia Marriott this evening. The show included between two and three dozen exhibitors showing just about everything and anything you might need to build a building. I went to get some sense of the mood of the building trades, given the economy has been the focus of many folks' attention since the financial debacle of 2008.
The sense I got from most was that, while things are not great like they had been before the bust, they had 'hit bottom', and things appeared to be steadily improving. Most of the folks I spoke to were cautiously optimistic, saying they had some really good days but they also had some really slow days. A few of the people I spoke to were downright bullish. Only two people told me that things were still very rough out there.
As you know, this is not a scientific survey, but the joking around left me with the sense that what I had been told was somewhere in the reality ballpark.
Click here to read a report about the Queens Bronx Building Association Trade Show in Queens.
---
---
Jamaica NY Real Estate / Realtors
---
Jamaica Real Estate In Queens NYC
Jamaica Real Estate - The Art Of Selling
Jamaica Center BID & The Greater Jamaica Development Corporation Talk About The Re-Emergence Of A Vibrant Commercial Center
Updated May 3, 2014 / December 3, 2013 / Jamaica NY Real Estate / Jamaica NY / Queens Buzz. Earlier this month I attended an event hosted by the Jamaica Center BID to talk about real estate and commercial opportunities in the Jamaica neighborhood of Queens.
Jamaica is one of the largest and most vibrant commercial areas in Queens, and the event was designed to talk about Jamaica in that light.
I arrived a bit early and met with Felicia Tunnah, the new Executive Director of the Jamaica Center BID [Business Improvement District]. It seems the weather, traffic congestion and the subways had conspired to delay speakers, attendees and possibly the event, but it wasn't too long of a wait before the meeting began.
The delay gave all of us a bit of time to enjoy the food and beverages being served by local restaurants and a caterer. City Ribs, a small chain started by a locally raised entrepreneur served ... well ... ribs. Sangria Catering served a fresh salad and chicken dish and Applebee's served dessert.
Click here to read more about real estate in Jamaica NY and click here to read the rest of our report including photo slide show of the meeting about real estate in Jamaica Queens NYC.
---
---
LIC Long Island City Real Estate / Realtors
---
Long Island City Retail Space To Rent Or Buy - LIC
The Changing Face Of LIC Retail
LIC Partnership Conferences Retailers & Realtors
October 29, 2014 / LIC Neighborhood / LIC Shopping / LIC Real Estate / Queens Buzz. I attended a conference entitled Queens: The New Retail Frontier. The event was co-hosted by the LIC Partnership hosted in tandem with the International Council of Shopping Centers. The International Council of Shopping Centers [ICSC] mission is to advance the shopping center industry and to promote its role in the commercial distribution of consumer goods and services. The LIC Partnership's mission is to promote neighborhood economic development and a vibrant and authentic mixed-use community.
The meeting was preceded with a bit of networking in conjunction with coffee and bagels. I spoke to an NYC mortgage professional who, in the course of our conversation, provided me with the following informational tidbits.
Construction spending is at an all-time high. The New York Building Congress confirmed this statement and estimated that NYC construction spending will be in excess of $37 billion dollars in 2014 and accounting for more than 130,000 [likely well paid] jobs. This is up from about $32 billion in 2013. This spending has been fueled in part by government spending since hurricane Sandy hit on October 22nd, 2012. According to the New York Building Congress, government spending accounted for half of construction spending in 2012 and is estimated to be somewhere in the 30% - 40% of construction spending in 2013 and 2014.
He went on to say that this construction in NYC was necessary as over 70% of New York City housing is more than 50 years old. I checked and according to Fannie Mae this compares with a national average of 56% of U.S. housing being more than 50 years old. Boston, by comparison, has only 38% of its housing stock built prior to 1960. A non-profit, Eye On Housing, notes that New York, Pennsylvania and Massachusetts are states with the oldest median aged housing in the nation. The median age of the housing stock in these states is estimated to be 57 years old.
And he noted that the cost of land was one of the major issues facing developers / builders. He noted that the cost per square foot in Manhattan was about $500 south of 96th Street and that he had recently heard that the cost per square foot in LIC was $300. He opined that at these prices one could only develop to sell residential space – not rent.
Based on what I learned from this one attendee, I expected this conference to be chock full of usable information. Click here to read the rest of our report on the LIC Partnership & International Council of Shopping Centers conference about retail real estate in LIC.
---
LIC Summit: Business in LIC
Guiding LIC Neighborhood Evolution?
LIC Summit Conference Takes A Holistic View Of Community
June 17, 2014 / Long Island City Neighborhood / Queens Business / Queens Buzz. I attended the first annual LIC Summit which was held at the Museum of the Moving Image and organized by the LIC Partnership. The conference ran all day, with lectures and panel discussions about all things Long Island City.
The first half of the day included discussions about the film industry and the LIC commercial and industrial real estate market. And the second half of the day included panels on residential real estate, but also on the possibilities of evolving a technology sector in LIC and an end-of-day session dedicated to the ongoing evolution of arts and culture in the neighborhood.
I attended the afternoon sessions to listen to the panel discussions about developing a technology sector in Long Island City, and a panel discussion on how to continue nurturing arts & culture in the LIC neighborhood, as many rents and real estate prices have risen to Manhattan-comparable levels.
Click here to read our report on the LIC Summit & photos.
---
Click here for the home page about LIC real estate by one of the LIC realtors.
---
WS / Sunnyside Real Estate / Realtors
---
Affordable Housing In Queens - Hunters Point South
Hunters Point South Opens Spring 2015
'Affordable' Housing Applications Begin Mid October
September 29, 2014 / Sunnyside NY / Sunnyside Real Estate / News & Analysis / Queens Buzz. On Monday evening I headed over to Sunnyside Community Services Center to attend the Hunters Point South Affordable Housing meeting. Several years ago the Hunters Point South development was approved by Community Board 2 and subsequently approved by the New York City Council and Mayor. Click the link above to read the earlier report.
The site has been under construction for years, and according to a Related Companies spokesperson at the meeting, the two towers containing affordable housing are to open to residents in the Spring of 2015. Naturally this assumes that all goes according to plan.
Hence on Monday evening, Related Companies representatives in tandem with Community Board Chairman Joe Conley, NY CCM Jimmy Van Bramer, NYS Assemblywoman Cathy Nolan [and NYS Senator Michael Gianaris was scheduled to appear but did not make it] - began the outreach to the community regarding the application process for the low income and affordable housing units in the two buildings.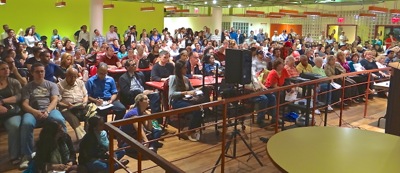 Attendance and interest by the community was very high and folks who arrived late were turned away as the Sunnyside Community Service Center was filled to capacity. That said there are two more of these outreach programs scheduled, the details of which you can find in our Things To Do calendar in the Business section. Click these links to gain a broader perspective of the Long Island City Neighborhood in which these units reside, as well as of the LIC real estate market for apts and condos or the Long Island City real estate market in general.
Full Report Contains Slides & Info On Qualification & Application Process For Hunters Point South Affordable Housing Units In LIC & Evaluation Of Affordability Versus Income & Apt Rents In LIC
Click here to read the rest of our report, including a photo slide show of the presentation of Affordable Housing in Hunters Point South in LIC Queens. I left out most of the presentation that dealt with how to set up a Housing Connect Profile and how to fill out the online application as it seemed pretty straightforward and you can also call the NYC Housing Authority [aka NYCHA] if you need help.
---
---
Transportation In Queens
---
Jet Blue LIC - Airlines In Queens NY
Jet Blue Operations in Queens
Behind The Scenes At Jet Blue LIC
May 19, 2012 / Long Island City / Queens Business / Queens Buzz. I decided to take a look behind the airline ticket counter to see what goes on behind the scenes of a scrappy competitive airline upstart. That description best describes the Queens hometown airline - Jet Blue - which recently relocated within the borough, moving from Forest Hills [and Darien, CT] to the Met Life Building off Queens Plaza in Long Island City.
Jet Blue officially opened its Long Island City location on April 3rd, 2012. They had been moving folks into the building in waves, after about a year of preparations. The first wave came on March 9th, and the last wave came on April 4th, 2012. There are currently about 1,000 Jet Blue employees working out of the Long Island City facility.
In this report I focused on their operations center which handles many of the behind-the-scenes logistics. This report will give you a close up look at what goes on behind the scenes every day at Jet Blue as it prepares, schedules, executes and monitors an airline that has a fleet of between 150 - 200 planes, about 2,000 pilots, about 3,000 flight attendants, and an LIC operations crew of about 250 that runs 24/7 every day of the year. The Jet Blue Operations Center is shown looking through an aquarium, in the photo above.
Click here to read our report about Jet Blue in Long Island City LIC Queens.
---
Queens DOT Study - Jackson Heights Pedestrian Mall
Queens DOT Study - Traffic Makeover in Jackson Heights
DOT Finds Inexpensive Fixes To Congestion
February 22, 2011 / Jackson Heights Neighborhood / Queens Buzz. The Department of Transportation unveiled a traffic study, complete with proposed solutions, that look to ease some of the traffic congestion in Jackson Heights. The study area roughly includes the areas from Roosevelt Ave to Northern Blvd and from 72nd Street to 84th Street.
The plan includes changing traffic flows, modifying a couple of bus routes, specifically allocating spots and times for freight parking, reallocating parking spaces and adjusting meter rates in high demand / low availability parking locations. All in all it looked like a workable plan which incorporated a significant amount of input from the community, including this past go 'round wherein they presented the plan to the community for final feedback before implementing it.
Click here to read more about the Department of Transportation DOT traffic plan for Jackson Heights.
---
MTA East Side Access Project - Impact On Queens Real Estate
East Side Access Project Moving Along
How Will This Project Affect Queens Real Estate?
Queens Real Estate / October 4, 2010 / Queens Buzz. Progress on the East Side Access Tunnel project has been visible in Queens since early Spring 2010. The MTA has been busy drilling a new tunnel under the East River from LIC / Astoria, using the Sunnyside Railway Yard as its staging grounds. The photo to your left shows the view of the new tunnel being built underneath the East River from an Astoria / LIC perspective. The tunnel connects into Manhattan around 63rd Street.
Meanwhile in the Sunnyside railway yards, many of the buildings that once dotted the landscape have been demolished. Thankfully this doesn't include an old train station which has been around for many years [see photos in rest of story / slide show]. They've also cleared away a number of old warehouse and garage like structures along 43rd Street between Northern Blvd and 39th Avenue.
Click here to get an update on the East Side Access Project impact on Queens real estate.
---
---
Queens Real Estate / Realtors - Neighborhood Maps
---
Shops, Restaurants & Cultural Attractions Maps
---
Queens Real Estate
Queens Real Estate
Market Analysis Of Real Estate In Queens
Queens NY / December 7, 2009. This is a report on the Queens real estate market. The report covers the latter half of 2009. This analysis includes looking at apartment rental prices, as well as condo, co-op and home prices and availability. This Queens real estate market analysis focuses on the Astoria, LIC / Long Island City, Jackson Heights, Sunnyside and Woodside neighborhoods. While we found these neighborhoods mirrored or trailed many of the national trends, we found some interesting differences, including differences from neighborhood to neighborhood. Click here for our second half 2009 market analysis of Queens Real Estate.
---
Forum - Condos & Co-ops Jackson Heights
Condos & Co-ops Forum - Jackson Heights
December 7, 2010 / Jackson Heights / Queens Buzz. City Council Member Daniel Dromm, NYS Senator Peralta in tandem with ACCO [Alliance of Condo & Co-op Owners] organized a forum in Jackson Heights to inform people about their rights and responsibilities as condo and co-op owners.
In addition to the councilman and senator, the panel included two lawyers and the president of ACCO. About two hundred people showed up for the event, packing the Jewish Center of Jackson Heights. See photos in our report of the large crowd that attended this forum.
The panel informed condo and co-op owners in Jackson Heights & Queens about their rights, and discussed new state legislation which has been introduced to more clearly define the processes through which a tenant / owner can assert their rights. Click here to read the rest of our report about the forum for Jackson Heights condo / co-op owners in Queens.
---
---
Site Search Tips. 1) For best results, when typing in more than one word, use quotation marks - eg "Astoria Park". 2) Also try either singular or plural words when searching for a specific item such as "gym" or "gyms".
Click this link to search for something in our Queens Business Directory containing over 1,000 listings.
---
Queens Realtors - Links
Click here to go to the home page of Halvatzis Realty in Astoria, MPC Properties in Jackson Heights.
Queens Real Estate - Related Links
Click here to go to the home page of Ponce De Leon Bank for Mortgages In Astoria & Queens. Or click here for free checking in Queens at Flushing Bank.
Click here to go to the home page of an MetLife insurance agency for Home Insurance In Astoria & Queens.
---
Click the log in link below to create an ID and post an opinion. Or send this story to a friend by filling in the appropriate box below.
---