Queens Real Estate & Realtors
& Mass Transit & Transportation In Queens
---
Real Estate, Realtors, Condos & Apts In Queens
Except For The First Report(s), These Are Organized By Neighborhood
---
City Withdraws Plans To Use Eminent Domain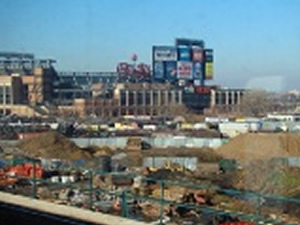 May 11, 2012 / Flushing / Queens Buzz. The Bloomberg Administration withdrew its threat to use eminent domain to condem the properties of the remaining Willets Point property-owners who did not want to sell their land. This statement was issued just prior to the beginning of court proceedings by the remaining holdouts, contesting the city's use of eminent domain.
The city had planned to remove the final holdouts and clear the way for a large new development that would include residential, commercial and office space, and parking. The city now owns 90% of the land in Willets Point, having bought out most of the prior owners.
Click here for a prior report about the Willets Point development in Flushing.
---
---
Astoria Real Estate / Realtors
---
Click here to view the home page about Astoria real estate by one of the leading realtors in Astoria.
---
Flushing Real Estate / Realtors
---
---
Jackson Heights Real Estate / Realtors
---
Queens Builders & Contractors - Queens Bronx Builders Assn Trade Show
Queens Bronx Builders Association
Building Businesses Slowly Improving - Builders Cautiously Optimistic
October 25, 2012 / Jackson Heights / Queens Business / Queens Buzz. I attended the Queens Bronx Builders Association Trade Show at the LaGuardia Marriott this evening. The show included between two and three dozen exhibitors showing just about everything and anything you might need to build a building. I went to get some sense of the mood of the building trades, given the economy has been the focus of many folks' attention since the financial debacle of 2008.
The sense I got from most was that, while things are not great like they had been before the bust, they had 'hit bottom', and things appeared to be steadily improving. Most of the folks I spoke to were cautiously optimistic, saying they had some really good days but they also had some really slow days. A few of the people I spoke to were downright bullish. Only two people told me that things were still very rough out there.
As you know, this is not a scientific survey, but the joking around left me with the sense that what I had been told was somewhere in the reality ballpark.
Click here to read a report about the Queens Bronx Building Association Trade Show in Queens.
---
---
Jamaica NY Real Estate / Realtors
---
Jamaica Real Estate In Queens NYC
Jamaica Real Estate - The Art Of Selling
Jamaica Center BID & The Greater Jamaica Development Corporation Talk About The Re-Emergence Of A Vibrant Commercial Center
Updated May 3, 2014 / December 3, 2013 / Jamaica NY Real Estate / Jamaica NY / Queens Buzz. Earlier this month I attended an event hosted by the Jamaica Center BID to talk about real estate and commercial opportunities in the Jamaica neighborhood of Queens.
Jamaica is one of the largest and most vibrant commercial areas in Queens, and the event was designed to talk about Jamaica in that light.
I arrived a bit early and met with Felicia Tunnah, the new Executive Director of the Jamaica Center BID [Business Improvement District]. It seems the weather, traffic congestion and the subways had conspired to delay speakers, attendees and possibly the event, but it wasn't too long of a wait before the meeting began.
The delay gave all of us a bit of time to enjoy the food and beverages being served by local restaurants and a caterer. City Ribs, a small chain started by a locally raised entrepreneur served ... well ... ribs. Sangria Catering served a fresh salad and chicken dish and Applebee's served dessert.
Click here to read more about real estate in Jamaica NY and click here to read the rest of our report including photo slide show of the meeting about real estate in Jamaica Queens NYC.
---
---
LIC Long Island City Real Estate / Realtors
---
NYC Small Business Financial Aid Small Business Financial Programs NYS
LICP Seeks To Balance Community Growth
Effort Underway To Guide Neighborhood Evolution
February 2, 2015 / Long Island City LIC / Queens Business / Queens Buzz. The LIC Partnership applied and received a grant to explore approaches through which government and business can work together to develop the LIC neighborhood in a communal way. This means somehow enabling the measured growth of multiple categories of human endeavor including residential growth, office growth, commercial growth, industrial growth and cultural growth. Based on some of the comments I heard at the workshop, I believe it may also include trying to maintain some measure of ethnic and income diversity within the community.
One of the panelists noted that generally what happens in real estate development is that everyone seeks to convert their real estate holdings to the highest price per square foot use. In NYC this is frequently the conversion of the current zoning to residential housing.
One of the problems that evolves over time is that the neighborhood loses some of its desirability as residents must start traveling longer and longer distances for basic amenities such as dry cleaning, groceries, recreational shopping and dining. Hence, to that end the LIC Partnership offered this workshop to help those working in the industrial and commercial real estate development categories to find government sponsored programs and financing designed to incent them to maintain, evolve or create space designed to maintain a diversified mix of real estate capacity within the Long Island City neighborhood.
Click here to read our report on the LIC Partnership Business Breakfast On Industrial & Commercial Incentives and Financing.
NYC Small Business Financial Aid Financial Programs NYS
---
Long Island City Retail Space To Rent Or Buy - LIC
The Changing Face Of LIC Retail
LIC Partnership Conferences Retailers & Realtors
October 29, 2014 / LIC Neighborhood / LIC Shopping / LIC Real Estate / Queens Buzz. I attended a conference entitled Queens: The New Retail Frontier. The event was co-hosted by the LIC Partnership hosted in tandem with the International Council of Shopping Centers. The International Council of Shopping Centers [ICSC] mission is to advance the shopping center industry and to promote its role in the commercial distribution of consumer goods and services. The LIC Partnership's mission is to promote neighborhood economic development and a vibrant and authentic mixed-use community.
The meeting was preceded with a bit of networking in conjunction with coffee and bagels. I spoke to an NYC mortgage professional who, in the course of our conversation, provided me with the following informational tidbits.
Construction spending is at an all-time high. The New York Building Congress confirmed this statement and estimated that NYC construction spending will be in excess of $37 billion dollars in 2014 and accounting for more than 130,000 [likely well paid] jobs. This is up from about $32 billion in 2013. This spending has been fueled in part by government spending since hurricane Sandy hit on October 22nd, 2012. According to the New York Building Congress, government spending accounted for half of construction spending in 2012 and is estimated to be somewhere in the 30% - 40% of construction spending in 2013 and 2014.
He went on to say that this construction in NYC was necessary as over 70% of New York City housing is more than 50 years old. I checked and according to Fannie Mae this compares with a national average of 56% of U.S. housing being more than 50 years old. Boston, by comparison, has only 38% of its housing stock built prior to 1960. A non-profit, Eye On Housing, notes that New York, Pennsylvania and Massachusetts are states with the oldest median aged housing in the nation. The median age of the housing stock in these states is estimated to be 57 years old.
And he noted that the cost of land was one of the major issues facing developers / builders. He noted that the cost per square foot in Manhattan was about $500 south of 96th Street and that he had recently heard that the cost per square foot in LIC was $300. He opined that at these prices one could only develop to sell residential space – not rent.
Based on what I learned from this one attendee, I expected this conference to be chock full of usable information. Click here to read the rest of our report on the LIC Partnership & International Council of Shopping Centers conference about retail real estate in LIC.
---
Click here for the home page about LIC real estate by one of the LIC realtors.
---
WS / Sunnyside Real Estate / Realtors
---
Sunnyside Yards: Rail Yards & Building Platforms
Sunnyside Yards: Finding Our Place In Space & Time
Part III. A History Of Building Over Rail Yards In New York City
April 20, 2015 / Sunnyside / Queens Real Estate / News Analysis & Opinion / Queens Buzz.
Click here to view our first report about Sunnyside Yards which provides a brief history of the development of transportation and real estate in Queens in the 19th and 20th centuries. Click here to read our second report about Sunnyside Yards which provides a far more in-depth history of the real estate development and transportation in the 20th century.
On this leg of the journey in our report series on Mayor de Blasio's proposed development of Sunnyside Yards, we take a more in-depth view of the history of real estate development of the air rights of rail yards in New York City. So with no further ado, let's continue.
The photo to your right shows the vision of
William J. Wilgus who coined the phrase "taking wealth from the air" as it was he who first proposed monetizing the air rights of New York Central and Hudson River Rail yards, which ran north along what is Park Avenue today.
This was an example of the ingenious thinking of the time, as he leveraged a new technologies, by electrifying the rail system, lowered the rail tracks and built platforms over them. I took the photo above right, of what I believe to be a 1902 graphic of his vision, which I found at a public exhibit in Midtown.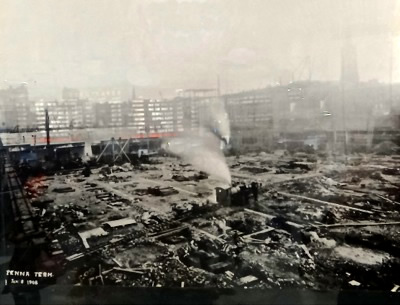 We return to the dawn of the 20th century, when horses and carriages were still one of the primary modes of inner urban transit, but this transportation mode would relatively quickly be replaced by the expansion of the trolley car system and eventually subway system in New York City. In 1900, according to historian Dave Lawyer, there were only 8,000 automobiles in the entire nation.
Overland transit between cities was a mix of horses and carriages and the rail roads, but over the course of the 19th century rail roads had become the most reliable means of long distance overland transit. Lawyer says that in 1900 there were 200,000 miles of steam rail and 14,000 miles of electric rail ways which were primarily for street cars and rail ways serving urban areas.
Transportation by water, which for millenia had been the most viable means of long distance travel between states and towns, continues to this day to play a role in long distance transit - although these days primarily of the transportation of goods.
The photo at right shows the Penn Station rail yards circa January 1908 as plans for its erection over the rail yards were getting underway. Pennsylvania Rail Road built Penn Station which was opened to the public two years later in September 1910. The station, one of the great New York City landmarks, was demolished amidst much public furor beginning in late 1963.
We'll continue with our report series about Mayor de Blasio's proposal to develop the air rights over Sunnyside Yards a bit later today or in the week.
---
Sunnyside Yards
Sunnyside Yards: Finding Our Place In Space & Time
Part II. History Of Transit & Housing In Queens: Sunnyside Yards
March 18, 2015 / Sunnyside / Queens Real Estate / News Analysis & Opinion / Queens Buzz.
In Part I of this report series about Mayor de Blasio's proposed development of Sunnyside Yards, we saw how Queens evolved from the rolling woods and farmlands of the early 19th century, into an industrial and manufacturing center along the East River waterfront in the second half of that century. In 1898 Queens became a part of New York City and the dawn of the 20th century had begun.
Work On The Steinway Tunnel Resumes & Begins The Era Of The Commute
In 1892 William Steinway [he died in 1896] began digging a tunnel underneath the East River between Queens and Manhattan. He had envisioned completing it to enable mass transit flows between Queens and Manhattan to enhance the value of his vast Astoria / Long Island City real estate holdings, but he died before that vision came to fruition. The Steinway Tunnel, which was named in his honor and which it carries to this day, is now the underground tunnel for the #7 subway line between Flushing Main Street in Queens, and Times Square in Manhattan. I shot the photo to right at LaGuardia Community College in LIC which shows a newspaper account of a 1907 test run of the line, three years after the completion of the Steinway Tunnel between Manhattan and Queens in 1904.
Large Scale Real Estate Development Begins In Queens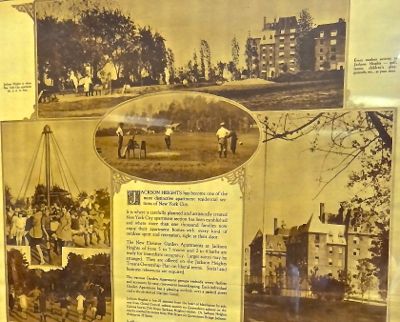 Following the creation of the interborough subway lines, affordable housing developments followed in Jackson Heights, Forest Hills and Sunnyside. The photo at right shows a 1922 real estate development in Jackson Heights built for the upwardly mobile growing middle class. I shot this photo at the Jackson Heights Beautification Group's Historic House [Garden] Tour Weekend.
We ended Part I talking about Public Housing that ultimately became low income housing, and which had systemic problems attributed to the civil rights struggle of the mid 20th century, and which was followed by social upheaval accompanied by narcotics. While remnants of the past remain with us, the most egregious aspects of these historical issues have been ameliorated.
And so we begin Part II by taking a deeper dive into the evolution of New York City's transportation system and housing development, with an eye toward how mass transit and the auto enabled the daily movement of millions of people / workers between their workplaces in Manhattan to their homes in the outer boroughs - most notably of Queens.
What follows is Part II of a deeper look into the Mayor's proposed development of the Sunnyside Yards.
---
---
Transportation In Queens
---
Jet Blue LIC - Airlines In Queens NY
Jet Blue Operations in Queens
Behind The Scenes At Jet Blue LIC
May 19, 2012 / Long Island City / Queens Business / Queens Buzz. I decided to take a look behind the airline ticket counter to see what goes on behind the scenes of a scrappy competitive airline upstart. That description best describes the Queens hometown airline - Jet Blue - which recently relocated within the borough, moving from Forest Hills [and Darien, CT] to the Met Life Building off Queens Plaza in Long Island City.
Jet Blue officially opened its Long Island City location on April 3rd, 2012. They had been moving folks into the building in waves, after about a year of preparations. The first wave came on March 9th, and the last wave came on April 4th, 2012. There are currently about 1,000 Jet Blue employees working out of the Long Island City facility.
In this report I focused on their operations center which handles many of the behind-the-scenes logistics. This report will give you a close up look at what goes on behind the scenes every day at Jet Blue as it prepares, schedules, executes and monitors an airline that has a fleet of between 150 - 200 planes, about 2,000 pilots, about 3,000 flight attendants, and an LIC operations crew of about 250 that runs 24/7 every day of the year. The Jet Blue Operations Center is shown looking through an aquarium, in the photo above.
Click here to read our report about Jet Blue in Long Island City LIC Queens.
---
Queens DOT Study - Jackson Heights Pedestrian Mall
Queens DOT Study - Traffic Makeover in Jackson Heights
DOT Finds Inexpensive Fixes To Congestion
February 22, 2011 / Jackson Heights Neighborhood / Queens Buzz. The Department of Transportation unveiled a traffic study, complete with proposed solutions, that look to ease some of the traffic congestion in Jackson Heights. The study area roughly includes the areas from Roosevelt Ave to Northern Blvd and from 72nd Street to 84th Street.
The plan includes changing traffic flows, modifying a couple of bus routes, specifically allocating spots and times for freight parking, reallocating parking spaces and adjusting meter rates in high demand / low availability parking locations. All in all it looked like a workable plan which incorporated a significant amount of input from the community, including this past go 'round wherein they presented the plan to the community for final feedback before implementing it.
Click here to read more about the Department of Transportation DOT traffic plan for Jackson Heights.
---
East Side Access Project - Queens
East Side Access Project Moving Along
How Will This Project Affect Queens Real Estate?
Queens Real Estate / October 4, 2010 / Queens Buzz. Progress on the East Side Access Tunnel project has been visible in Queens since early Spring 2010. The MTA has been busy drilling a new tunnel under the East River from LIC / Astoria, using the Sunnyside Railway Yard as its staging grounds. The photo to your left shows the view of the new tunnel being built underneath the East River from an Astoria / LIC perspective. The tunnel connects into Manhattan around 63rd Street.
Meanwhile in the Sunnyside railway yards, many of the buildings that once dotted the landscape have been demolished. Thankfully this doesn't include an old train station which has been around for many years [see photos in rest of story / slide show]. They've also cleared away a number of old warehouse and garage like structures along 43rd Street between Northern Blvd and 39th Avenue.
Click here to get an update on the East Side Access Project impact on Queens real estate.
---
---
Queens Real Estate / Realtors - Neighborhood Maps
---
Shops, Restaurants & Cultural Attractions Maps
---
Queens Real Estate
Queens Real Estate
Market Analysis Of Real Estate In Queens
Queens NY / December 7, 2009. This is a report on the Queens real estate market. The report covers the latter half of 2009. This analysis includes looking at apartment rental prices, as well as condo, co-op and home prices and availability. This Queens real estate market analysis focuses on the Astoria, LIC / Long Island City, Jackson Heights, Sunnyside and Woodside neighborhoods. While we found these neighborhoods mirrored or trailed many of the national trends, we found some interesting differences, including differences from neighborhood to neighborhood. Click here for our second half 2009 market analysis of Queens Real Estate.
---
Forum - Condos & Co-ops Jackson Heights
Condos & Co-ops Forum - Jackson Heights
December 7, 2010 / Jackson Heights / Queens Buzz. City Council Member Daniel Dromm, NYS Senator Peralta in tandem with ACCO [Alliance of Condo & Co-op Owners] organized a forum in Jackson Heights to inform people about their rights and responsibilities as condo and co-op owners.
In addition to the councilman and senator, the panel included two lawyers and the president of ACCO. About two hundred people showed up for the event, packing the Jewish Center of Jackson Heights. See photos in our report of the large crowd that attended this forum.
The panel informed condo and co-op owners in Jackson Heights & Queens about their rights, and discussed new state legislation which has been introduced to more clearly define the processes through which a tenant / owner can assert their rights. Click here to read the rest of our report about the forum for Jackson Heights condo / co-op owners in Queens.
---
---
Site Search Tips. 1) For best results, when typing in more than one word, use quotation marks - eg "Astoria Park". 2) Also try either singular or plural words when searching for a specific item such as "gym" or "gyms".
Click this link to search for something in our Queens Business Directory containing over 1,000 listings.
---
Queens Realtors - Links
Click here to go to the home page of Halvatzis Realty in Astoria, MPC Properties in Jackson Heights.
Queens Real Estate - Related Links
Click here to go to the home page of Ponce De Leon Bank for Mortgages In Astoria & Queens. Or click here for free checking in Queens at Flushing Bank.
Click here to go to the home page of an MetLife insurance agency for Home Insurance In Astoria & Queens.
---
Click the log in link below to create an ID and post an opinion. Or send this story to a friend by filling in the appropriate box below.
---