---
New Years Eve Parties & Restaurants In Queens
New Years Eve Parties & Restaurants In Queens
Queens Restaurants / December 28, 2015. New Years Eve 2015 is upon us, when revelers ring in the New Year. If the night is done smartly, it includes sensible consumption of food and drink.
The origins of New Years Eve will be posted at a future date. Enjoy the evening.
Click this link to go to a brief guide of New Years Eve parties & restaurants in Queens, where you will find links to Queens restaurants we've reviewed. It's worth noting that most of these reviews are positive because we've selected some of the best restaurants in their categories in Queens. Enjoy.
Click for New Years Eve parties & restaurants in Queens.
---
Joes Shanghai Restaurant - Chinese Restaurants In Flushing
Joe's Shanghai Restaurant - Flushing
Chinese Restaurants In Flushing Queens NY
Flushing Neighborhood / Flushing Restaurants / Queens Restaurants / Queens Buzz.
I've passed by Joe's Shanghai in Flushing on many occasions. Without a miss, every time I walk by there's a good crowd inside, and sometimes a few groups waiting outside the door. I reckon, as they say, that that is about as good advertising as one can get. But that kind of trade doesn't happen overnight and it doesn't happen without a lot of hard work.
I arrived a bit past the rush hours, which generally run from about 7 to 9 pm. I was greeted and seated by Keith Yip [see photo to left], who is the restaurant manager and also a relation to Joe. Like the customers around me, I was instantly waited on and served tea. I perused the menu and decided to try the signature dishes recommended by Keith. You might want to take this review with you next time you head into Flushing, because everyone of these dishes was a hit.
---
Taste of the World - Taste of the World 2012 Queens
Queens Taste 2012
Sampling the Fare of Queens Restaurants & Food Entrepreneurs
May 1, 2012 / Flushing / Queens Restaurants / Food in Queens / Queens Buzz. I arrived at Queens Taste 2012 at Caesars on the fifth floor at Citifield about an hour after the event had begun. The feeding frenzy that generally occurs at the very beginning had passed, and most people had found tables and were pleasantly enjoying the fare and light dinner conversation, along with intermittent people-watching.
Borghese Red & White Wines of LI
I started into the food and beverage area surveying the vendors offerings this year and made my first landing at the Borghese Vineyards wine table. I met Ann Marie Borghese, who along with her husband, bought a farm in the 1970's in Cutchogue, NY, which is located about in the middle of the northern fork of eastern Long Island.
Click here to view our report of Queens Taste 2012 [formerly Taste of the World].
---
Chinese & Korean Cooking in Flushing
Festival of Herbal Tonic Soup
Asian Cooking In Flushing Queens
February 11, 2012 / Food & Wine / Flushing / Queens Buzz. I attended an herbal tonic soup class arranged by Dr. Hsing-Lih Chou at Flushing Town Hall. Dr. Chou presents one Asian cooking class each year at the same location, featuring some aspect of traditional Asian home cooking. This year he introduced us to two Asian cooking aficionados: Madame Hwei-Yun Hsieh and Mr. Kelby Leow.
Ms. Hsieh was to treat us to a lesson on how to cook her famous Chinese Sesame Oil Ginger Chicken Soup, while Mr. Leow would introduce us to his famous Korean Ginseng Chicken Soup. Dr. Chou explained that he had selected these two soups in order to 'balance' each other, as one had a robust flavor and the other had a more subtle flavoring.
Click here to read more about how to cook Chinese and Korean herbal chicken soups - Asian cooking in Flushing Queens.
---
---
A Taste Of The World 2010 & Photos
A Taste Of The World 2010 & Photos
Queens Leading Culinary Event Feeds Hundreds
May 18, 2010 / Flushing / Queens Buzz. Queens leading culinary event happened last night at Caesar's Club in CitiField in Flushing in spite of a very dark wet drizzly evening. Hundreds of people came from around the borough to sample the food and beverages provided by some 30 or more vendors.
We found a wide variety of cuisines to sample, and in the process learned a bit more about the culinary history of the borough. Two businesses received awards for serving the community for 80 and 50 years. These businesses continue to this day and were successfully handed from one generation down to the next. Click here to read our full report about A Taste Of The World 2010 & Photos in Queens.
---
A Taste Of The World Queens - Citi Field Flushing NY
A Taste Of The World 2009 - Queens
Flushing / April 21, 2009. We had the opportunity to cover 'A Taste Of The World' at Citi Field on Tuesday night. Unfortunately we were confined to Caesar's Club which is the new bar and restaurant on the fifth floor of the complex, so this report will include only a small update on the new stadium.
Sixty restaurants were included in the event, all of which were from a section of Queens. We sampled a number of their offerings and we'll provide a full review in the Restaurants section sometime this weekend or early next week. In the meantime, click this link for a very sketchy first draft of A Taste Of The World in Queens at Citi Field in Flushing NY.
---
A Taste Of The World 2011 Photos
A Taste Of The World 2011 Photos
Fun Way To Sample Many Queens Restaurants
May 11, 2011 / Flushing / Queens Restaurants / Queens Buzz. I attended the 9th annual Taste Of The World at Caesar's at CitiField in Flushing last night. There were over 40 restaurateurs who presented samples from their kitchens to a crowd that numbered in the mid hundreds.
It was a perfectly clear night, with temperatures in the 70's and a gentle breeze passing by as I descended the subway stairs in front of CitiField. I took the elevator up to the club and found it bustling with activity.
Click here to read our review and view photos of the Taste Of The World 2011 in Flushing.
---
---
Queens Restaurants
Queens Restaurants
Bars & Restaurants In Queens NY
This section includes reviews of Queens restaurants.
Click here to view the Queens Restaurants review section including reviews of Astoria, LIC / Long Island City, Sunnyside & Woodside, Jackson Heights & Corona, Flushing and Jamaica.
---
Flushing Restaurants Archive
---
Flushing Quick Maps
Click on the map icon below to view maps of Flushing
Attractions
Restaurants
Shops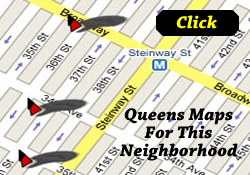 Flushing & Queens Business Directory
Click on the icon below to view business listings of Flushing & Queens.
Use the category or search links to conduct your own search.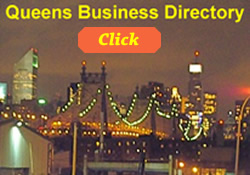 ---
Site Search Tips. 1) For best results, when typing in more than one word, use quotation marks - eg "Astoria Park". 2) Also try either singular or plural words when searching for a specific item such as "gym" or "gyms".
Click this link for promotions by advertisers in Queens.
Click this link to search for something in our Queens Business Directory containing over 1,000 listings.
---
Click the log in link below to create an ID and post an opinion. Or send this story to a friend by filling in the appropriate box below.
---